Somehow, in the epic discussions and debates about food sourcing that have swept this great nation since Michael Pollan published The Omnivore's Dilemma, Walmart always seems to comes off as the villain, plopping itself down in the midst of idyllic small towns and decimating beloved local businesses by selling piles and piles of cheap high-fructose corn syrup-filled food-like substances.
But come now. Is Walmart really that bad? Reports have been leaking out for the past few years, most notably in the alarmist documentary Food, Inc., that the corporate villain is trying to remake its image by selling sustainably raised and organic products from (gasp!) local farmers. But how good can they be, ask the food snobs purists? It's Walmart!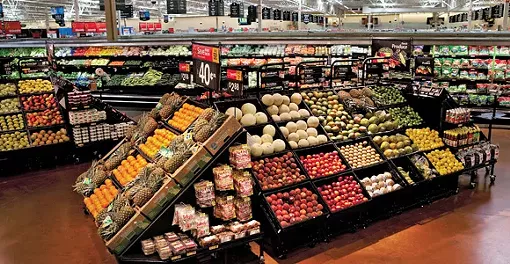 What a lovely supermarket. Oh my God, it's Walmart!
The Atlantic's intrepid food writer Corby Kummer decided to find out. He invited sixteen Austin, Texas, foodies to a dinner party. Each course would be prepared twice, once with ingredients from Walmart, once with ingredients from Whole Foods. In a blind taste test, the guests would decide which version they liked best.
Walmart, it turns out, has quietly started a new program called Heritage Agriculture. The program, Kummer writes:
...will encourage farms within a day's drive of one of its warehouses to grow crops that now take days to arrive in trucks from states like Florida and California. In many cases the crops once flourished in the places where Walmart is encouraging their revival, but vanished because of Big Agriculture competition. This goes well beyond stocking Stonyfield Farm yogurt.
For the dinner party, Kummer and his chefs (borrowed from the Austin restaurant Fino) planned a four-course menu: an appetizer of bowls of almonds and pieces of fried goat cheese with red-onion jam and honey; mixed spring greens with a sherry vinaigrette; chicken, served with a poached egg on a bed of spinach and golden raisins; and, finally, panna cotta with pears and pomegranate seeds.
Here's how Kummer describes his shopping experience:
"We support local farmers," read a sign at an Austin Walmart. I didn't see any farm names listed in the produce section, but I did find plastic tubs of organic baby spinach and "spring mix" greens with modern labeling that looked like it could be at Whole Foods. My list was simple to the point of stark, for a fair fight. Some ingredients seemed identical to what I'd find at Whole Foods. Organic, free-range brown eggs. Promised Land all-natural, hormone-free milk. A bottle of Watkins Madagascar vanilla for panna cotta. I couldn't find much in the way of the seasonal fruit the restaurant had told me the chef would serve with dessert. But I did find, to my surprise, a huge bin of pomegranates, so I bought those, and some Bosc pears. The sticking points were fresh goat cheese, which flummoxed the nice sales people (we found some Alouette brand, hidden), and chicken breasts. I could find organic meat, but no breasts without "up to 12 percent natural chicken broth" added--an attempt to inject flavor and add weight. I wasn't happy with the suppliers, either: Tyson predominated. I bought Pilgrims Pride, but was suspicious. The bill was $126.02.

At the flagship Whole Foods, in downtown Austin, the produce was much more varied, though the spinach and spring mix looked less vibrant. The chicken was properly dry, a fresh ivory color -- and more than twice as expensive as Walmart's. My total bill was $175.04; $20 of the extra $50 was for the meat.
Some of the young cooks at Fino, Kummer reports, were horrified to see the plastic Walmart bags in their kitchen.
After the jump, the shocking results: First course (almonds and goat cheese with red onion jam and honey): Walmart
Second course (spring greens with vinaigrette): Walmart
Third course (chicken served with poached egg on a bed of spinach and golden raisins): Whole Foods
Fourth course (panna cotta with pears and pomegranate): Whole Foods
Overall, the tasters found that Walmart's produce tasted fresher, even the spinach served with the losing chicken entrée. The one exception was the pomegranate, though Kummer magnanimously awarded Walmart bonus points for stocking pomegranate at all.
The chicken, however, confirmed Kummer's suspicions. One guest compared the Walmart product to food served at a hospital cafeteria. Kummer described it as "salty, damp, and dismal."
The most surprising result, however, was the dairy products. The locally sourced Promised Land milk Kummer bought from Walmart was also available at Whole Foods, but inexplicably he chose Whole Foods' house brand instead. The guests declared the Walmart panna cotta "artificial" and "thin."
Kummer writes regretfully, "I wished I'd bought the identical Promised Land milk at Whole Foods, to see if there is in fact a difference in the branded food products that suppliers give Walmart, as there is in the case of other branded products." (Clearly the man is better off as a food writer than as a scientist.)
Naturally, the guests were shocked and not entirely pleased when Kummer revealed that the food they'd been eating and enjoying came from Walmart. Prejudice is a difficult thing to overcome. How long will it take for Walmart to overcome its less-than-sterling reputation as the retail Antichrist and reposition itself as a large and kindly friend of the small farmer?
Still, it's reassuring to know that there are alternatives to Whole Foods out there -- particularly if you don't approve of its prices or the politics of its founder John Mackey. But that is a subject for another day.
After the jump, Kummer recounts his Walmart shopping experience on video and, somewhat tactlessly, fails to convey his surprise that Walmart can actually be, you know, not evil. Can anyone explain why he keeps saying "prah-duce"?