After nearly a decade as Clayton's spot for nightlife and sushi, Miso on Meramec will officially unveil its 800-square-foot expansion on Thursday.
"This dining room definitely focuses more on the cuisine, and not the scene," says owner Brad Beracha. "In addition, Miso will be open on Mondays, and for lunch starting Monday March 15."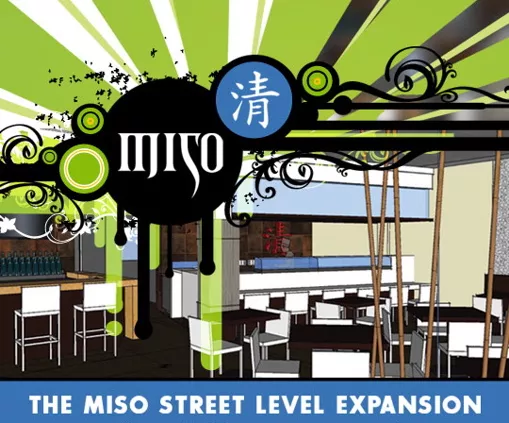 The expansion adds a six-seat sushi bar, 34-seat dining room, and a 10-seat bar with large sliding windows that open to 40 seats of al fresco dining that will be shaded from the happy-hour sun.
Changes in the kitchen prompted the change in Miso's focus, Beracha explains. "After moving chef Eliott Harris to St. Louis from San Francisco, there has been a sharp change in focus to the quality of our food, and we felt like there was a large demographic who would appreciate the magnificent sushi and pan-Asian that Eliott is putting out in a dining room that was less clubby. I feel like the success of the bar in the Underground Lounge has kept some of St. Louis' seasoned diners hesitant to return, but with this new addition, those concerns can be quelled."
What better reason to celebrate? This Thursday's unveiling will feature $5 Belvedere cocktails and DJ Steve Meier's VJing debut. The celebration begins at 9 p.m.
After dinner, of course.