Tim Burton was born to direct
Alice in Wonderland
. Inspired, of course, by the Lewis Carroll novels
Alice's Adventures in Wonderland
and
Through the Looking-Glass, and What Alice Found There
(with a special emphasis on the latter's Jabberwocky poem), the film is up Burton's alley: It's at heart a children's tale but contains fantastical, macabre and adult overtones -- and a misfit protagonist that doesn't follow societal conventions.
Annie Zaleski
Drink me!
Alice (played by Australian Mia Wasikowska) is a 19-year-old coping with the death of her beloved father, a man who always encouraged her imagination and smarts. As the movie begins, she's being berated for not wearing a corset or stockings off to a party. Unbeknownst to Alice, it's her engagement party: She's being blindsided with a marriage proposal from a Lord with digestion problems. Duty and society clash with her heart and ambition - and overwhelmed, she flees the scene. Curiously, she sees a rabbit with a stopwatch and sets off in pursuit of him - which causes her to fall down a rabbit hole into a mysterious Underland.
From there, the movie mixes live action and computer animation, as Alice interacts with familiar characters: the Cheshire Cat, the Mad Hatter, Tweedle-Dee and Tweedle-Dum, Blue Caterpillar, the Red and White Queens. The movie's conflict is simple: Is Alice the correct Alice to fulfill Wonderland's destiny -- and if so, does she have the courage to do what they need?
The Red Queen, portrayed by a severe, pursed-lips Helena Bonham Carter, is as bitchy, demanding and unpleasant as you'd expect (and want). Her knave is Crispin Glover, meeker and less menacing than normal, but no less creepy and desperate. Anne Hathaway as the White Queen is wholesome, ethereal and sparkly. Johnny Depp, of course, is the orange-haired, chameleonic-eyed Mad Hatter. It's the kind of character Depp disappears into -- and one he's played countless times by now -- but he never seems like he's phoning it in. He's sufficiently disorienting in this role, whether spewing out nonsense or switching between a Scottish accent and a childish lisp.
Oddly, when the characters break stereotype -- i.e., the Red Queen ponders if being liked might be more effective than being mean, and the Mad Hatter expresses a yearning for Alice that's perhaps a wee bit non-platonic -- the movie feels awkward. The characters are one-dimensional for a reason -- perhaps to contrast better with Alice's struggles, or to better illustrate the fantastic elements of the plot. Exploring their feelings and emotions feels too Hollywood, a little too deviant from the movie's straightforward narrative.
But Alice is a kickass heroine -- literally. She's not a demure princess or a wilting wallflower. She faces her fears head on, she's not afraid to dream and she's bold when she has to be. She takes advice from the sage, hookah-puffing Caterpillar but ultimately looks to her heart for the right decision. Although it takes her a bit to believe in herself, this makes her the most realistic part of the film -- after all, how many times do we doubt ourselves -- or mistrust our gut instinct - before choosing the right path?
Without giving too much away, the movie's conclusion is satisfying. And like every other Burton film, the scenery is beautiful and vibrant, from gothic forests and fantastical castles to lush fields and a breathtaking showdown scene with nods to chess.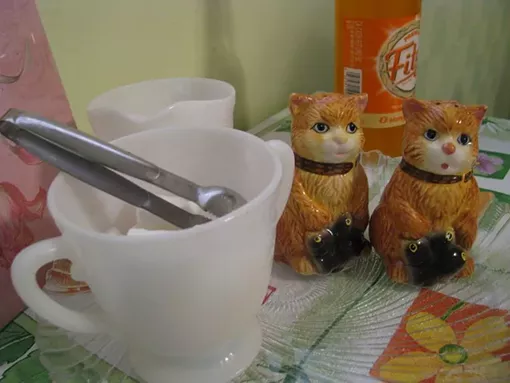 Stepping into the
St. Louis Tea Room
(4001 Utah Street; 314-772-2998) feels a lot like Alice's spiral down the rabbit hole. The squat brick building is easy to miss; it's on the corner of a nondescript neighborhood block in Tower Grove South. But opening the door is a portal to another time and place -- an era when lunch required dressing up in your Sunday best and leisurely gossip chats were the norm, not a luxury.
A gift shop crammed full of tea tchotchkes and other ephemera -- dainty candies, Eeyore-branded crayons, Bibles -- opens up into a two-room restaurant. The walls are painted pastel green and pink and decorated with things such as vintage ads, antique portraits and woven baskets. Smiling, maternal hostesses hustle around, tending to the groups of grandmothers or mothers, all there to gossip, catch up or celebrate birthdays. The place feels like a sitting room circa the 1950s.
Like magic, a tall pitcher of icy water and four scones (two vanilla, two cinnamon and pecan) appear as you sit down. Dense, floury and delicious, the breads aren't dry or gummy; the butter, jelly and sweet cream in a shamrock holder on the table aren't even necessary. The tea selection, of course, has the standards -- Earl Grey, Breakfast, Jasmine -- and some curveballs: White Chocolate stood out.
The menu includes light appetizers, soups, sandwiches and desserts. As hoped, the Tea Room serves some
Throwback of the House
-esque fodder: things such as cherry and walnut ambrosia, and a gelatin sundae, which on this day layered whipped cream between yellow and orange Jell-O. And the hostess is especially proud of the March special: a Reuben, potato soup, chips and dip and a green dessert -- mysterious emphasis placed on the word green.
(She later reads us an Irish folk tale, a special touch given to every patron; we're all read a poem to "make each experience special," the menu says.)
I opted for the quiche of the day (ham and swiss), with a side Fleur de Lis Strawberry salad. The latter is a spring-like treat: fresh strawberries, grated parmesan, onions and a thin slice of boiled egg atop spinach, all doused with strawberry vinaigrette. The dressing was thicker than normal vinaigrette, more like a slightly thinner jam. It was also quite sweet, almost overwhelmingly so; thankfully, the smaller side portion was sized just right. The quiche was hot and delicious. A puddle of pale yellow cheese melted over the top, which was firm but not tough. Inside, the eggs fell apart perfectly, leading up to a flaky, robust crust.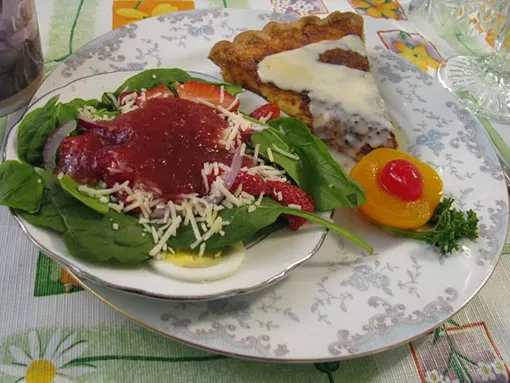 Quiche and a Fleur de Lis salad.
My boyfriend opted for the Summer Sandwich, a turkey melt with Monterey Jack cheese and chipotle pepper, which he washed down with a Fitz's Orange Crème soda. His side of asparagus came with a pat of butter and was tender. Although he's known for his strong stomach, the heat of the sandwich gave him pause. Delicious pause, to be sure -- but his eyes were definitely watering.
Needing caffeine, I opted for a bottomless cup of coffee instead of a pot of tea. A sacrilegious choice, given my locale? Nonsense. As Alice proves, doing what you're supposed to do -- instead of following your heart -- is never the right choice.