[
Update, March 9, 5:15 p.m.:
The DD is open
!]
[
Update, March 3, 12:20 p.m.
Carrie Reckert, marketing contact for Dunkin' Donuts, just emailed me and said that they are paving the parking lot at the Kirkwood location today. She notes that there's "no firm opening date yet, but we're shooting for next week."]
[
UPDATE: February 22, noon:
Commenter Lou correctly points out below that the opening date isn't confirmed yet. In addition, I received an email from franchise owner Michael Geller over the weekend, in which he noted that the weather of the past few months has delayed things. He does confirm that the parking lot is all that's left, though. I'm working on getting a definitive opening date, because he isn't even sure yet when that will be. So when he knows, we'll know!]
[image-7]
In February 2008,
we first reported
that
Dunkin' Donuts
was returning to the St. Louis market. There was little to no movement on franchise news until
last July, when it was confirmed
that the first new stores were due "this winter." A little sleuthing revealed that the first store was due in Kirkwood near the Target/Lowes complex on Lindbergh. Last week, someone pointed out to us that
this DD is now hiring
!
Now, I'm going to be honest: I'm beyond excited about this Dunkin' Donuts opening. I grew up on Dunkin's doughnuts, and nothing else (at least fast-food-wise) compares to its coffee. As a result, I've been following the construction of the Kirkwood franchise very closely. So closely, in fact, that I've been driving by it and taking photos for Gut Check over the past few months. Check out the following photos to see the progression.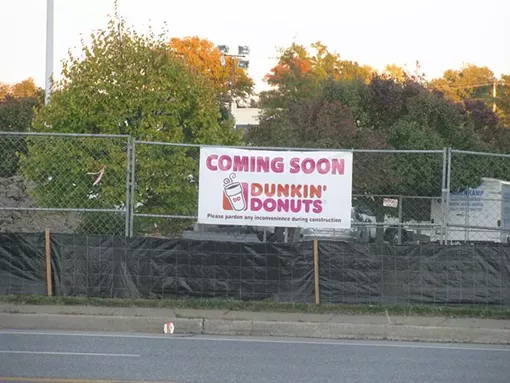 October 18. Taken from the parking lot right next to the Chipotle, across Lindbergh.
Another one from October 18, taken from the same place. Note the number of trees still there on the plot of land meant for DD.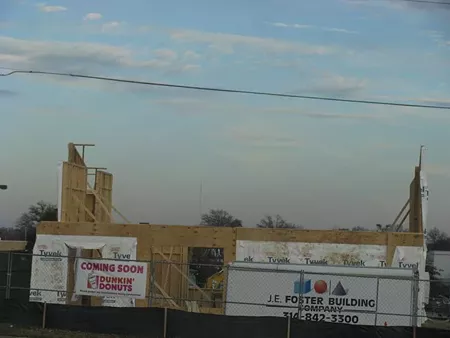 Taken from the same place, on November 8. Note how fast the shell of the building went up.
Now, this was a close-up of the building as it looked yesterday, January 31. Snow, cold, the holidays prevented pics from the last few months. But trust me, it was worth the wait...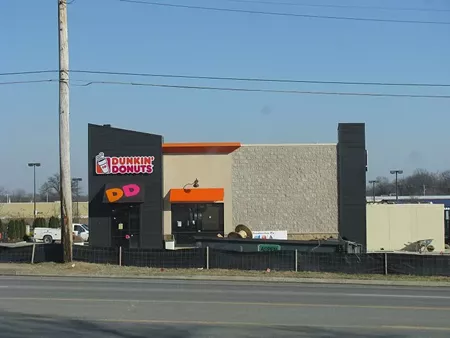 IT'S ALMOST TIME TO MAKE THE DONUTS! The drive-through is still a muddy, unpaved mess, and the parking lot is still uneven and full of construction equipment. But the shell of the building is very, very intact. Let's look at that a little bit closer:
The "D" as the door handle is a nice touch. I'm not sure when this shiny, sparkling mecca is opening, but I'm guessing it's soon. Anyone know a specific opening date?