Owner Jeff Stettner has seen to the thoughtful expansion and continued excellence of 33 Wine Shop & Tasting Bar (1913 Park Avenue; 314-231-9463), a Lafayette Square classic. The space is sleek yet inviting, and the addition of a second room complete with comfortable seats (and two additional restrooms) has made 33 even more welcoming.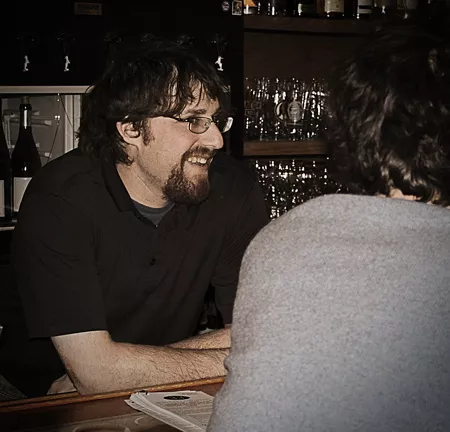 Tom Carlson
Jeff Stettner, owner of 33 Wine Shop & Tasting Bar in Lafayette Square
The vibe is laidback and the lights are low enough to inspire romance or the hatching of conspiracies while still allowing you to properly admire what's in your glass. It can get loud when it's packed, but in warmer weather the small, secluded patio makes for an excellent refuge.
33's wine list is, frankly, staggering, both in size and in quality. The roster clocks in at just north of 700 selections, including more than 25 half-bottles. While that may seem daunting, Stettner and his long-tenured staff of Dylan Mosley and Mike Bianco quickly put patrons at ease. These guys know their list; they'll be happy to recommend wines that fit your tastes, or, if you'll let them, give you something you've never tried, once you've told them what you like.
Next up: Gut Check's Wine List CherryPick: Three wines to try from 33's list, painstakingly researched and selected for our discerning readers...
Gut Check's CherryPicks:
2008 Nigl Grüner Veltliner Freiheit A lively, tasty grüner that'll pair perfectly during the coming asparagus season. (No, really. It takes a special wine to be able to pair with asparagus.) ($21 to take home or $30 with corkage)
Pierre Peters Blanc de Blancs Grand Cru Champagne (nonvintage) This Champagne is made by the same person who grows the grapes it's made with. That's not the case with most well-known French bubblies, which are made with grapes gathered from hither and yon and blended to be consistent year after year after year. Two great things about grower-made Champagnes: They nearly always cost less then their more-famous brethren; and they are almost always more distinctive and complex. This one's imported by the estimable Terry Theise -- another name to look for. ($62 to take home or $71 with corkage)
2006 Littorai Pinot Noir Sonoma Coast Nearly impossible to find. An elegant pinot noir from one of California's top artisanal producers. Owner Ted Lemon was the first American hired as winemaker by a Burgundy house, and has spent the past fifteen years pursing his own vision of pinot noir in the cool vineyards of the true Sonoma Coast and Anderson Valley. ($42 to take home or $51 with corkage)
Next: More about 33... Stettner is from northern California, and growing up with wine "literally all around" led him to drink extensively from his home region. While his early favorites were cabernet sauvignons, zinfandels and petite sirahs, his tastes evolved to encompass European wines when he went to work for legendary California-based wine importer Grape Expectations.
Today Stettner pegs the southern Rhône region of Châteaneuf-du-Pape as his personal favorite: "I love the combination of ripe fruit with Old World flavors of earth and herbs."
33's list reflects its owner's passion with a very nice Rhône selection, but Stettner's roots show through in his California picks, which stand out even among the hundreds of other wines. This portion of the list is heavy on small high-quality artisanal producers whose wines are often hard to find. Add to that the fact that Stettner will cellar his wines on-site until they're ready to drink, rather than pour recent releases that haven't neared their peak.
33's by-the-glass offerings are updated regularly; Stettner says the focus is on "broadening customers' horizons with interesting selections." That's one way to look at it. Another way is to think of it as an opportunity to explore more with less of a financial investment. It also bears mentioning that the glasses themselves are nice: good size, thin rim, spotlessly cleaned and polished.
Rounding out the menu at 33 are a very nice and frequently changing offering of fine cheeses, meats and crackers, and one of the absolute best beer selections in the St. Louis area. The beer selection offers 6 eclectic draft options that rotate quickly, and a bottle list in the neighborhood of 100 selections.
Finally, bear in mind that 33 is also a wine shop: Nearly every bottle on the list is available for purchase to take home, and at prices that are very competitive. Corkage price is $9 for whole bottles and $4.50 for halves. That means 33 is just begging you to pull the cork on a pricier bottle, with a markup over retail so laughably small that it makes local restaurants look like thieves.
33 Wine Shop & Tasting Bar 1913 Park Avenue 314-231-9463 Hours: Tue.-Sat: 3:30 p.m. to 1 a.m. Strengths: Variety; Staff; Prices; Older Vintages; Excellent Storage. Weaknesses: Not open 24 hours a day, every day.