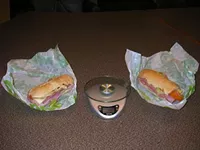 Ian Froeb
The scale of justice?
As Daily RFT
reported
last week, a lawsuit has been filed in Madison County, Illinois, alleging that the chain restaurant
Blimpie
does not provide the advertised double portions of meat on its Super Stacker sandwiches.
Yesterday, Gut Check had a chance to speak with
Mark Brown
, one of the plantiffs' attorneys at the law firm
LakinChapman
, to address a few questions about the suit.
The main question, prompted by
our own investigation
of the difference in weight between a regular and Super Stacker version of the Blimpie Best sub: How does the suit define "double"? Is it the weight of the meat? The number of slices of meat?
"I think it has to be one or both of the above," says Brown. "The discovery will determine what [Blimpie parent company] Kahala thinks double meat is."
Brown notes that, as in the case of Gut Check's own investigation, the plaintiff's notion of what Blimpie might mean by "double" is limited by a small sample size of sandwiches. "And we don't yet have Blimpie's recipe, which I think will be an important part of the case. That's something we'll receive in discovery. All we can do is draw inferences."
Brown on the lawsuit's origins and that $75,000 figure floating around the Internet, after the jump...
Brown is circumspect about how the plaintiffs discovered that the Super Stacker sandwiches didn't contain double the meat, as advertised, but he does allow the following: "It was something [the plaintiffs] discovered while in the restaurant, and it was confirmed with a conversation with the people behind the counter."
As for what the plantiffs are seeking in damages, Brown says not to be confused by the $75,000 figure that was mentioned in at least
one article
about the lawsuit. The statutory threshold between the suit being filed in state or federal court is $75,000, so the suit claims only that any damages incurred are below that $75,000 threshold.
"Obviously," says Brown, "it's under $75,000."
However, Brown cautions against holding the suit's size or taget against it: "There have been questionable lawsuits in the past dealing with the food industry -- with the fast-food industry in particular. But I think in any other context -- let's say you go to the gas station. The sign says you pay $2.50 a gallon, but they give you only eight-tenths of a gallon. I think people would be outraged by that.
"If Blimpie is, in fact, charging people extra for something they are promising, but not providing, that's something people should be concerned about."