I'd like to include some colorful detail to accompany this edition of Guess Where I'm Eating, but I was distracted by ESPNews, which managed to repeat the Tiger Woods mea culpa in its entirety
three times
over the course of my lunch. Thankfully, the sound was muted.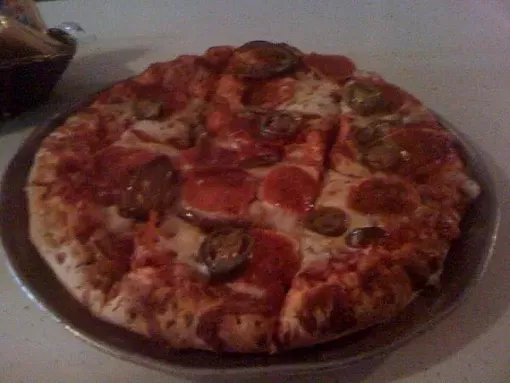 Where am I eating this pizza? It's a ten-inch pie, by the way, with pepperoni and jalapeño. You know the drill. Leave your guess as a comments. Hints if no one guesses correctly after a while.
Update
: (Monday, February 22, 9:50 a.m.) Sorry for the delayed update, but commenter Davbak was the first to guess correctly that this pizza was served at
Frank & Helen's Pizzeria
(8111 Olive Boulevard; 314-997-0666).