Frazer Cameron is thoughtful and deliberate, measuring his words as the morning sun warms the bar at the restaurant he has owned for eighteen years. Likewise, Frazer's Restaurant & Lounge is the product of his careful consideration, planning, and making sure everything is just so.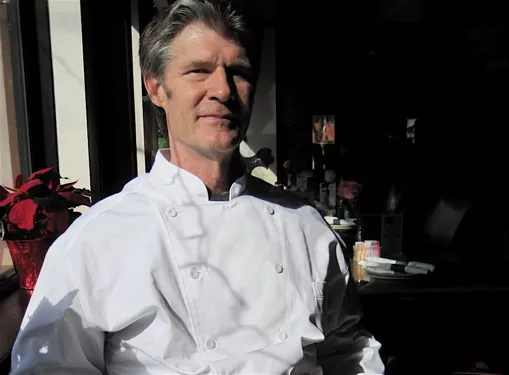 "It always gets down to super-fresh, high-quality and simple preparation," he says. "Whatever I do I want it to be as good as it can be. To just open up a place and have it be an average place? I don't want to do that."
Born in Washington and raised in northern California, Cameron was introduced to the hospitality business early in his life by his mother, who worked in the hotel industry and took the time to cook all the family's meals.
In his teens Cameron hit the streets of San Francisco in search of dishwashing jobs. For most of his twenties he traveled, funding his extended trips with odd jobs, often in restaurants. It wasn't until a 1978 trip to St. Louis that he began making decisions about his culinary future, but not without some doubts.
"When I moved to St. Louis [in 1978] was when I got more into cooking," he says. "I started working at Carnegie's. There was a woman who ran the kitchen [Sherrill Gonterman, founder of LaCHEF Catering] who'd just graduated from the Culinary Institute [of America]. When I came to this woman, she was really skilled, professional, and she inspired me.
"I started buying cookbooks, reading a lot. I thought at one point about of going to [cooking] school, but I liked working outside. I wasn't sure I wanted to spend the rest of my life working inside, in a kitchen."
Cameron opted to continue his education on the job and via his voracious appetite for cookbooks. "One of the first restaurants I worked at, the guy making the quiches quit. I said that I could do that. It took me a month to learn how to make the pastry. I got the cookbooks and they just said to put this and this in. They didn't say to not handle the pastry too much or it'll get tough. Those things I learned by doing it."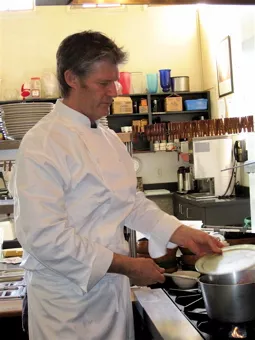 In the late 1980s, well into his thirties, Cameron resolved to settle in St. Louis. "I thought, I'm either going to open a restaurant or I'm going to quit working in restaurants altogether and really focus on school. I was investigating different places -- when a place would come up for sale, I'd go check it out."
One of those places was a corner space in Benton Park that previously housed a Mexican restaurant, attached to a hardware store.
With only 25 seats and an out-of-the-way location, Cameron focused on catering to the neighborhood. "Most of the people who came and ate were from Anheuser-Busch," he recalls. "Not the white-collar, but the blue-collar guys who weren't supposed to be out of the brewery. They'd sent out these people they called 'lunch shooters'. They'd come here and order lunch for 30 people. They really liked our food. We'd get two or three of them a week, and that sustained us."
The take-away trade inspired the restaurant's name: Frazer's Traveling Brown Bag. But after his first review -- a year and a half after opening -- the restaurant drew crowds from outside Benton Park. "On weekends we'd have a 45-minute wait. The place was just tiny. It was fun. People seemed to -- it was kind of an adventure for them, coming to this neighborhood. Sometimes we'd get these phone calls like, 'What's the safest way to get to your place?'"
When the building's owner decided to sell, Cameron bought it, then spent two years creating the current dining room and his dream kitchen.
Despite the changes, Cameron stuck to his core values when it came to food. "Once we moved into that space and I had a huge kitchen to work with, I started hiring more people and really started to branch out. I got to try all the things I was interested in, but always keeping in mind price point and what people respond to. No matter how much I like something, it doesn't mean it's necessarily going to sell. Usually I have a pretty good instinct for that.
"I always had the idea that my restaurant should be a place that anyone can come and eat," he goes on. "You can come here and get a bowl of red beans and rice for $2.95. Even though the restaurant has changed and looks more upscale, it still has those original roots."
Cameron says he has had offers to expand, but he's in no hurry. "I kind of have my hands full with this place right now. I don't know how other people go about having two, three restaurants. To keep everything rolling here seems to take a lot of attention from me. I would love to have a group of people, where we could open three or four different places, each one a different kind of food. That's the direction I wouldn't mind going -- but I'd have to find the people. Each person would have to bring something different to the table: someone who's really good at marketing, advertising, administration, training and management. I wouldn't do it unless I had people to cover different phases."
Meantime, he'll continue down his path, striving for consistent quality. "One of the trickiest things about having a restaurant is having different cooks. Consistency is one of the biggest things. Whether it's a hot dog or filet mignon, when somebody has something they like and they go back to the restaurant, they want it to be the same experience. That's one of the hardest things as far as the kitchen -- just getting everybody on the same page."
Frazer's Restaurant & Lounge 1811 Pestalozzi St. St. Louis, MO 63118 314-773-8646