"That's a big fucking burger."
The words leave the mouth of Jeffery Abegg and seem to hang in the air for a moment before drifting into the heady mix of grill seasoning, onions and burgers that fill the Fuddruckers in Sunset Hills on Tuesday afternoon.
Photo: Andrew Mark Veety
Dan O'Conner on February 16, before he attempts to destroy a five-pound burger at the Sunset Hills Fuddruckers.
Flanked by his friend Dan O'Connor, Abegg has ventured out on this Fat Tuesday to indulge in a bit of vice before the start of Lent. Instead of a last bender or wafting way in a pack of smokes, these men have traveled from Florissant to eat hamburgers.
These are not just any burgers, though; these are five-pound monsters. Meat hubcaps. So big they take more than an hour to cook, first in a convection oven, then hefted onto a flattop with a pizza peel for a final char. After that they're nestled within massive buns, which were baked earlier in the day and require an electric knife to split open.
For the past four years, the Sunset Hills burger joint has joined fellow Fuddruckers locations in Chicago and Texas for this annual event. According to Fuddruckers employee Maurice Layman, nobody has ever accomplished the task of eating a five-pound burger in under an hour, but each year a handful try to scale that gut-busting peak.
Photo: Andrew Mark Veety
The pre-cooked patty and bun at Fuddruckers.
For an entry fee of $24.99, contenders receive a T-shirt, the giant burger and a drink. Diners are free to top burgers with cheese or any of the condiments from the fixings bar. Anyone who emerges victorious from the gastronomical gauntlet gains bragging rights, plus five free Fuddruckers burger combos. (Presumably to be consumed at a later date.)
Observes Abegg: "I'm sure there is someone starving in Haiti today, but not at this table in St. Louis."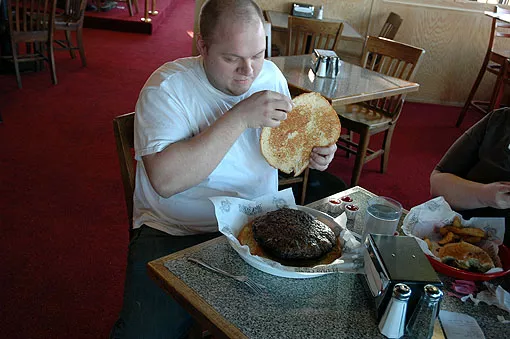 Photo: Andrew Mark Veety
Abegg uncovers his meat at the Sunset Hills Fuddruckers on a truly Fat Tuesday, February 16.
With the hour still ahead of him, Abegg is a man with a plan. "It's like a big meat loaf, so I'll eat the meat and then go for the bun." Forsaking the standard burger toppings, Abegg opts only for ketchup, spreading it a bit at a time as he knife-and-forks his way through the patty.
For more beef photos, and to find out if the pair made it through the meat gauntlet, click to the next page...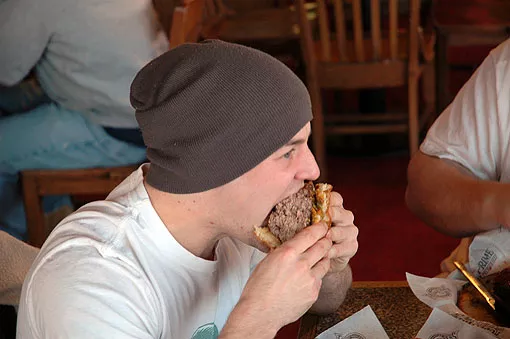 Photo: Andrew Mark Veety
O'Connor sinks his teeth into the Fuddruckers five-pound burger.
Playing Jay to Abegg's Silent Bob, O'Connor is a bundle of energy from the get-go, suggesting with a grin that this burger challenge is the reward for training hard for a fight. And like a prizefighter, O'Connor is a flurry of movement and mastication, often tilting his head back and to the side after a volley of bites as if he'd taken a volley of body blows and is prepared to return the favor.
Before digging in, O'Connor topped his burger with pickled jalapeños and a healthy slathering of mustard. Where Abegg opted to slowly dismember his burger with utensils, O'Connor roughly cuts his into four pie-like portions, bun and all, and proceeds to attack them by hand, one at a time.
Photo: Andrew Mark Veety
Midway through the burger challenge.
For the first half-hour, both men make impressive progress. But as the minutes tick by, the burgers shrink more slowly. Abegg maintains a steady clip but by the 45-minute mark seems resigned to the fact that a pound or so of burger and half the bun will remain when time runs out. As O'Connor's pace slows, he continues to insist that the jalapeños were a good idea. Ultimately he concedes that perhaps this is not so.
After 60 minutes and untold calories, both men bow to defeat, though not for a lack of trying. Even at Denny's Beer Barrel Pub in Clearfield, Pennsylvania, the purported birthplace of massive burger-eating events, challengers are given three hours to consume a six-pound burger.