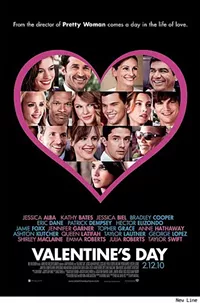 Saturday, 5:20 p.m.
There are three courses of action for a single woman on this night of all nights, the Saturday night preceding the commercialized festival of love.
1. She can get very drunk, denounce the Smug Marrieds of the world, sing Motown songs into her hairbrush and then collapse into a sodden mess and sob over her continued singleness. (The Bridget Jones approach.)
2. She can eat lots of chocolate and cheese and watch a romantic movie, wistfully if it is a comedy, sniffling if it is a tragedy. (The Nora Ephron/Cathy approach.)
3. She can spend time with her parents and prove that a single daughter can be an asset to her family by doing some of the cooking and all the dishes. (The Jane Austen approach.)
Option 3 is out, given that said family is 300 miles away and parents already have plans. Option 1 is tempting, however complicated in recent years by the fact that almost all my friends have joined the Married tribe and I would feel kind of lousy denouncing them because, for the most part, they aren't really Smug.
Option 2 it is.
I choose
Valentine's Day
and go early to maximize convenience for all. For one thing, I won't annoy a waiter by taking up a table at a busy time, ordering a small single-woman portion and leaving a correspondingly small tip (although slightly enhanced out of guilt for daring to take up space). Also, I won't have have to endure couples dining romantically
a deux
. Most of the time they ignore you, but sometimes you get a pitying glance: There but for the grace of God...
5:35 p.m.
Find parking spot in Central West End next to Cupcakery. ACK!!! Must...restrain...self...
5:38 p.m.
Enter
Bissinger's: A Chocolate Experience
. Brace self and request table for one. Host appears to take this in stride, though get placed in front of the window so the whole world can watch single girl devouring chocolate alone. Study menu and decide on the Cococcino and an Irish coffee. Given
early reviews
of
Valentine's Day
, a little alcohol seems a necessity.
5:53 p.m.
Food arrives. The Cococcino is a molten chocolate cake served in a big coffee cup, topped with a vanilla-bean crème anglaise. It tastes like a brownie fresh out of the oven. The coffee is satisfying. Attempt to eat with elegance and restraint, unlike comic-strip heroine Cathy, who devours chocolate with all the elegance and restraint of a wild beast and then instantly gains about twenty pounds.
Pull out book, serious tome on the history of American bohemianism ca. 1910. Coincidentally reach part about New Women, who live in a lousy part of Greenwich Village with no indoor plumbing but have a splendid time together in a literary discussion group that makes male visitors uncomfortable after they learn that their mere presence is not enough to get them laid.
This is satisfying.
6:14 p.m.
Inventory of other customers: Several men come in to purchase boxes of chocolate. One carries a bunch of pink and red carnations. A romantic couple sits by the fire and eats chocolate cake. A man in a motorized scooter manages front door with grace and dexterity. Two girls dressed up for a night on the town (wisely?) take a back booth.
6:25 p.m.
Declare defeat in face of Cococcino. Evidence of my delicate feminine appetite! Fancy the Irish coffee is beginning to take effect. The world appears a benign place, hospitable even to spinsters.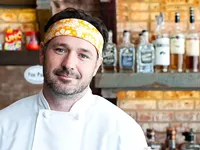 flickr.com/photos/doublephotoalbum
6:30 p.m.
Arrive at Chase Park Plaza. Am greeted outside ticket line by a giant walrus who, apparently, is part of the Magical Mystery Tour Mardi Gras Party.
6:32 p.m.
Learn all showings of
Valentine's Day
are sold out until 10 p.m. No one seems particularly distressed except one older woman on cell phone debating how a different showing or a different movie will affect dinner reservations.
6:43 p.m.
After pondering options, like waiting till 10 or driving to another theater, decide to purchase ticket for a matinee tomorrow. "How many?" asks ticket seller. Hold up one finger. Do I detect a look of pity as he hands me my ticket and says "See you tomorrow"?
6:47 p.m.
Head over to Straub's. On Kingshighway, the man walking beside me introduces himself as Von. "Why aren't you going to the party?" he asks. Explain I wasn't invited. "Me, neither," he says. "Be careful. Watch your bag." Automatically check over other shoulder to make sure not victim of a tag-team pickpocketing.
6:59 p.m.
Purchase steak and chicken to cook up and eat over the course of a week. In an exciting new development in single womanhood, it is now trendy to cook small meals for oneself. It also makes you really good at fractions.
7:02 p.m.
Head home to Netflix and
cat
.
8:10 p.m.
While perusing the
New York Times
online in search of the Modern Love and Vows columns (natch), come across not one but two articles about
Lori Gottlieb
and her new book
Marry Him
. The thesis appears to be that single women owe their singlehood to excessive choosiness, like refusing to go on a second date with a guy who orders tap water in a restaurant instead of bottled (it means he's cheap).
So does this means all single women above the age of 29 are shallow, judgmental lunatics who have only themselves to blame for their continued singleness? The
Book Review
seems to think Gottlieb is spot-on. Shit, this is way worse than the pat on the shoulder and the kindly "Oh, you just haven't met the right one yet" followed by an offer to fix you up with some stray second cousin.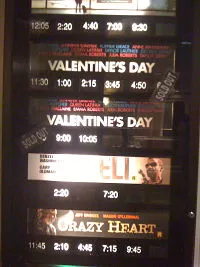 Sunday, 4:24 p.m.
Read about how Louise Bryant traveled with John Reed to St. Petersburg to cover 1917 revolution. Now
that
is true love. Realize it's time to head to the movies.
4:47 p.m.
How lucky to have purchased my ticket last night! This afternoon's showings are sold out as well!
4:51 p.m.
The nice thing about going to the movies by oneself is that it's much easier to find an empty seat, especially after the lights have gone out and the previews are running.
5:17 p.m.
Oh, dear God, actually sort of enjoying this. Not nearly as much as the couple next to me, mind you, who are cracking themselves up, but it's not as terrible as expected. (Nothing could really live up to that kind of hype.)
6:38 p.m.
Oh, Jessica Biel, do you, as a representative Valentine's Day-hating single woman, really have to do the full-on Cathy here, screaming and crying and declaring your love for candy?
Really?
7:07 p.m.
The big surprise. Everyone in the theater gasps.
7:14 p.m.
Lights up. Movie's over. People linger, talking, laughing, reading credits. Even I feel sort of happy, not even nauseated. The thing about an ensemble movie like this is that if someone starts to annoy you, you know they will be gone soon. Except for Ashton Kutcher and Jennifer Garner and the allegedly cute kid. They all suck and yet get more screen time than anybody else.
7:15 p.m.
Outside the theater an usher stands with a silver tray of Starlight Mints and Hershey's Kisses. The girl behind me says, "And that's the only kiss I'm gonna get today." Aw, honey, that's what
they
want you to say. Don't buy into that shit. Go home and have a nice, dignified discussion group with your friends. And be happy you've got indoor plumbing.