2007 Domaine Arlaud Bourgogne Rouge Roncevie ($27)
33 Wine Shop & Tasting Bar, 1913 Park Avenue; 314-231-9463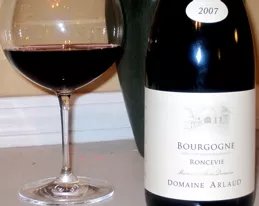 Say a hearty hello to 2007 Domaine Arlaud Bourgogne Rouge Roncevie
​Tasting notes:
Pale red in color. The aroma is redolent of tart cherry fruit, but there's an undercurrent of earthiness -- a hallmark of red Burgundies -- and spicy oak. Medium weight in the mouth, where the dark fruit stars again. You get some tannic structure, but nothing overpowering. This wine took a couple of hours to really get singing, so if you're drinking it now, decanting before pouring would be a good idea.
Today's wine is an example of a single-vineyard Bourgogne, from the well-regarded village of Gevry-Chambertin. (It's farmed organically, though this small producer doesn't bother to seek certification.)
For anyone who likes wine, it's worth getting to know Burgundy, because it is the point of origin for two of the finest grape varieties -- pinot noir and chardonnay. In addition, Burgundy is one of the best areas to explore the concept of terroir, that virtually untranslatable French term for the phenomenon that grapes transmit to wine some of the character of the ground they're grown in.
The trouble is that a lot of people are put off Burgundy because the region's wines are organized in an uncommon (and complex) hierarchical structure -- one that's codified in French law.
The good news is that the system isn't nearly as daunting as many people make it out to be.