It's been
a good weekend for people
who love New Orleans. In Soulard, participating restaurants brought out special menu items with varying levels of Creole and Cajun influences for the pre-Mardi Gras food festival, Taste of Soulard.
Photographer Jason Stoff hit up several restaurants on Sunday afternoon. In between the dozens and dozens of dogs walking the street for the Dog Parade, he shot these dishes.
Here's a full slideshow from the Taste of Soulard.
Photo: Jason Stoff
Chef Eric Brenner is an expert at styling food. Here, a tantalizing glimpse of the BBQ Shrimp and Jalapeño Cheddar Grits at Molly's in Soulard. See the full slideshow here.
Photo: Jason Stoff
Johnny's chef Chris Roth says their Red Beans and Rice is a little different than what you'd get in New Orleans - theirs is a lighter dish, and more soup-like. It's a dish they've been perfecting since 1993. See more photos here.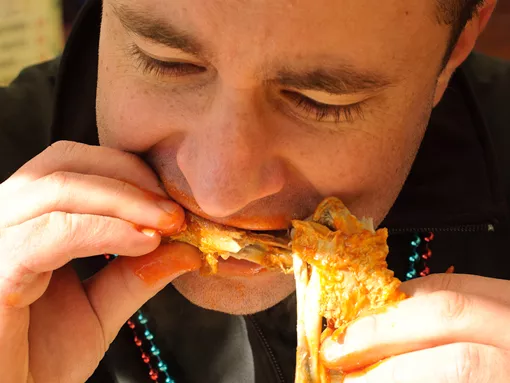 Photo: Jason Stoff
Richard Gray attacks tequila hot wings, a specialty at Hammerstone's. Hammerstone's has been fine-tuning the recipe for 14 years, but its combination of hot sauce, butter, and tequila is hard to beat. See more photos here.
Photo: Jason Stoff
Joanie's Pizzaria prepared a special combo for the Taste of Soulard event -- a Blackened Chicken Creole Pizza. Owner and cook Joanie Thomas says it's made with a homemade Creole sauce, fresh blackened chicken and the pizzeria's famous cheese. She says there's no similar pizza in the city. See more photos here.