"Barbecue is not a menu item," says
Mike Emerson
of
Pappy's Smokehouse
. "It's an experience. When people walk in here, and I watch them take a big, deep breath..."
A roar of laughter erupts from the kitchen staff. "And this right here, the people in the morning, laughing. This place is waking up every day. It's a blast."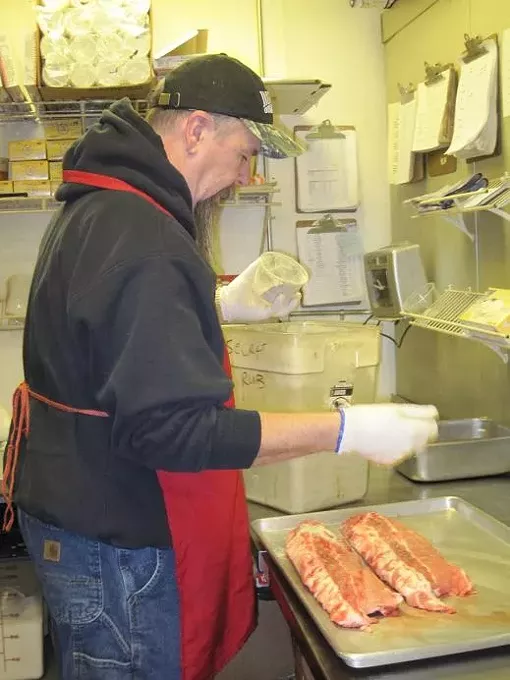 Robin Wheeler
Mike Emerson, co-owner of Pappy's Smokehouse, hard at work
(
Read Gut Check's profile of Mike Emerson
, whose Pappy's Smokehouse was named Riverfront Times' "Best Barbecue" in
2008
and
2009
as well as "Best New Restaurant" in
2008
.)
It's hard to not be happy in the presence of barbecue. But just as there's no recipe for happiness, barbecue's more about technique and quality ingredients than following an exact formula. Especially when the second ingredient of pitmaster Skip Steele's ribs comes from a tub with "Secret Rub" scrawled on the side in black marker.
Emerson assures me that there's nothing in the secret rub that can't be found in the average cook's spice rack. Still, he is not giving up the details, instead encouraging home cooks to tinker and experiment to find what they like best.
More important than the spice combination is the quality of the ribs. "We use baby back ribs," Emerson says. "Spare ribs look like they have more meat, but they don't. You've got to start with good-quality ribs as a canvas for everything else."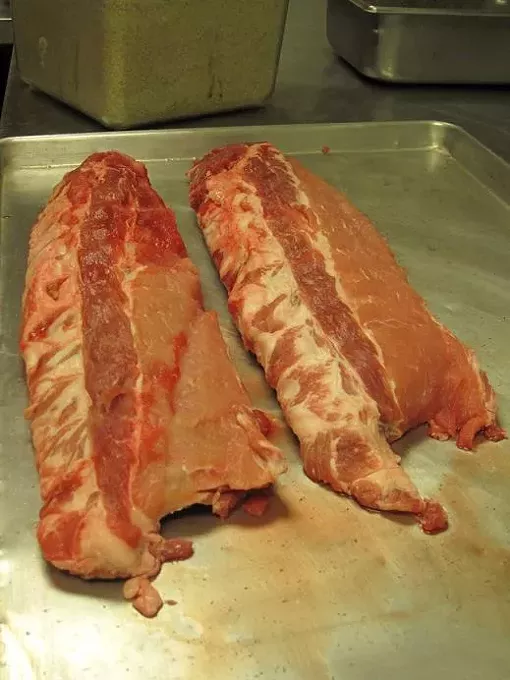 Emerson's baby back pork ribs are pink and marbled, well-trimmed to ensure consistency without excess fat or gristle.
A smoker's indirect heat is necessary. There's no way to replicate the smokiness of true barbecue in an oven. A grill will give some smokiness, but not to the degree you'll experience at Pappy's.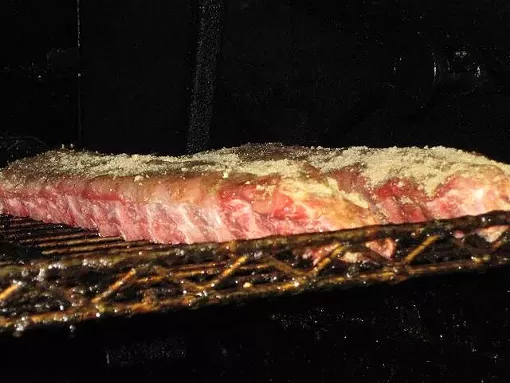 Without real smoke -- preferably from fruit trees that create sweet smoke -- the meat doesn't get that pink smoke ring, which is created by a chemical reaction between the meat and nitrogen dioxide in the smoke. The ring indicates that the meat was, indeed, cooked with low heat over a long period of time with real wood.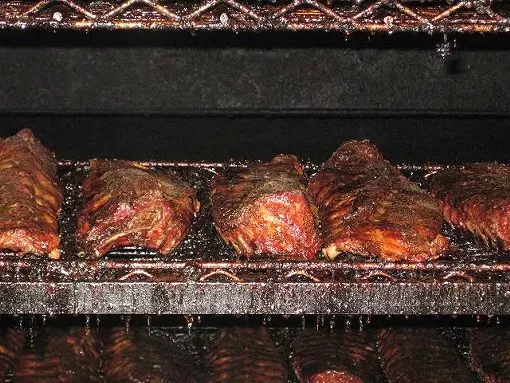 You don't need a giant carousel smoker like Wise Ol' Walter, the beast that keeps ribs rotating at Pappy's. Emerson claims, "You're not a true redneck if you don't name your smoker.
"When we got this one, Skip [Steele] was in Vegas, working at
RUB
. I called him to tell him we'd bought a smoker and named it Walter, which is Skip's real name. He thought about it a sec and said, 'Yep, Walter'll be a wise ol' smoker.'"
While I'm not a professional, my vertical wood smoker has served me well. Like the professional carousel smokers, the vertical allows rendered fat to drip away from the meat. This keeps ribs moist without leaving them in a pool of grease.
Build a fire
in the smoker, allowing time for the smoker to reach 225 degrees.
Rub ribs with the spice rub of your choice. To get the sticky, caramelized finished of Pappy's ribs, top the rub with a healthy dose of light brown sugar, sitting in big crumbles on top of the meat.
A full rack of baby back ribs will take approximately four hours to finish in the smoker. Time depends on the size of the ribs, number of racks in the smoker (do not overcrowd) and how often the smoker is opened.
Resist the urge to peek; the ribs will be better if the temperature remains consistent, which won't happen if the smoker is opened too often. To resist the temptation, go do something fun with the people who'll be eating your ribs.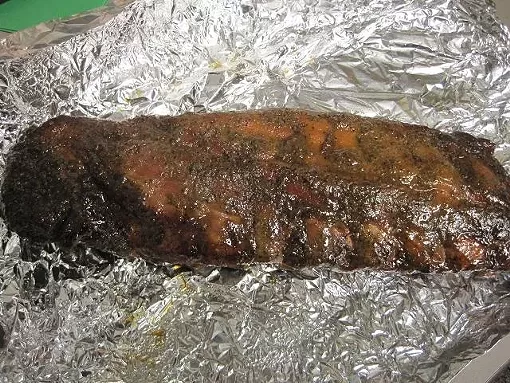 Ribs are best eaten as soon as possible, when the smoke's still clinging to the meat, the juices are running, and the meat is at its most tender. The bones might burn your fingers, but only if you're eating them right.