Two years into the phenomenal run of
Pappy's Smokehouse
, the Midtown barbecue joint that has gained national attention and has lines out the door daily, co-owner
Mike Emerson
shares the secret of his success:
"I'm a 54-year-old knucklehead who got lucky cooking barbecue."
Robin Wheeler
Mike Emerson, co-owner, Pappy's Smokehouse
Emerson is understating the case, but that isn't unusual. Humble and gracious, he always brings the topic back to the people in his life and business, those who have given him opportunities and those who snake out the door until the barbecue is all gone every day. Sometimes those people include
Willie Nelson
, Bobby Flay,
Adam Richman
of Travel Channel's
Man v. Food
and St. Louis Cardinals pitcher
Adam Wainwright
.
"I don't know how to explain it," Emerson says as he sits in the empty Pappy's dining room an hour before the restaurants open its doors. (And when those doors open, patrons will already be waiting in the cold.) "We get people in here, and they look at the crowds and ask if I ever excepted this. I say no, and I'll tell you a story:
"See my runners on the floor? I opened this with [John Matthews and Brian Scoggins], and I had that one there and that one there." He motions to the two three-foot-long runners nearest the counter. "On opening day, I said if we can get a line to the end of that runner, we've got it made. We had a line down the hall, into the banquet room, to the door. No, I couldn't have anticipated that happening. What we could control, we did. What we couldn't just fell into place."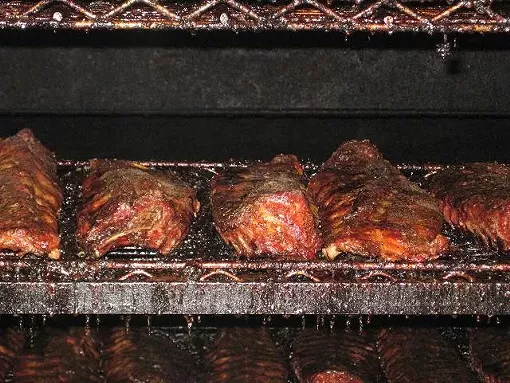 He motions to Skip Steele, a
Memphis in May barbecue champion
: "He's cleaning windows. You want to get a feel for what we're about here -- nobody here will ask someone to do a job here that they wouldn't do themselves. To me, that's the coolest thing. That and the laughter. This place rocks it."
Indeed it does. Even without an audience of anticipating customers, shrieks of laughter regularly burst from the kitchen as they get ready for the day's work.
Emerson, a St. Louis native, has a long history in restaurants, starting with busing tables at Slay's on Hampton when he was thirteen. Later he managed Mother's Pizza and then helped open Del Pietro's before leaving the restuarant business for a commercial sales job.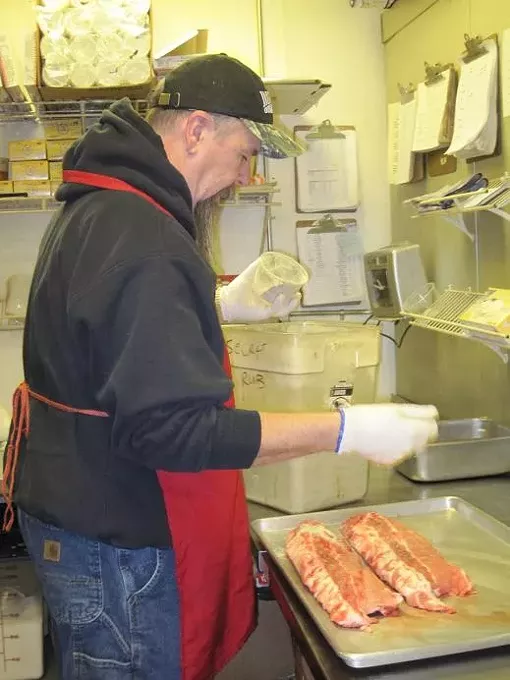 Then Steele entered the picture: "I met up with Mr. Skip Steele, my brother from another mother. He's been a barbecue man since the time he was thirteen and built his first smoker. To say that barbecue is in his veins is an understatement."
They met when Emerson interviewed for the general manager job at the original Super Smokers in Eureka. "I'd been sent to the store to talk to [Steele] about coming to work. I'd come from a duck hunting trip. This man grew up hunting and fishing. I walk in for a job interview in full camoflauge, and he starts talking duck hunting, and the next thing I know I'm in the barbecue business. So that was my formal interview with Skip Steele."
Not that Emerson wasn't already well-versed in barbecue. "I fell in love with the barbecue thing because that's a St. Louis tradition," he explains. "Pappy, who was my oldest brother -- he passed nine years ago -- we used to barbecue in his backyard all the time. We'd ask how many were supposed to be there, and he'd cook for twice as many so that way anyone who showed up....That showed me just how to keep everybody happy. Have something for everybody."
It's a policy that works elsewhere in his family: "My daughter's a vegan. So sweet potato fries and green beans are big items for her. Obviously I have no problems with [vegetarians], and we do everything we can to accommodate them. Although I will tell you that we've made a couple of converts. There was this guy who came in, and he'd been a vegetarian for six years. He said, 'I think I'm gonna try meat again.' I gave him a rib and I walked back over and asked him what did he think. He just said, 'What the hell was I thinking?'"
As always, Emerson punctuates the story with a hearty laugh and a shake of his head.
Emerson's other child, son John, doesn't share his sister's eating habits. He works in Pappy's kitchen. I meet him while he is wrapping flaming-hot ribs straight from the smoker. When I warn him I'm going to take his photo, he says, "I'll give you a rib if you cut me out," flashing a grin that matches the ever-present one on his father's face. When the elder Emerson steps to another part of the kitchen, he whispers,"I love my job. I'd love working here even if he wasn't my dad."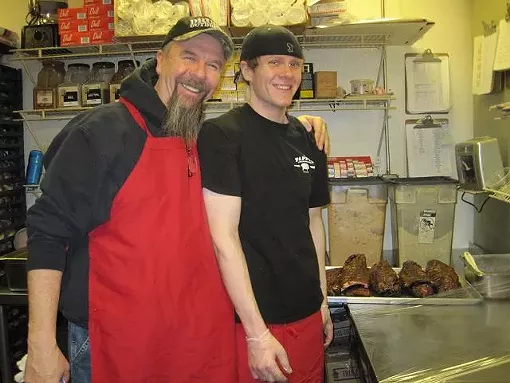 Robin Wheeler
Mike Emerson and son John
Last year, father and son went to the Big Apple BBQ Block Party, where Steele was one of fifteen barbecuers invited to cook in Manhattan. "A little barbecue party for 110,000 people in two days," says Mike Emerson. "It was one of those things where we felt fortunate that they invited fifteen teams from around the country and Skip and I got to go.
"We got to have the street shut down on Saturday night. My son and I stood there and kind of looked around and said, barbecue's taken us a long way when you've got one street in downtown Manhattan to yourself on a Saturday night."
As this piece is published, Emerson and company will be wrapping up Pappy's second anniversary party, donating every bit of money they make to Haitian earthquake relief. In January, the restaurant held
a fundraiser with Adam Wainwright for the Catch a Dream Foundation
. From its first day in business, Pappy's has given any leftovers to a neighborhood homeless shelter. "That's a no-brainer," Emerson says. "I have healthy grandchildren, a beautiful daughter, a son that I love to death who works with me side-by-side every day. Life's good."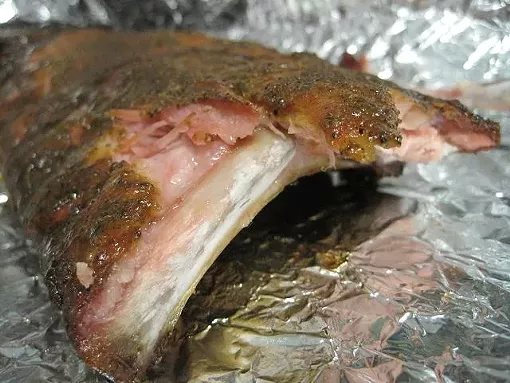 Yet he still apologizes: "I wish I was more interesting in some of these stories, but I can't give enough credit to the guys who do the heavy lifting around here. To do this day in and day out...I see people who think that they can work out a set of numbers and decide if something's successful. We understand that the numbers are important, but in order to be successful there are so many other factors.
"We feel that if we continue to do what we're doing, the numbers will fall into place. The numbers guys call that flying by the seat of our pants. We call it living with passion and we'll do whatever it takes. In the first two years here it's been pretty successful."