Our companion on this afternoon has spent the earlier part of the day rehearsing for a high school talent show. A teacher at an all-boys Catholic high school, he has formed a band with some students, another teacher and a newly minted monk. Eventually they settled on one song each by Vampire Weekend, the Pixies and Young MC, although they had some difficulty because the monk, a classically trained musician, could not master the syncopated rhythm of most popular music. Our companion is tapping out an irregular beat on the laminated wood table, demonstrating how he tried to show the young man, saying, "Don't you hear that?" and shaking his head.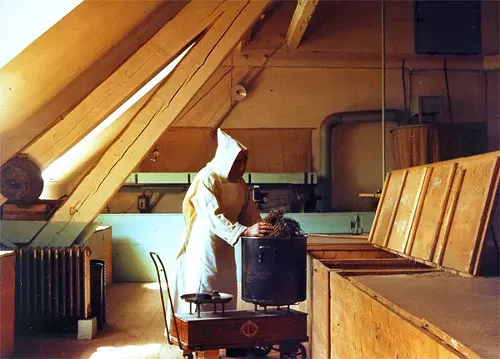 www.chartreuse.fr
A monk, mixin' up the medicine
He is sipping a celery-color drink, its hue owing to the presence of green
Chartreuse
, a liqueur made by Carthusian monks for more than 400 years.
The Bleeding Deacon
's gin-and-'Treuse is a gin-and-tonic made with
Hendrick's
gin (a fine thing on its own), given more depth with the addition of this mysterious liqueur. At any given time, it is said, only two monks know the potion's passionately guarded recipe, which comprises 132 herbs, flowers and other secret ingredients.
A gin-and-'Treuse tastes medicinal -- not surprising given that Chartreuse was originally created as a medicine and tonic is made from quinine, and we all know about the malaria connection there -- but not in an entirely bad way. It is the polar opposite of sweet, fruity, frou-frou drinks. It is clean, subtle. The tonic's quinine bite is softened by the cucumber note in the Hendrick's, and together they provide the backdrop for the vegetal, spicy Chartreuse. It calls to mind something you'd find in an old-time apothecary, in a brown glass bottle with a label that claims it will "Fortify the Liver" and "Restore One's Vigor."
Our companion is talking about his graduate-level English class, "Rethinking the Confessing Subject: Sin, Sensationalism, and the Production of Self." One of the few people we know who says, casually in conversation, "The first time I went to graduate school...," he is among our all-time-favorite drinking buddies. He is erudite, witty and self-deprecating -- a combination that pairs beautifully with alcohol. We discuss St. Augustine's Confessions, in which the author tells of his struggles to come to terms with his sexuality, including his prayer as a young man, "Grant me chastity and continence, only not yet." After the second round is ordered, we turn to our own weaknesses.
If you're going to tell on yourself, you might as well do it at the Bleeding Deacon. This south-city pub has a punk rock, come-as-you-are, let-it-all-hang-out feel to it. The walls and ceiling are painted black. The lights are low. The employees have a familiar, easygoing manner. Go, order a drink and let loose. Ideally with someone you know. Hear yourself say out loud all the things that usually just rattle around inside your head.
Per Oscar Wilde, "It is the confession, not the priest, that gives us absolution." There is no absolution for us, nor any priest, only a deacon (bleeding). The jukebox glows across the room, emitting a motley mix of music. We hear the syncopation, the beats that don't follow the rhythmic rules, although it would be easier not to. It would be easiest to take everything that doesn't fit into our system, everything that defies our expectations, and refuse to hear it. If we were monks, we would have a set of guidelines to live by, an exacting, centuries-old recipe to follow, perfect 4/4 time. Instead we just take the good medicine they make. We come to this small, dark room, to this booth, and we confess.
The Bleeding Deacon
4123 Chippewa Street
314-772-1813