2008 Pazo das Tapias Alma de Blanco Godello Monterrei
2007 Pena das Donas Verdes Matas Mencía Ribeira Sacra
Exploring Spanish wines often means encountering unfamiliar grape varieties. Two recent encounters -- mencía and godello -- came at the suggestion of Andrew Traughber at Bon Vivant Wines (123 South Main Street, Columbia, Illinois; 618-281-3464), which Riverfront Times named "Best Wine Shop" in 2009. Both these wines provide further evidence in favor of establishing relationships with good merchants.
Wikimedia Commons
The mencía grape of Spain
​Godello and mencía are indigenous Spanish grapes that hail from regions only a few miles apart. (In fact, godello is grown in the region where today's mencía wine was made.)
Godello's a white grape, and the wine featured here comes from Monterrei, which forms part of Spain's border with Portugal. Monterrei is not exactly a star of Spanish wine. In fact, authorities suspended its status as a Denominación de Origen (D.O.) for a time before restoring it in 1994.
Mencía, a red grape, is similarly obscure in terms of international recognition, though not quite as much so as godello. Today's example comes from the Ribeira Sacra, a small region comprising only about 3,000 acres of vines, and one that only achieved D.O. standing in 1997.
The Ribeira Sacra is becoming increasingly prestigious and has seen the founding of many new wineries over the past fifteen years, but the region's history dates back to Roman times. Remnants remain of ancient terraces on vineyards that rise steeply from the rivers that run through the region. It's heartening to see them revived, particularly with their indigenous inhabitant, mencía.
First up...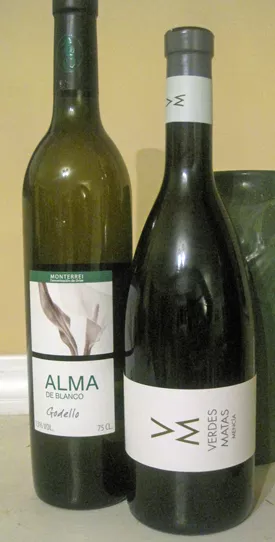 ​2008 Pazo das Tapias Alma de Blanco Godello Monterrei ($16)
Almost clear in color. Intensely aromatic of peaches and herbs (yes, there's a bad '70s music joke in there somewhere), with a hint of nuttiness. Almost placid in the mouth by comparison, but still delicious. Could do with a touch more acidity, but there's really nothing to argue about here. This wine would be lovely on a warm spring day, perhaps even better as a reminder on a cold February one that spring is coming.
2007 Pena das Donas Verdes Matas Mencía Ribeira Sacra ($25)
Bright, clear, medium ruby. The aroma is reminiscent of ripe blackberries, but with a touch of spice, and some chalky/rocky notes. Slightly rich on the palate with plenty of fruit, and a really long mineral finish. This wine is delicious and distinctive, and kept opening up and evolving over the course of the evening. No hint of oak -- which is a relief, because some producers are ramping up the new oak as the Ribeira Sacra gains recognition. As tasty as this wine is, it seems somehow that the winemaking process is obscuring some of what mencía can be. At any rate, seeking out more examples of this grape should be a rewarding experience.