I don't have horrible childhood memories of overcooked Bird's Eye frozen Brussels sprouts. My family, for reasons I don't know, never had them. My only childhood Brussels sprout memory lives in poetry form.
I was in fifth grade, spending the night with my best friend, and I read a poem tacked to her family's refrigerator, written by her brother, age seven: "I hate Brussels sprouts / Nasty little cabbages / Throw them in the garbages."
That's some pretty sharp rhyming for a first grader, touching enough to live in my memory for over 25 years. Although the lowly sprout's been redeemed in the culinary world over the past decade, I can't eat one without running those three lines through my mind.
I always thought Brussels sprouts' bad reputation stemmed from no one making them fresh. Thanks to 1982's Culinary Arts Institute
Quick Dishes for the Woman in a Hurry
, I now understand that's not the case. People abused fresh sprouts just as badly as the frozen ones.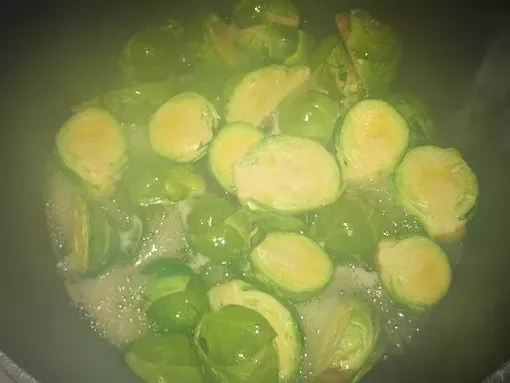 Case in point: Brussels Sprouts and Grapes. Cut fresh Brussels sprouts in half, simmer for eight minutes in beer, drain and then toss with butter, salt, pepper and seedless green grapes. Sprinkle with parsley.
This has got to be another way for
women too timid to embrace feminism to subvert the patriarchy passive-aggressively
.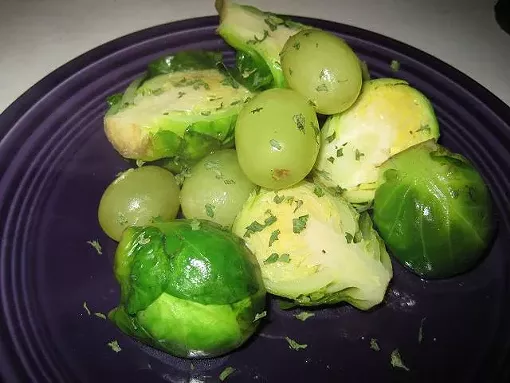 For starters, the beer steam rolling off the tiny cabbages smells like the aftermath of a St. Patrick's Day parade. Ever stood next to someone vomiting cabbage and beer? Now you can recreate the experience at home with slightly less retching.
And the textures? Grapes aren't meant to be warm, not without conjuring images of eating eyeballs. The tough little sprout leaves do distract from the warm squishiness. And while Brussels sprout do benefit from the addition of sweetness, this is a battle between sweet and bitter that won't end until you come to your senses and spit it out.
A great wordsmith said it best in 1986. Nasty little cabbages. Throw them in the garbages.
Robin Wheeler writes the blog Poppy Mom and is a regular contributor to Gut Check. After years of making and eating fancy food, Robin is sick of it all. She's returning to the basics: recipes that haven't surfaced in three decades. She reports on the results every Monday.