Jonathan Olson claims that his mountain biking skills have suffered since becoming a chef, but the 28-year-old is plenty zippy.

Not even four years after he started cooking professionally at Canoe in St. Charles, Olson assumed the executive chef position at Erato on Main in Edwardsville, Illinois, at the beginning of January.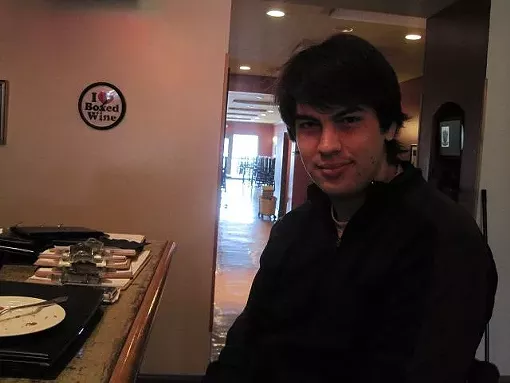 Robin Wheeler
Jonathan Olson, executive chef of Edwardsville's Erato on Main
It's not the path he intended after earning his degree in economics and finance from Southern Illinois University-Edwardsville.


"I worked for [The Edwardsville Intelligencer] for three years and one day," he says. "At that time, I was riding my bike a lot, and I was in a lot better shape than I am now. I was eating healthier and I was working with my hands. I looked at what cooking is. It's a very physical job. I thought that it would translate well. I saw the business side, which interested me. Then I saw the creative side, which definitely interests me."

Three months and a lot of reading later, he changed careers. He worked at Canoe for a year before some good timing and a bad wake-up call intervened: "It was an hour and fifteen minute drive every day, and I was working 70 to 77 hours a week. Kevin [Willman] had opened Erato in September. In October I fell asleep driving home on a Saturday night, went off the road and obliterated my car. I was all right. I actually stayed asleep in my car for three hours and woke up at four in the morning and really didn't know what was going on. I tried to turn on my car and the bottom part of my car was all gone. I'd hit a ravine and went into a field. I get out and I'm like, 'What the fuck?' I was a mile from my house. I liked working at Canoe, but I knew Kevin was doing some really cool stuff. At the end of the year I moved over here."

Though his mother likes to bake, Olson didn't get his culinary education at home. He started making lunch for himself when he was in school as an alternative to eating fast food.

"I learned by working in a good kitchen," Olson explains. "Kevin was a good teacher, and I spend all my money going to restaurants and traveling. I've staged at a lot of places. I've worked for free at a lot of places, whether it's been for a week or a couple of days. I can walk into a kitchen and see how they've got the wine set up, who's doing what, break that down and see what makes them successful. Or even see things that I would improve. It's certainly less expensive than going to culinary school."

Despite his chef-driven education, Olson returns to his roots to make me one of his favorite recipes: a breakfast cake that has been used to drag the kids in his family out of bed for several generations. The free-form cake is thin but spongy, its delicate interior protected by a crisp layer of cinnamon and caramelized sugar.

"Maybe you can get a picture of me balling up the whole thing and cramming it in my mouth," he jokes after we have two slices each.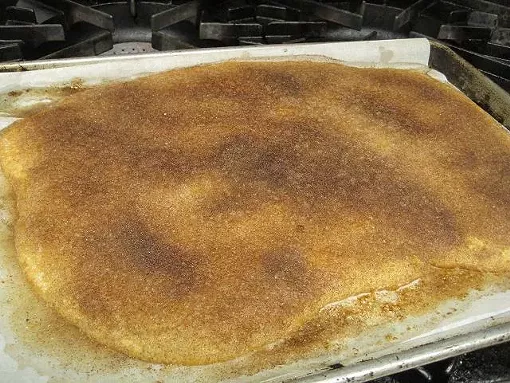 Robin Wheeler
This breakfast cake has gotten several generations of Olson kids out of bed.
He was going to make his favorite recipe -- his mom's monkey bread, which he requested for his recent birthday dinner -- until he found out the bread's base is frozen, pre-fab bread dough. Even though it jibes with the simplicity he likes, it would clash with his fresh, local take on food.

"Over here in Illinois, there's like fifteen farmers' markets and stands in fifteen minutes," Olson says. "There's a Greek couple that have goats and sell goat's milk. And there's three people who have produce stands on my way to work.

"I'm big on mountain biking. A lot of times I'll stop and look for mushrooms, do some foraging. That's my excuse because I'm not nearly as fast as I used to be and I need to take a few breaks now and then. This fall there were oyster mushrooms everywhere. I probably found forty pounds. There's mushrooms, stuff like watercress and fiddlehead ferns. Wild onions are all over. There's a lot of other mushrooms, too. Everyone knows morels, but there's also black trumpet mushrooms, pear puffballs which I had on the menu. Little puffball mushrooms."

The local bounty helps him keep his food simple, but not boring: "That's why I tried to work in more chef-driven places instead of classic French, where you're doing the same thing every day. Obviously it's really important to roast a chicken properly, but I couldn't work in a place that does roasted chicken with potatoes. I could work there and learn the technique, but I couldn't spend three years there. That's not interesting to me."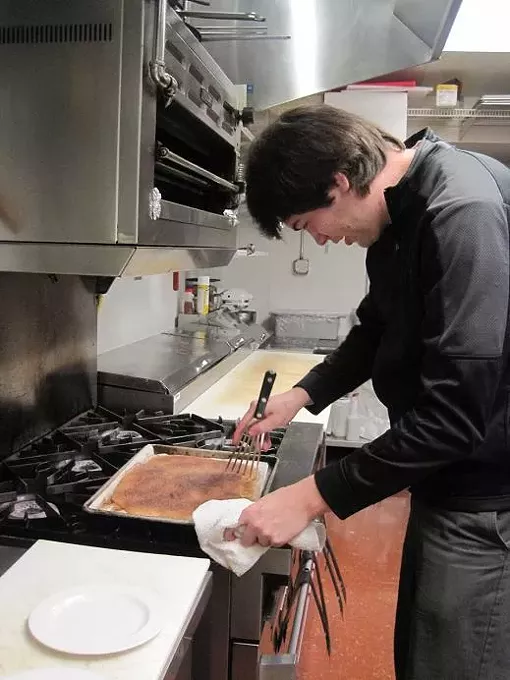 What does interest him is finding new ways to present classic dishes: "Brown butter's traditional with escolar, so I took brown butter and made it crispy. I used a new technique where gelatin, egg whites and brown butter get mixed together in the right ratio. It's not pairing weird flavors, or even pairing flavors you haven't had before. It's more a texture thing."

The resulting strips look and feel like snack chips, the opposite of poached fish's tenderness, but with the familiar toasted flavor of the butter.

As he enters the executive-chef phase of his career, Olson is looking at how to use what he's learning. "I've got a good gig here, but I'm not going to be here forever," he says. "I'd like to open my own place eventually. That's still a way off. This is definitely a good place to learn and figure out what you're going to do. You can be a sous chef somewhere and open up your own place, but you haven't really done your own stuff at that point. Whereas here I can do whatever I want.

"Not going to do anything crazy. Hopefully not going to cook anything bad. I know what my customers want. I can't not sell steak, even though grilling a piece of steak doesn't really interest me. But I can't not do that."

Robin Wheeler writes the blog Poppy Mom and is a regular contributor to Gut Check, including the columns The Dive Bomber and Throwback of the House.