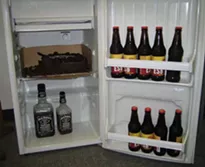 What do you wash your chocolate cake down with?
Did you know today is National Chocolate Cake Day? No? You're not alone.
Every local baker we contacted was oblivious to the existence of
this "food holiday."
But exist it does. After looking around online, however, the origin of this day is still a mystery to us as well. Even the experts
are stumped
.
Even with its dubious history and lack of prominence, National Chocolate Cake Day deserves at least a little attention.
Feast your eyes on these photos:
@SamanthaRonson
's Twitter: When a sugar rush just isn't enough any more.