While most former vegetarians cite bacon as their gateway food back into carnivorous behavior, for me, it was the humble hamburger. A burger and fries is the quintessential American meal, and I'm always on the lookout for a burger that leaves me satisfied.
So when my friend and fellow food blogger
Andrew Veety
, collaborator on
the BLT cocktail highlighted in an earlier Novice Foodie
, decided he was going to try a sampling of St. Louis's finest hamburgers, he agreed to let me (and several other burger enthusiasts) come along for the ride.
A note on his methodology: Veety polled St. Louisans on Twitter and Facebook, then picked the top twelve vote-getters. Each month, he will try another of the top twelve, including a veggie burger, and blog about it. Because the inaugural tasting took place on a Sunday morning, this monthly burger sampling is now known as The Church of Burger.
First stop:
Dressel's
in the Central West End. I'd never tried Dressel's burger before, and I didn't really know what to expect. In addition to Veety and myself, others joining us on our burger quest were Veety's wife, Sarah, and son Reis; local food photographer
Jonathan Pollack
; his wife and
food blogger of note
(and
Gut Check contributor
), Stefani, and their son Myles; and a local burger critic so hardcore that his name actually contains most of the word "burger,"
Bill Burge
.
My burger profile is this: fat, hand-formed patty, charred crust on outside, medium-rare inside, must be uber-juicy, soft bun, no condiments except possibly cheese. Basically, I want restaurants to make the burger I make at home better than me. Aside for a few missteps, the Dressel's burger was a pleasant surprise. It's a half-pound patty, which I ordered medium rare with white cheddar and fries. Sadly, the burger was actually medium to medium-well, but the thick patty was so damn juicy, I honestly didn't care.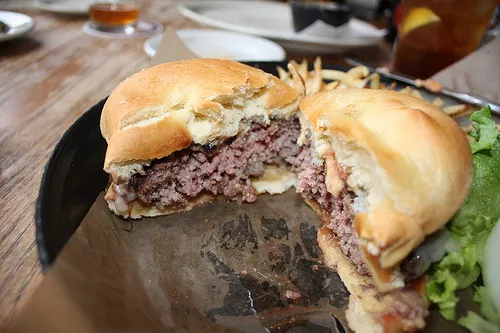 See the color? Yet, note the juice in the bottom of the tray. This seemed to be typical for the group -- most people's burgers were overcooked, but not to the point that they weren't enjoyable. There's plenty of seasoning; in fact, maybe a touch too much salt, but it wasn't distracting. The brioche bun was squishy, yet held up to the burger's juiciness to the last bite. While not a part of the actual burger, I did like the shoestring fries that came with the burger, and next time (there will be a next time) I'll get some rarebit to go with them.
Bottom line: Dressel's serves up a sturdy, solid burger worth your inquiry. Service was friendly, and my fellow burger-worshippers and I engaged in the sort of food-nerd speak that can only enthusiastically happen in the presence of other foodies. I'm now a practicing member of the Church of Burger. Don't take my word for it; check out
what Veety had to say
over at his blog.
Kelli Best-Oliver is on a quest to become a full-fledged foodie. She chronicles her adventures every Tuesday. She writes about any damn thing she pleases at South City Confidential.