This week we continue
our exploration
of German riesling. I have a particular passion for the grape, the subject of either misunderstanding or outright dismissal by most people interested in wine.
A vineyard growing Mosel riesling
Germany enacted a comprehensive (if probably wrong-headed) wine law in 1971. That statute created several levels of wine quality with separate requirements: geographic, minimum alcohol, added sugar, etc. The one of most interest to geeks is the
qualitätswein mit prädikat
(QmP) designation.
(As of the 2007 vintage, this cumbersome term has been replaced with the ever-so-catchy term,
Prädikatswein
. Gotta love those Germans.)
QmP recognizes six categories of wine: kabinett, spätlese, auslese, beerenauslese, trockenbeerenauslese and eiswein. The first two of these are table wines, while auslese runs the gamut from table wine to dessert wine, depending on the producer and the vintage. The other categories are strictly dessert wines. Unlike lesser wines, no sugar can legally be added to any of the QmP wines.
The law provides for minimum ripeness requirements that increase as one moves up the sweetness ladder, but these have become largely moot. Most kabinetts today are legally ripe enough to be labeled as auslese. Instead, the three basic categories of kabinett, spätlese and auslese have become merely relative indicators of style within a particular producers profile. Today, we tackle kabinett.
The term kabinett derives literally from the German term for a place to store wine. A kabinett was originally just a wine the producer thought worth aging. These days, a kabinett will generally be the driest (least sweet) wine in a producer's line-up. Some producers make
halbtrocken
(half dry) or
trocken
(dry) versions of kabinett that are drier than ordinary kabinetts. We'll deal with
trocken
German wines in another column, as they really are very different wines than the traditional German style we're discussing here.
A well-crafted kabinett is an ethereal experience: delicate but intense fruit aromas, with minerals and sometimes a touch of spice. Alcohol levels are modest, and a function of the producer, the vintage and the region; generally, they fall in the 8-11% range. Acidity is generally not modest, though there is variability again, and the potent acidic spine of these wines gives them an electric verve that slices through rich German food.
There is sweetness, but in top-flight kabinett it's barely a whisper, if you notice it at all. Its sole purpose is to provide some modest padding against the prodigious acid as well as perhaps a bit of roundness and heft to the mid-palate of the wine. The sweetness, assuming it is well-balanced, actually helps improve kabinett's utility at the table by opening up a broad range of dishes that incorporate sauces with some sweet notes to them. It also pairs well with fiery dishes: A fine kabinett is my go-to for a lot of Southeast Asian, Indian as well as spicier Louisiana (I'm not stepping into the whole Cajun/Creole debate) dishes.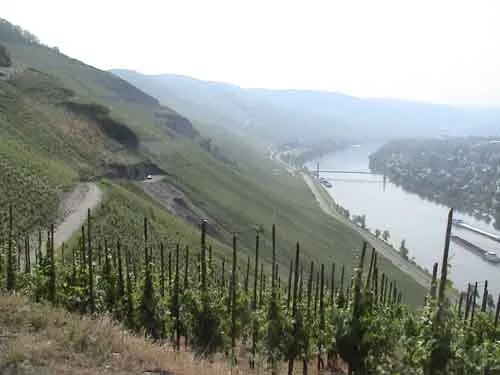 User "Riverwood," Wikimedia Commons
The vineyard from which this week's wine comes.
For today's wine, I dug into my cellar to pull out a kabinett with some age on it. This one was definitely not close to being over the hill. The 2001 vintage was quite well-regarded as the grapes got uncharacteristically ripe (though this is becoming much more common in Germany), but still had enough acidity to balance the fruit. I personally prefer more acidic vintages, but many 2001s have turned out to be lovely drinks.

2001 Selbach-Oster Zeltinger Sonnenuhr Riesling Kabinett
(from my cellar; about $15 on release): Relatively full yellow for a Mosel riesling. Nose is bright juicy citric fruit, backed by substantial mineral notes. Only a slight hint of smokiness gives any indication that this is almost nine years old. A bit fat in the mouth due to the very ripe vintage, but still has decent cut and excellent length.
This wine comes from the Mosel region, which may well be ground zero for the riesling grape. Most vineyards are so ridiculously steep that they must be entirely worked by hand. It is an incredibly cool area, even by German standards, and the wines are light, citric, very acidic and mind-bogglingly intense.
Dave Nelson is the author of the blog Beer, Wine and Whisky. He writes about wine every Tuesday.On the next page, bonus information about German wine...
If you really want to get your German geek on, you can delve into the world of
amtliche prüfnummers
(commonly called the "AP" number), an identifying code that each bottle of a QmP wine carries. For example, the wine tasted for today's column carries the AP number 2 606 319 017 02. Each of these numbers conveys particular information. The first, here "2," is the quality testing facility that granted the wine's QmP designation. The "606" is the code for the village where the vineyard is located, and the "319" is the number assigned to the winery.
The last two numbers are the ones that can sometimes yield useful information. The "017" indicates that this is the seventeenth lot of wine the producer submitted for classification. This can be important as producers often make more than one lot of a particular
pradikat
, i.e. they may have three separate lots of kabinett from the same vineyard. The only way to differentiate the lots on the label will be their different AP numbers (e.g. "017," "018," and "053"). For some producers there are real differences in taste between the lots. It is worth the effort to pay attention if you want to ensure either that you get more of the same wine, rather than one you might not enjoy as much, or want to make sure you try all of the lots before settling on one.
The "02" indicates the year in which the wine was submitted for tasting. In almost all circumstances, this is the year after the vintage. However, by paying attention to this number, you will occasionally find special releases that have been held back at the winery for additional aging. These can be a real treat.