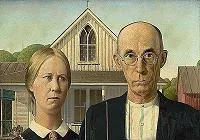 Don't forget to
vote in our survey
about the
proposed farmers' market downtown
. At last check, enthusiasm for the project was high, with more than half of all respondents saying they would shop there as often as possible. I'll have the final tally Monday afternoon.
Also, if you haven't done so yet, make sure to watch the totally awesome
commercial for Nolan's Cheddar
and take a
guess where I'm eating
.
What else did we do this week?
Throwback of the House crowned herself Corn King (or, er, Queen).

A sexytime video love letter to...a Chipotle burrito?

The Noble Writ found a Rioja worthy of celebration.

The Novice Foodie showed off her misfit kitchen tools.

The Beertender was glad that Lagunitas beer is available in St. Louis.

Drink of the Week said farewell to a friend at Sasha's on Shaw.

Chef's Choice profiled Cary McDowell of Winslow's Home.

The Dive Bomber was surprised: Time Out isn't a dive.

Sweet Scout loves bean pie.

That's it for this week. Have a great weekend. Eat something good.