Cary McDowell
has been doing some reminiscing. "Maybe it's a function of turning 40," he says. "I feel very circular. I started my love of professional cooking at a very young age with a group in Little Rock, Arkansas, and they encouraged me to go off and do great things and work with the best people I could. That was always a core theme in what motivated me. Along the way I worked with some of the best chefs I could ever imagine. It's been such a gift."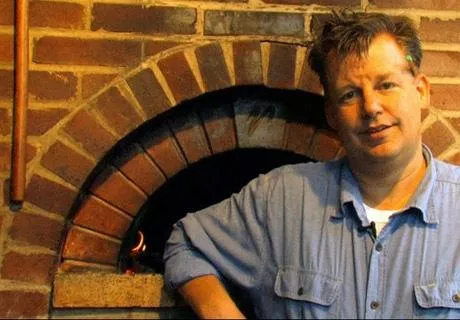 "What led me to St. Louis was a friendship with [St. Louis native]
Jim Fiala
that formed in New York City at
Restaurant Daniel
. Ultimately we made the decision to move here and open a restaurant [
The Crossing
] together."
The son of an Episcopalian priest with roots in Winchester, Tennessee, McDowell spent the first part of his life moving, eventually going to Manhattan and apprenticing at Daniel.
"I had a really blessed and charmed training. I happened to be in the right place at the right time in the right era to continue to put myself in these places. What I've tried to do in the past twelve years since we opened the Crossing was continue to honor that gift that was given so freely to me, of the craft, education and hand-me-down nature of cooking. I've been cognizant to try to give that back. I was told early on that the way this gig works on that level is you don't hoard it and you don't try to keep it. You have to continue to give it back to other folks."
After years in the fine dining game, last summer he returned to his homier roots at
Winslow's Home
, Ann Lipton's vision of a modern-day general store and farm that supports sustainable products and local producers. It's a departure from his years in upscale dining and a lesson in the authenticity of food.
"We're not trying to be a restaurant," he explains. "We're not trying to offer fancy table service. But we work really hard to make sure, as simple as it is, that it's true to what it should be. I was blessed to start out in a place like that in Arkansas. It was the place in Little Rock where they served real food at that time. They had real sandwiches. They had what would be considered vegetarian -- maybe even characterized as hippie-type sandwiches in the day. What drove them was that they were serving fresh, good, best stuff that they could get. That was in the mid-'80s. That's resonated with me the whole time."
Twenty years later, McDowell recognizes it's the same mindset that's changing the American culinary landscape: "If you read some of the big papers like the
New York Times
, it's become obvious that a lot of the movement that's had success in big markets has been from people who have come from these parts that have gone there to do well, because they get it from the Midwest, southern and western mentality. They have seen farms. They have grown things. They've gone to churches where there's potlucks and they've had family members who can and preserve.
"I'm convinced that the core of what really helped me survive in a French kitchen was the fact that I could relate to them and they could relate to me because of my southern heritage and the fact that I understood what it meant for Daniel [Boulud] to talk about his grandmother's stuff, what that meant and how he felt about replicating that stuff because I felt the same way about my grandmothers. I say that only because at the time I sort of knew that, but in hindsight I really see that because at the time there were a good majority of the folks I was with who didn't get that. They didn't come from families like mine that celebrated that stuff."
McDowell and his wife, Holly, are continuing the celebration with their eight-year-old daughter: "Mary Claire does eat at
Niche
, and she'll eat rare beef, mashed potatoes and blue cheese. She's at an age now where she's starting to get a little more adventurous and she's starting to get it. Since she was a newborn, she's always stayed up late waiting for me to come home. She's a restaurant baby. The times we've been at Niche, we've been there at 9:00. People are looking at us like we're bad parents: 'Your kid ought to be in bed.' She already is well-acclimated to it culturally. She just now has to have these epiphanies. She's going to get that opportunity [to eat good, interesting food] a lot sooner than I did."
Not that he begrudges his roots. "At 40 and looking back, I really, profoundly miss my grandparents," he says. "Profoundly. I get choked up just talking about it. I can remember my grandfather, when I visited after working for Daniel in New York for a year or two, and was so into being number one. Even then, when we would do a rib-eye steak for $40, and I'd throw that out to him, he was of the ilk that he couldn't understand. I mean, I couldn't even explain to him how that was a possibility. Because to him, it was the pool room in Winchester and he got a a t-bone for $1.25 and ate one every day. That's what he did for lunch. He had the shop, went to the pool room, had a steak and went back to work. I miss that. I miss the excitement of what and how you eat defining yourself not because it's a trendy thing but because that's what you do."

Cary McDowell is currently recovering from a health issue. Look for his recipe during the first week of February.Robin Wheeler writes the blog Poppy Mom and is a regular contributor to Gut Check, including the columns The Dive Bomber and Throwback of the House.