Traditional Rioja holds a special place in my heart: It's one of the few wines that can achieve a captivating level of elegance. These wines have tremendous complexity, but in a very understated manner. This alone distinguishes them from most every other Spanish wine on the shelf.
A vineyard in Spain's Rioja region
The other nice point about traditional Rioja: Producers are kind (or crazy) enough to cellar their wines at the winery until they believe they are more or less ready for consumption. For example, the wine tasted for this column is from 2000, yet it was the currently available vintage when I purchased the wine. (Since then, the 2001 has been released.) Some wineries also release older vintages that they believe are drinking well. While these wines are expensive, they are among the great values in aged wine as their provenance is impeccable.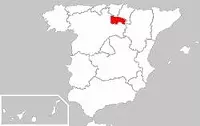 The Rioja region is highlighted in red.
Red Rioja is based on the tempranillo grape, which -- apart from contributing favorably to Port -- doesn't seem to thrive in many other places in the wine world. It provides the unique flavors of red fruits, earth and leather that make Rioja distinctive.
The traditional wine-making process in Rioja is also unique. Its hallmark is a long period of barrel aging prior to bottling. Certainly there are plenty of red wines that see time in oak, but traditional Rioja producers really go for it, with five, eight or even more years in cask. This promotes a slow oxidative aging of the wine, which brings about its amazing complexity. Contrary to what one would think, the wines are not overtly woody. In fact, the wine I tasted below had absolutely no oak taste at all, despite spending five years in cask.
Beyond basic Rioja, there are three levels distinguished by minimum aging requirements. To be labeled Crianza, a wine must have spent a minimum of twelve months in barrel and one year in bottle before release. A Riserva needs to be at least three years old prior to release, with at least one of those years spent in cask. Finally, a Gran Reserva must spend at least two years in cask and at least three additional years in bottle. Traditional producers often age their wines much longer than these minimums.
Since I've been harping on "traditional" Rioja, you're correct to surmise that there is a modern variant to which many producers have turned to join the herd of popular ripe, oaky Spanish wines. I tried to complete
my Rioja article
in December, but was stumped when each of the three bottles I purchased turned out to be overtly fruity or else bore the scars of too much new oak. While some might find these offerings to be good wine, I don't believe that they were under any circumstances good Rioja.
The two great traditional producers that can be found in the area are Lopez de Heredia, which is the source of today's wine, and
CVNE
(which looks like "Cune" on the label). Of these, Lopez de Heredia is the more traditional, and the one with which I have the most experience.
I have not found these in Missouri, but
Bon Vivant Wines
in Columbia, Illinois, had a selection from each winery the last time I was there. The wines aren't inexpensive, but they are worth it. If you need an alternative math, think of them as an easy way to taste a well-preserved aged wine to see if cellaring wine is something you might want to pursue.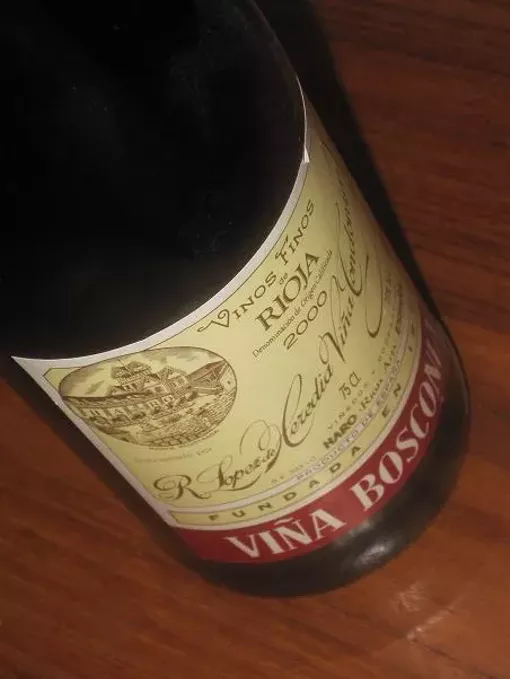 2000 R. Lopez de Heredia Viña Bosconia
($36, Bon Vivant Wines) Pale red, with slight orange bricking. Stunning complexity on the nose, especially once the wine is given a bit of air. It is soft and gentle, with some bottle sweetness already showing, but extremely compelling. It is difficult to stop smelling it and start drinking, but that is almost as rewarding. It is medium-full in body, with a nice compact, rounded richness. Plenty of acidity to keep it lively, but the tannins are unobtrusive. Just a touch of nuttiness at the death. If you've got those
big Burgundy glasses
, this is a wine for them as they provide plenty of oxygen exposure and collect the aromatics so well.
This wine is from a single vineyard whose vines average 40 years of age. This vintage was comprised of 80% tempranillo and 15% grenache, with the remainder the local varieties marzuelo and graciano, aged for five years in cask. For a real trip, track down Lopez de Heredia's Rosé -- the current release is the 1998, and it is truly a unique wine experience.
Dave Nelson is the author of the blog Beer, Wine and Whisky. He writes about wine every Tuesday.