Oh, corn. You subsidized, ever-present source of cheap carbohydrates. You've been much maligned in recent years, what with that blabbermouth
Michael Pollan
and
filmmakers
poking into your business.
It's gotten so bad that we now need
television ads
to be reminded of the wonder of your versatility.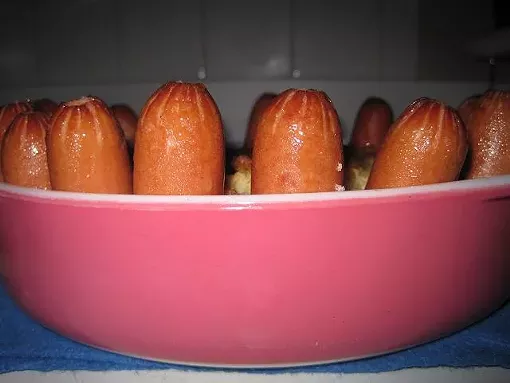 We need to return to a simpler time -- like 1976, when
butter made from corn was revered
. Or 1977, when Better Homes and Garden honored you in its
All-Time Favorite Casserole Recipes
book with Frank and Corn Crown.
Sauté a chopped green pepper and chopped onion in butter. Or, if you have it, Mazola. When they are tender, add two cups of soft white bread crumbs, stirring until they are full of corn-buttery goodness. Add 12 ounces of canned corn, 17 ounces cream-style corn, two beaten eggs from corn-fed hens and salt.
Mix, then place in a round casserole dish. Melt another tablespoon of corn-based butter-like product, add another cup of white bread crumbs and then toast. Spread on top of the royal corn mixture. Bake for 30 minutes.
While His Majesty bubbles in the oven, slice one pound of hot dogs (made from a variety of corn-fed animals, of course) in half. Remove casserole and place the franks, cut end down, around the perimeter of the casserole dish. Bake another ten minutes until the phalluses make a sparking, slightly charred crown.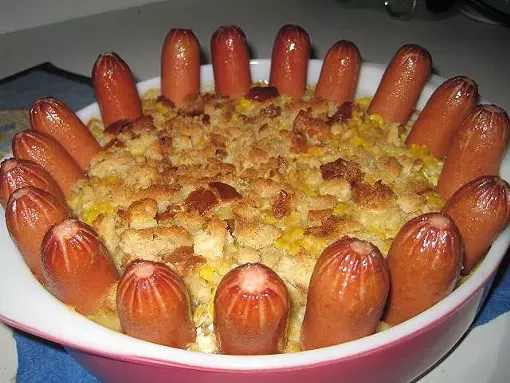 All hail the Corn King!
Or not. The corn mixture doesn't have enough liquid to make a creamy corn pudding, nor does it have enough egg to give it the loft of a corn soufflé. It's gloppy corn and white bread. The hot dogs are, well, hot dogs. Turns out a diet of corn doesn't make beef, pork and various poultry products taste compatible with a bowl full of bland corniness.
It's not horrible. It's just...hot dogs and canned corn, although it does get bonus points for being the most ridiculous-looking dish in the history of casseroles. Unless you're an 8-year-old in 1980, there's not much appeal.
My husband said that the tips of the hot dogs remind him of the Goatse guy, which doesn't make the dish any more appealing.
The king is dead. Long live the king.
Robin Wheeler writes the blog Poppy Mom and is a regular contributor to Gut Check. After years of making and eating fancy food, Robin is sick of it all. She's returning to the basics: recipes that haven't surfaced in three decades. She reports on the results every Monday.