Gut Check's Week in Tweets
by Ian Froeb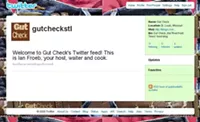 Don't you know? Gut Check has a Twitter account. You can follow me
@gutcheckstl
.

Here's some of what you missed on my Twitter feed this week:
It's the Caveman Diet! Tomatoes optional. http://bit.ly/4SaiVE
3:22 PM Jan 11th

Writing about restaurants feels pointless today. Please consider donating $10 by texting "HAITI" to Red Cross at 90999.
11:57 AM Jan 13th

The best #delmarloop buskers ever. http://bit.ly/84NGqa
2:50 PM Jan 13th

Breaking: Candy machine inside RFT entrance broken into! Look for #DelmarLoop denizen with Dubble Bubble overflowing from pockets!
9:55 AM Jan 14th

Another day, another strange RFT entrance experience: Our stairwell smells unaccountably strongly of strawberry candy.
9:43 AM Jan 15th
Support Local Journalism.
Join the Riverfront Times Press Club

Local journalism is information. Information is power. And we believe everyone deserves access to accurate independent coverage of their community and state. Our readers helped us continue this coverage in 2020, and we are so grateful for the support.

Help us keep this coverage going in 2021. Whether it's a one-time acknowledgement of this article or an ongoing membership pledge, your support goes to local-based reporting from our small but mighty team.

Join the Riverfront Times Club for as little as $5 a month.
Euclid Media Group, LLC
Read Our Sister Publications