It's never easy being new, but two months into his stint as executive chef at
Mangia Italiano
,
David Timney
is feeling content. "I think my home is really here," he says. "I'm just as excited being here as I was being at Balaban's seventeen, eighteen years ago."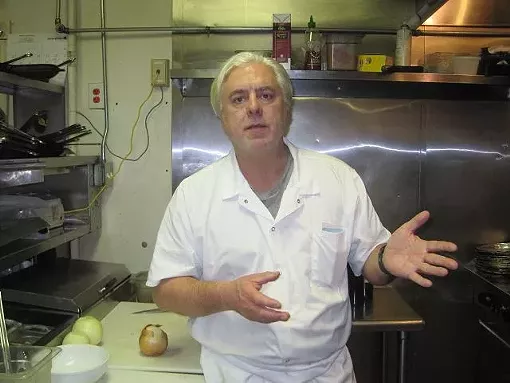 Robin Wheeler
David Timney, executive chef at Mangia Italiano
"There are a lot of similarities with the quality of food [at Mangia]," he observes. "The people are very committed and dedicated to working here. Once a place opens and it's been there almost nine years, to see people who've been here almost since the beginning -- that's what we had at Balaban's. We had people who'd worked there since day one."
Timney has experienced a lot of change in recent years. His career started with long stints at Detroit's
The London Chop House
and
The Rattlesnake Club
, followed by St. Louis institution Balaban's. In the decade since he left Balaban's, he has worked at
Sqwires
and
Kreis'
, but now he is ready for another long-standing gig at Mangia.
"At Balaban's, thirteen years went very fast," he notes. "It's amazing how, when you really enjoy something, how time really does fly. There's thirteen years of my life gone, and it was a great experience. I look forward to that being the same here."
He started his career at age sixteen, washing dishes in Detroit, not sure what he was going to do as an adult. Time spent in the professional kitchen changed that: "There was nothing I had a passion for until I started getting involved in cooking."
He soon found himself with the chance to learn from three-time James Beard Award-winning chef Jimmy Schmidt at The London Chop House: "I went to work [for Schmidt] as an apprentice, started working there opening oysters and clams, worked my way up. He took me under his wing then, took me to open The Rattlesnake Club in Denver, then he went back to open The Rattlesnake Club in Detroit, and that's where he is now. I left Denver and went to work at Balaban's.
"[Schmidt] said to me, 'If you're dedicated, it'll take you ten years to be able to run a restaurant and be on your own.' So I worked for him for about nine years and then it was time to leave the nest. For those nine years, it's easy to be a Monday morning quarterback and say, 'Oh, those nine years were great,' but when I was doing it it was like, this is kind of a drag. But when you get the cake at the end, that's what waiting for that day was all about."
It's easy to see how time flies for Timney. In the kitchen, he is no-nonsense efficient, cooking while chatting with a hint of a rapid-fire Detroit accent. While an Italian kitchen might be different from the restaurants of his past, he handles it with ease and skill, recreating Mangia's much-loved shrimp pasta with vodka sauce.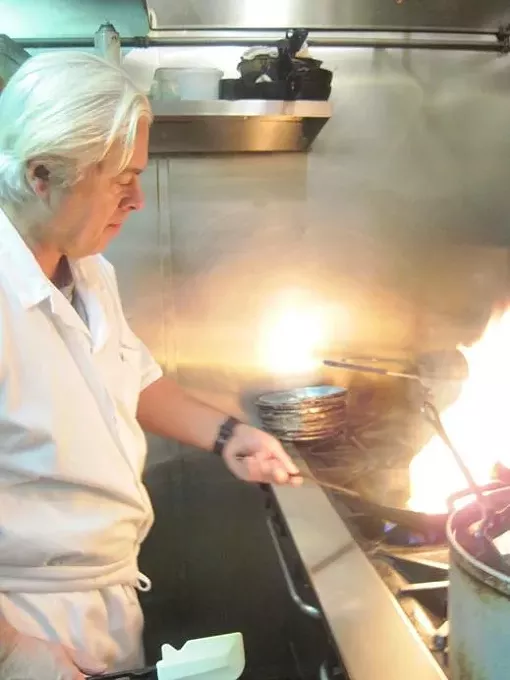 Tiny cubes of pancetta nestle in the curves of conchiglie rigata pasta. Large shrimp bear the sear of vodka-fueled flame, while pieces of onion remain slightly crisp. It's a dish of richness, textures and layers of flavor that betray its five-minute prep time. Even though Timney is still learning to pronounce the names of some of the pastas, he has already mastered their preparation.
Next, he plans to expand Mangia's appetizers and desserts, something he loved during his time at Balaban's. "One of the things I've created that was the most successful was the chocolate fritters. If you talk to anybody about what dessert they know from Balaban's, it's the chocolate fritter. So I'm not yet at the point of coming up with something to match that, but down the road we can come up with something that creates that much excitement in people." He plans to debut some menu changes in early February, finding the balance between Mangia's favorites while leaving his mark.
Although Timney is still new to Mangia, he is always looking ahead to where he'll go next. Not surprising, considering his love of travel. "I love to read, and I love to read a lot about the world. One of my goals is to take six to nine months and just travel around. It's not going to happen in the near future, but down the road I want to immerse myself in other cultures. I think that's the best way to do it, not just go there and go to restaurants, but to actually stay in towns for weeks at a time."
As for working abroad, he says, "That would have been something nice to do after Balaban's, but now that I'm here, I've really made the commitment of several years here to really give this everything. I don't see that happening until after I reanalyze the situation here after four years because this is such a great fit. It's hard to really find what you really love to do, and you love to do it every day. There's a lot of people in the world who go to work every day and they're not happy with what they do. So it's a double-edged sword. I want to go out and travel and immerse myself in cultures but at the same time I've got a great opportunity here and I don't want to walk away from this right now. So I'm going to see where this takes me."
Robin Wheeler writes the blog Poppy Mom and is a regular contributor to Gut Check, including the columns The Dive Bomber and Throwback of the House.