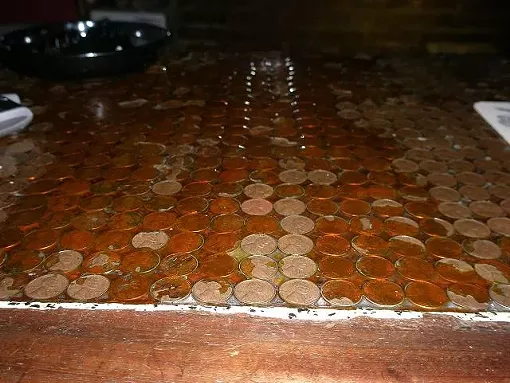 Robin Wheeler
The bartop at the late, much-loved Screamer's
Dive Bomber doesn't turn one until late February, but I experienced more than a year's worth of bar nuttiness. What didn't make this column?
Bartenders playing catch with a crack pipe they found on the floor. A bar owner so angered by a post that she and her friend spent a morning berating my editor on the phone. The moonshine. Good lord, there are a lot of places to get homemade hooch in this town. The toothless old man who asked me if I was going to be joined by any girlfriends because, if not, I was going to have to "fuck us all by yourself," giving me flashbacks to
The Accused
.
I've been asked countless times if going to sometimes-questionable establishments scares me. That proposition was the only time I've been even a little scared. The occasions when I've been stunned by the kindness, friendliness and openness of bartenders and regulars far outnumber those when I've been uneasy. Never judge an establishment by its neighborhood, outer appearance or the raggedness of its patrons. Do so, and you might miss goodness that goes much deeper than a cheap laugh. Here are my favorites:
5.
One Nite Stand
: I went in with a certain judgment, based on the neighborhood, the stories I'd heard and the amount of police action I saw on my way there. Once inside, it's a different world. The owners, so friendly I was convinced they were going to bust me for spying on them, take great pride in what they've done with their corner bar.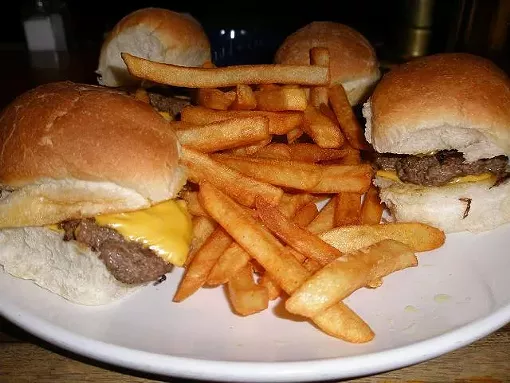 Robin Wheeler
Mimi's famous sliders
4.
Mimi's Subway Bar and Grill
: Really, some damn fine cheeseburgers. I want to swing onto Florissant Road every time I'm on I-70 just for another round of Mimi's sliders.
3.
Double-D's Den
: Double-D's remains the only bar I've closed down while researching Dive Bomber, all because of Tom the Bartender. Not because my friend Courtney and I were too toasted to leave, but because it's just that much fun to visit with Tom.
2.
City Club
: My night at City Club wasn't about the bar. It was about my friends Kim and Corndog, the lessons on drinking flaming shots, and Bryan, who bought a round of shots of everyone. Jubilant after drowning the sorrow from a friend's death, Bryan reminded us that sometimes we should throw good manners by the wayside and just live, for God's sake.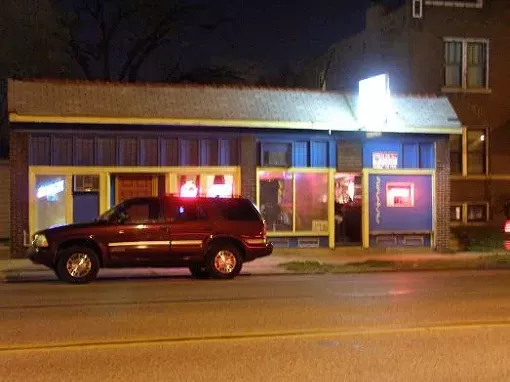 Robin Wheeler
Screamer's
1.
Screamers
: There's not much more I can say about this dearly departed dive, since I wrote about it
twice
. Screamer's epitomized the families that can be created at the neighborhood bar, and how quickly it can vanish. When I go to any bar in South City, I always have an eye open for old Screamer's regulars. I hope they've found a home.
Robin Wheeler writes the blog Poppy Mom and is a regular contributor to Gut Check. She also has a strange attraction to drinking establishments with jars of pickled -- or possibly fossilized -- eggs. She reports on these dives every Thursday.