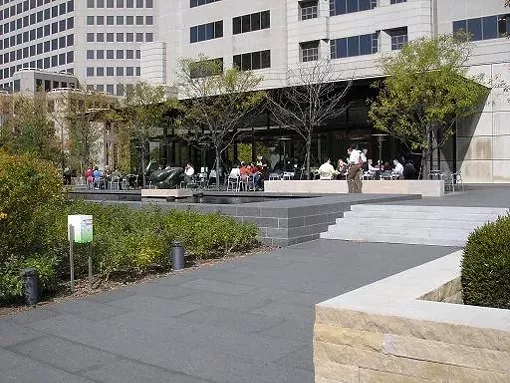 Ian Froeb
The Terrace View in Citygarden
August was an unusually busy month, with numerous restaurant openings and closings. Let's dwell on the positive above the fold:
The Terrace View
opened in Citygarden, Downtown's spiffy new sculpture park; Downtown scored an honest-to-God grocery store in Schnucks'
Culinaria
; and
Molly's in Soulard
affected a fairly stunning transformation of itself. More good, some bad, after the jump.
News

Iron Barley makes the world's largest BLT sandwich....Mathew Rice (at the time, of Niche) and Fitz's root beer score notice from Bon Appétit magazine....Fire damages Hill institution Zia's....A murder outside the Eat-Rite Diner....Wm. Shakespeare's Gastropub closes its doors after less than a year....Chef Cary McDowell returns to St. Louis to work at Winslow's Home....City Grocery transforms itself into City Gourmet....Southern Living magazine profiles Monarch chef Josh Galliano....Marc Baltes cooks a stunning Dorm Room dinner at 33 Wine Shop & Tasting Bar....Soda Fountain Square closes, as do El Scorcho and Tumo's Ristorante.

WTF?

Useless kitchen tools in honor of Martha Stewart's birthday....Irma Rombauer, the Joy of Cooking and St. Louis....What can't bacon improve? We know....Elvis' head and other strange, strange cakes.

Columns

Gut Check introduces two new columns, the Novice Foodie and Farmers' Market Share....The Noble Writ discusses how restaurants can do corkage with class....Java Enabled tackles the tricky issue of coffee-bean storage....The Dive Bomber's cover is blown at One Nite Stand....The Sneak and the ghost of Julia Child....Throwback of the House offers dating advice -- and cheemato.

Reviews

Ranoush
Chuy Arzola's
Café Mochi
Racanelli's Cucina