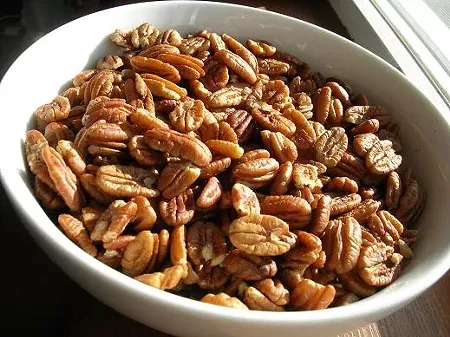 These days it's smart to be budget-minded and realistic when giving gifts. If you're like this blogger, that means forgetting that Hanukkah is coming and then blaming late gifts on finals or wanting to make something yourself to save money. In previous years, I've knitted various clothing items for everyone I know, which is slow going, guaranteeing that gifts will be late. This year, I had the luck of both finals
and
having quit my job to go back to school.
No time, no money and no sense of the lunar calendar: Not bad, right?
Despite waiting to do anything until I'd finished with classes, I actually planned ahead this year and went the route of food as gift. This ensures that I'll send things out on time because moldy gifts are not looked upon highly.
And
it staves off a visit to the shopping mall.
It's a win-win.
Step one involved my exchanging some unnecessary items at Fair Shares for a pound of Missouri pecans. In the past, I've bought pecans from a stand at Soulard Farmers' Market. They are extraordinarily cheap -- usually about $5 a pound -- and incredibly good. I might like Missouri pecans more than the standard kind, but this might be due to the freshness factor. I also bought a pound each of walnuts, cashews and peanuts. All can be had raw and in bulk at various locations around town, from standard supermarkets to the aforementioned Soulard. They're not necessarily local, though if you wanted to step it up, you could get Missouri black walnuts.
Step two: I used three different techniques for coating the nuts. See, now that the semester is over, I can spend a whole day doing that. It felt a lot like
America's Test Kitchen
, but with less counter space and more profanity. Those on my list will receive nuts à la Mark Bittman, Bryant Terry and/or Smitten Kitchen.
Step three involved extra trips to the grocery store because I failed to plan ahead particularly well, but maybe you can actually plan what you're doing in advance.
Have an excellent holiday of choice or nondenominational day off work, folks!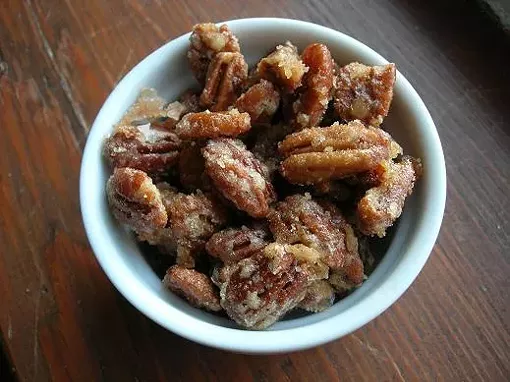 Spice Deez Nuts
Adapted from Smitten Kitchen
1 pound pecans
2/3 cup granulated sugar
1/3 cup dark brown sugar
Generous pinch cayenne pepper
1 1/2 tsp salt
1 egg white, room temperature
1 tbsp water

1. Preheat the oven to 300 degrees.
2. In a large bowl, whisk together the egg white and water until it is frothy, but not so long that it begins to form peaks. In a separate bowl, thoroughly mix the sugars, salt and pepper.
3. Add the pecans to the egg and toss to coat evenly. Sprinkle with the sugar mixture and toss again.
4. Spread the nuts evenly on a baking sheet lined with parchment paper. This is essential because otherwise the nuts WILL stick. Cook for 30 minutes, tossing a couple of times in the middle.
5. Remove from the oven and cool, tossing periodically. Otherwise, they will form a pecan brittle type mess.
Alissa Nelson is a graduate student and compulsive buyer of cookbooks. She enjoys scouring seed catalogs and thrift stores alike. Every Wednesday she seeks the bounty of local farmers' markets -- and then cooks it.