The more I read, the more certain I am that the people at
Good Housekeeping
were the smirking girls in high school who'd take a dowdy girl, offer her a make-over, turn her into Whizzo the Clown and laugh at her expense.
"Hey Mitzi. I know how we can really screw things up for poor old Ann Marie. Let's convince her that cheddar's red and that green cheese is visually appealing!"
1967's
Perfect Parties
isn't the first time
Good Housekeeping
has tried to ruin our lives. Do I need to remind you of the
Ham-Peach Barbecue
,
Vienna Sausage Shortcake
and
Summer Cheese Bake
? The New-Look Cocktail Spreads, specifically the Red and Green Cheese Balls, are no better.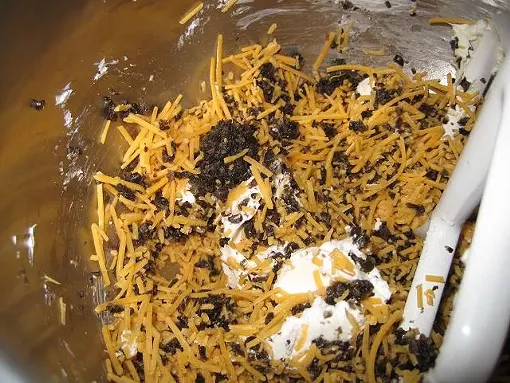 For the red cheese ball, blend shredded cheddar, minced black olives, cream cheese, Worcestershire sauce and salts of celery, onion and garlic. Sure, that'll turn red. It'll be fine.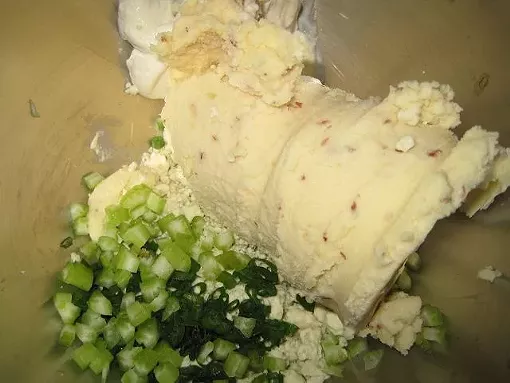 For the green cheese ball, blend crumbled blue cheese, Kraft Roka Blue cheese spread, minced celery, scallions and sour cream. Except Kraft discontinued its Roka
to much uproar
. Before I found
the Kraft-approved substitute recipe
, I opted for cold-pack processed Swiss almond cheese.
The recipe instructs that the cheese balls should be rolled in foil, chilled and then coated in dried beef (red) and chopped curly parsley (green). Joke's on you! It'll look nothing like the photos in the cookbook! Good Housekeeping molded the cheese balls in fluted molds and topped them with hairdos of garnish that look like 1970s porn pubes.
Lacking fancy fluted molds, I went ball-shaped with garnish bushes.
The red ball didn't magically change colors; it looks like carrot-raisin salad in the round. Who knew such benign ingredients could mix so poorly? Even without the over-salted zombie-flesh-textured dried beef, the alkaline bitterness from the olives overpowered the inherent goodness of cheddar and cream cheese.
The green ball indeed had a greenish tint to it. Who doesn't love that color on a cracker? It also failed as a ball, hovering between liquid and solid state, threatening to absorb the "red" ball on the shared plate. But it was tasty, for a food that looked like green vomit.
Really. I'm not fudging on you like those
Good Housekeeping
meanies. Go on. Try it. And put some dried beef on it while you're at it. Why, no, we're not laughing at you! Don't be silly.
Robin Wheeler writes the blog Poppy Mom and is a regular contributor to Gut Check. After years of making and eating fancy food, Robin is sick of it all. She's returning to the basics: recipes that haven't surfaced in three decades. She reports on the results every Monday.