User "Jellyfish Juice," Wikimedia Commons
There's no rule that says good sweets can't be cheap. Anyone with a sweet tooth worth its weight in Hostess CupCakes and Hershey's Milk Chocolate can tell you that. Sometimes, cheap simplicity hits the spot better than ornate decadence. You might not know exactly what you're getting when your sweet of choice is made in a big factory in a far-off land...but when it tastes good, does it really matter?
When I was a kid, we frequented our local convenience store for treats like these all the time. My favorite was a two-pack of Gang Planks. These were cookies that tasted like a hybrid of shortbread, gingerbread and animal cracker and were (yes) shaped like a pirate ship's gang planks with a thin layer of pink icing on top. I loved these cookies, and a short walk to the corner store to buy some could make everything all right.
In the past few years, I've noticed convenience stores -- which are now more likely to be attached to gas stations -- offering treats that I've never seen in stores. Like Razzberry M&M's, which gave me a fierce headache after I ate a handful last summer.
This got me wondering: Could I seek out rare, sugary treasures at these stores and find something I love as much as those long-gone Gang Panks?
My search started in QuikTrip. I love this place: good coffee, good donuts and good meal options (if real food with, like, lettuce and such is your thing). It didn't disappoint, with two sweet options I'd never spied before in my life. First up is the cone of Jonny P-Nuts P-Nut Brittle. This is essentially individual peanuts coated in a peanut brittle-like substance with occasional bunches of brittle candy sprinkled throughout the mix. It had a nice, roasted-peanut flavor and was perfectly sweet and crunchy without being as sticky as traditional peanut brittle can be. Nice to start off with a winner.
I moved on to the Classic Caramel Cob Soft n' Chewy Caramel Popcorn. Also known as caramel corn molded into the shape of a corn cob. Really, I should have read the name better and prepared myself for the ultimate in soft and chewy caramel corn. In fact, it was so chewy that it tasted like caramel, but not at all like popcorn -- like eating a giant caramel that I forgot in my pants pocket: all chew, no crunch. And as much as I love sweets, I detest that oh-my-God-I-can't-get-it-off-my-teeth feeling, which this had in spades. Certainly not horrible, but not a home run either.
Next was a trip to a 7-Eleven a few miles from my home. I chose a bear claw to represent the various store-brand cookies, doughnuts and fried pies.
The 7-Select Iced Bear Claw Danish was surprisingly not dissatisfying. First of all, it was pretty moist. This may not sound like much, but I've had more than my share of prepackaged Danish/honey bun thingies that were hard enough to build a house out of, so I really appreciated the relative softness of this one. It was also lightly sweet and had a nice drizzling of icing on top. The filling was vaguely apple-esque. This would absolutely do in a pinch, and I'm likely to try 7-Eleven's other branded treats now.
And now for something completely different: My second treat from 7-Eleven was Drank. I know this looks like an energy drink, but it's apparently designed to do exactly the opposite. The can says it's "formulated to relax the body, mind and soul," but who cares about that when you need a hit of something sweet? It smells and tastes a lot like grape soda, with a few grams of sugar missing. The lack of sugar isn't bad in itself, but it doesn't make Drank a good contender for Gang Plank status either.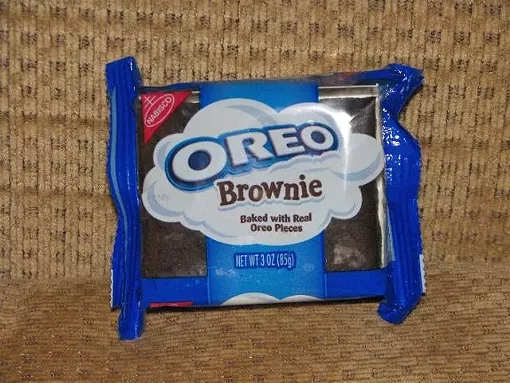 My last stop was my friendly neighborhood Circle K. I went around and around the store but couldn't find anything except your standard supplies of candy, cookies and other assorted what-nots. Until I wandered into an abandoned corner by the automotive supplies. There it was: the Oreo Brownie.
A brownie with Oreo pieces in it? Sold!
Well, once, but probably not again. Here's an example of what I was saying about packaged cake-like goods: Man, this was dry. Unfortunately, the cookie bits strewn through the brownie didn't help that at all. Also, you would expect it to be sweet, right? Not so much. There's a sort of flat, almost chalky chocolate taste to it that leaves a lot to be desired.
Despite my lack of success here, I won't give up on the convenience store. If I keep heading inside after filling up my tank, I may even see my beloved gang planks once more. Ah, to dream...
Adrienne Jones is a writer, photographer and world-class eater who blogs at A Girl and Her Camera. She loves desserts and has been known to take to a frosting tub with little more than a spoon and a well-tuned sweet tooth. She will report on her latest favorite treat every other Friday.