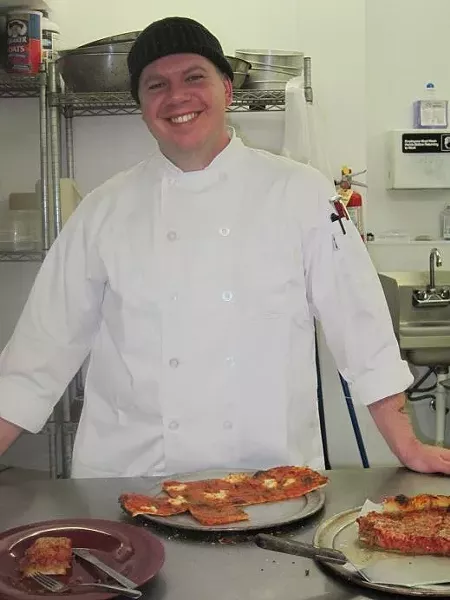 Robin Wheeler
Jon Feraro, Owner of Feraro's Jersey Style Pizza
Who is
Jon Feraro
and just what does he think he's doing, bringing New Jersey-style pizza to the center of the Provel universe?
He's a 36-year-old former financial entrepreneur. "I got into executive recruiting and owned a company for about ten years," he explains. "Got burned out and decided I wanted to work even harder, but doing what I like. So I started
Feraro's Pizza
."
"I think I made $160,000 my last year [recruiting]," says Feraro, "and I'm not even pulling in a fraction of that yet, but it doesn't matter. I don't need that money. I was going to Atlantic City, taking my girlfriend to Cape May on the weekends, staying at bed and breakfasts, driving a Mercedes. Now I have a Nissan. So who cares? I like it better. It's awesome. I have a little house that's just beautiful. I have my dream kitchen. I have my friends over, I make stuff like this for them, and that's all I want to do. And have people like you in my kitchen and just have fun."
Though rooted in New Jersey, Feraro's family moved quite a bit when he was young because of his dad's job in the banking industry. That brought him to St. Louis as a teen, but not before he started his Jersey-style pizza education. "It took me twenty years to learn this," he says. "Some of the best pizza chefs on the east coast, including Tommy Lightner, rest his soul, he's the one who taught me this. He died in a motorcycle accident. Charlie's in Normandy Beach, New Jersey. I worked summers there."
When he decided to leave the financial world for the restaurant business, he spent a year visiting pizzeria kitchens, learning the techniques so he could bring the perfect Jersey-style pizza -- big slices with a sweeter sauce and chewier crust than its New York brother -- to St. Louis. That pizza has become so popular that there are now two Feraro's, the original in Soulard and a new shop in Concord Village. Also, this year
Riverfront Times
dubbed Feraro's
Best Pizza by the Slice
.
Some St. Louisans can't be swayed, though, so Feraro has branched into St. Louis and Chicago deep-dish pies. "I was tired of losing ten or fifteen customers a week, so it made sense [to develop a St. Louis-style pizza]. I don't really compromise anything. At first my ego wouldn't let me. I was like, aw, this is way better. But now I kind of get it. I get the whole indigenous food thing."
Robin Wheeler
Feraro's St. Louis-style pie (minus the Provel)
While he doesn't use Provel, his St. Louis-style thin-crust pizza more than compares with other squares. With dough that's made in-house and punctured to prevent bubbling, the stone-baked pie's crust stays crispy like a lavash cracker.
Robin Wheeler
Feraro works on his Chicago-style pie.
His Chicago-style pie doesn't swim in sauce; he uses a scraper to "spackle" the sauce into the crevices in the toppings and then tops it with a light sprinkle of herbed bread crumbs.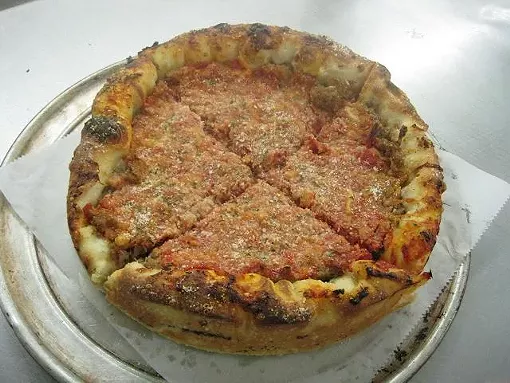 Robin Wheeler
Chicago deep-dish at a Jersey-style pizza joint in St. Louis
With a well-practiced balance of cheese, sauce, and fillings surrounded by a crunchy outside-warm and fluffy inside crust, this pie holds its own with the competition, both here and to the north.
In the kitchen, Feraro's staff members know all the ins and outs of maintaining the pizza's consistency and quality. It's not all that rough, though. Most of their education comes from activities like contests to see who can throw the most dough in the least amount of time. During a weekday lunch shift, the guys keep moving but take time to joke, discuss writing projects and crank up
the Pixies' Doolittle
.
OK, so it's Feraro who does the latter, after I tell him I recall a post on Twitter he made about shopping for sausage and listening to the Pixies. "There's nothing better than putting on my iPod and food shopping," he says when I remind him. "It's like tripping. I used to play in bands, and I was always the real artsy kid in my group of friends."
Over the years he's applied that creative side to performing music, studying music production and, currently, producing short films with his brother, actor Mike Feraro.
He works closely with his family. His mom Nancy is part owner of the Soulard shop, and other relatives have partial ownerships. While we talk, his dad calls. When the younger Feraro doesn't take him off hold quickly enough, he calls back -- enough to make everyone wonder if there is an emergency.
There is. He needs a meatball sandwich and a root beer. Delivered.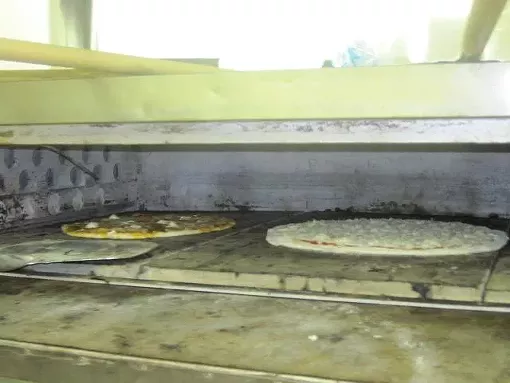 In choosing the toppings for the three pizzas he's making today, Feraro defers to his employees, since they will be sharing the food with us. Two of the kids have culinary-school aspirations. "I went to a little place called the School of Hard Knocks," Feraro jokes.
Later, the conversation returns to culinary education. "Do I really want to go back and study the things I already know, just to have a degree on my wall?" Feraro asks. "I've always kind of struggled with that. Do I need a label? I'm a chef. I'm a chef. I don't have to argue with you to prove myself." He laughs. "I never wanted a label. I only wanted to make people happy, and I think I'm doing that."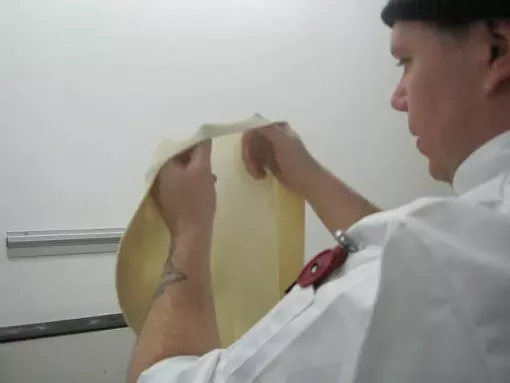 Well, there's one label he uses. As he takes a round of dough, tossed so thin it's transparent, and gives it one last aerial twirl, he chuckles deep and says, "And that's why they call me Jonny Pizza!"
That's exactly who he is.
Robin Wheeler writes the blog Poppy Mom and is a regular contributor to Gut Check, including the columns The Dive Bomber and Throwback of the House.