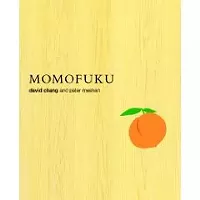 As much as I'd like to assemble a Top Ten Food Books of 2009 list, I'm so far behind in my reading that I'd struggle to compose a Top Ten Food Books of 2008 list. Best I can do for this year is two books. First,
Momofuku
by David Chang and Peter Meehan. It's a cookbook, but you can -- and should -- read it cover to cover. It's a fascinating, hilarious and, yeah, profane look into the life and work of arguably the hottest young chef in America.
Second,
Cooking Dirty: A Story of Life, Sex, Love and Death in the Kitchen
by Jason Sheehan. Sheehan is the restaurant critic for
Westword
, our sister paper in Denver. He's a fantastic writer: I read
his reviews
every week even though I've never been to Denver and don't foresee a trip there any time soon. His memoir is a hilarious and, yeah, profane (notice a trend in my tastes?) look at his career as a cook in some truly seedy joints and his eventual transition into being a restaurant critic.
But 'tis the season for making lists -- and holiday shopping. So if you're looking for a book or two or ten to give to the foodie in your life, here's a list of what have been the ten essential books in my own development as a food writer.
Reference Books
These books are the best of both worlds: Not only are they vital references for the reviews I write, but they are also the sort of books I can pick up again and again knowing that, even if I browse only a few pages, I'll learn something new.
The Professional Chef
: This is
the
textbook at the Culinary Institute of America, and it's priced like a textbook ($70). But for the money you get a reference guide, an instruction manual on kitchen technique and a cookbook. As a writer, I find the first 300 or so pages the most useful. There you'll find full-color photographs illustrating (to provide just a couple of examples) the different cuts of meat or the different species of fish.
Larousse Gastronomique
: The
maman
of all culinary references and, at $90, undeniably an investment. Still, can you put a price on 1,200-plus glossy, illustrated pages that encompass almost everything there is to know about French cuisine (recipes included)? Each successive edition -- I have the 2001 version, but a new edition has just been published -- has broadened the focus to include more of the rest of the world, but much of this book's charm is getting lost in the vivid descriptions of French dishes rarely seen in America, the biographies of great chefs and anecdotes such as this, from the entry on rodent: "Thomas Genin, cook and organizer of the first culinary competition (1884-89), considered rat meat to be of excellent quality."
The Oxford Companion to Wine, Jancis Robinson
: Dave Nelson included this in
the Noble Writ's suggestions of gifts for wine lovers
and rightly so. If there is a more accessible guide to the wide and sometimes arcane world of wine, I don't know what it is. Though encyclopedic in format, it often reads like the lecture notes of a favorite professor, equally absorbing and witty.
On Food and Cooking
, Harold McGee: If you can buy only one reference work on food and drink, this should be it. Not an encyclopedia but a compulsively readable treatise on the science of what food is -- and why it behaves as it does when we cook it. McGee, who writes the Curious Cook column for the
New York Times
, is maybe best-known for debunking the myth that by searing a piece of meat, you seal its juices inside. But that is only one iota of the information in here -- in fact, the meat-searing fallacy is merely a sidebar in the book.
Cookbook
The French Laundry Cookbook, Thomas Keller
: I love cookbooks, but this is the only one that makes me want to write about food. It's not so much the gorgeous photography of Keller's otherworldly food -- though, God, it
is
gorgeous -- as the philosophy of food and cooking that Keller, with co-author Michael Ruhlman, espouses. Treating your ingredients with care, knowing your suppliers, seriously considering the emotional and intellectual aspects of food: All of that might seem old hat now, but this was the book that put these ideas on the map, changing how serious chefs and diners relate to what's on the plate.
(As an aside, two more recent cookbooks, the aforementioned
Momofuku
and Grant Achatz's
Alinea
also make me want to write about food. But
The French Laundry Cookbook
was first and so gets the place of honor in my list.)
Food Writing
The Art of Eating, M.F.K. Fisher
: One of -- maybe
the
-- greatest food writers in history. This book gathers several of Fisher's essay collections in one volume. Her prose is so exquisite that you don't need to be a foodie to enjoy her work, but if you are a foodie, you'll experience a sort of epiphany as she puts into words the seemingly indescribable emotions and ideas that great food can prompt.
The Omnivore's Dilemma, Michael Pollan
: What more is there to say about Pollan's work? For several years now, he has been at the forefront of the conversation about the messy intersection of food, health, politics, the economy and conservation. You might not agree with everything he says or advocates, but if you think seriously about food, you must read this book. It certainly changed how I approach my own writing on the subject.
The Making of a Chef, Michael Ruhlman
: One constant criticism of food writers such as myself is that because we haven't worked as chefs, we are in no position to judge what they do. I won't counter that argument here. I'll just say that I deeply admire Ruhlman, a terrific writer who now has several food-related books under his belt, for what he did, visiting the Culinary Institute of America as a journalist and gradually turning from an interested observer into a man obsessed with food and cooking. Even for those of who haven't been a chef, it speaks to the unexpected ways in which something as commonplace as food can slowly and surely become a life's passion.
Heat, Bill Buford
: I could say much the same thing about
Heat
as I did about
The Making of a Chef
. Buford, though, takes things to the extreme. A profile of Mario Batali for the
New Yorker
turns into a position at Batali's Babbo, which leads to what is basically a spiritual quest to the heart of Italian cuisine. Mostly, what sells this book is the fact that Buford is one helluva writer. He captures the mania that drives so many who work with food better than anyone else I've ever read.
Kitchen Confidential, Anthony Bourdain
: As much as I love Bourdain's
No Reservations
on the Travel Channel and chuckle at his broadsides at Rachael Ray, Sandra Lee and company, I still return to this book more than anything else he's done. It was
the
book that really made me want to write about food. Though it's most famous for "Don't order seafood on Mondays" and other insider tips, I love it because here Bourdain's passion for food, restaurants and "the life" is at its brightest and most unfiltered.