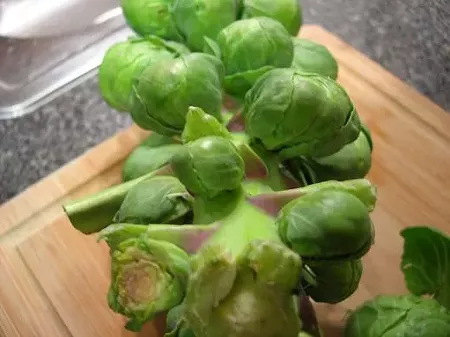 In previous posts, I've talked a lot about how I like cute things: dogs eating green beans, dogs falling asleep in weird positions, dogs in general.
Oh, and food. There's plenty of cute food, like cupcakes and other various expressions of twee craft-show fare. Brussels sprouts fit into that category, too. They look like mini cabbages. I'm sure that's fooled plenty of easily influenced kids at some point in their lives.
Sometimes when we shop at farmers' markets, we find some kind of cue that gives us a sense of how a plant looks before it makes it to the produce aisle, like a sunflower that has gone to seed, carrots with the greens attached or spinach with a whole lot of grit in the leaves. We've become so separated from the actual process of food production that it can be really jarring to see food the way it actually grows. If you've ever dug up potatoes or pulled a fully-grown carrot out of the ground, you know the thrill of seeing something that is ordinarily so clean and sterile -- the product of mechanical washing processes -- covered in mud and dirt.
Not to sound like a hippie or anything, but it really brings you back to the earth.
Back to Brussels sprouts: These little guys are totally metal. If you get really lucky, you can find them on the stalk -- I found them at
Local Harvest
, but sometimes supermarkets will surprise you -- and they look like a battle axe. It's awesome.
And despite my love of things that are cute, my friends are always less shocked when I talk about how I've been really enjoying some Converge record than when I send them
pictures of baby sloths
.
I hope you guys aren't getting tired of my catch-all vegetable cooking technique. It's just so versatile and easy, and sometimes you want a vegetable side without making a huge fuss over it.
By the way, my all-time favorite Brussels prep was from the late Revival and involved a whole lot of bacon. One of these days, I will have to wheedle Chris Bork into serving it at
Mississippi Mud House
, where he's tearing things up now.
Roasted Brussels Sprouts

Adapted from
Vegan with a Vengeance
1 pound Brussels sprouts, washed and halved lengthwise
1 tbsp olive oil
1/4 tsp course sea salt

1. Preheat the oven to 400 F
2. Lay the Brussels on a rimmed baking sheet and douse with the olive oil. Toss to coat. Roast for 10 minutes.
3. Remove from the oven, add the salt and toss again. If you'd like, add three chopped cloves of garlic at this point too. Return to the oven for another five minutes.
4. Before you serve, rub the Brussels into the garlic to get things really saturated with garlicky greatness, if you swing that way. If not, simply enjoy.
Alissa Nelson is a graduate student and compulsive buyer of cookbooks. She enjoys scouring seed catalogs and thrift stores alike. Every Wednesday she seeks the bounty of local farmers' markets -- and then cooks it.