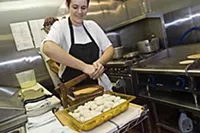 Jennifer Silverberg
This could be you!
I received this tip
via Twitter
from @macandfred:
Tower Tacos
at
3147 Cherokee Street
is
for sale
. In fact, for a list price of $148,000, you receive the restaurant and the apartment on the second floor. The apartment has a jacuzzi. The restaurant received
a positive review
from yours truly last September. I swung by this afternoon, and the restaurant remains open.