7-Up doesn't get invited to many parties. She's plain and boring. Unless she's tagging along with her pretty friend Seagram's 7, 7-Up spends most nights at home, washing her hair and talking to her cat.
In 1961, the Seven-Up Company -- then based at 1300 Delmar Boulevard in St. Louis -- decided it was time to give 7-Up a hot makeover with
7-Up Goes to a Party!
Not that she was invited. No -- 7-Up's crashing the shindig while hiding in favorite party dishes.
For the holidays, seven ounces of 7-Up lurks in Cranberry Sparkle, mixed with two pints of softened vanilla ice cream, a cup of jellied cranberry sauce and three ounces of chopped walnuts. Once everything's blended and the 7-Up's pink and nutty, pour the mixture into two ice-cube trays and freeze.
Have you ever, in a moment of human kindness, invited that awkward guy from work to a get-together, only to realize that he has no idea what to do in the company of other humans? He corners your best friend and spends twenty minutes telling her about the time he found an unopened bag of potato chips in the woods. No one ever accepts your party invitations again in case the Potato Chip Guy is there.
Next thing you know, you're 7-Up, at home with your hair and the cat.
That's Cranberry Sparkle. It's at the party but doesn't add anything, other than frozen mushy blandness.
In newfangled plastic ice-cube trays, the cubes don't budge without the help of a knife, ruining any cool, atomic-age cube-shaped dessert plans. It's slightly cube-shaped, mildly fruity ice cream that's been in the fridge without a lid.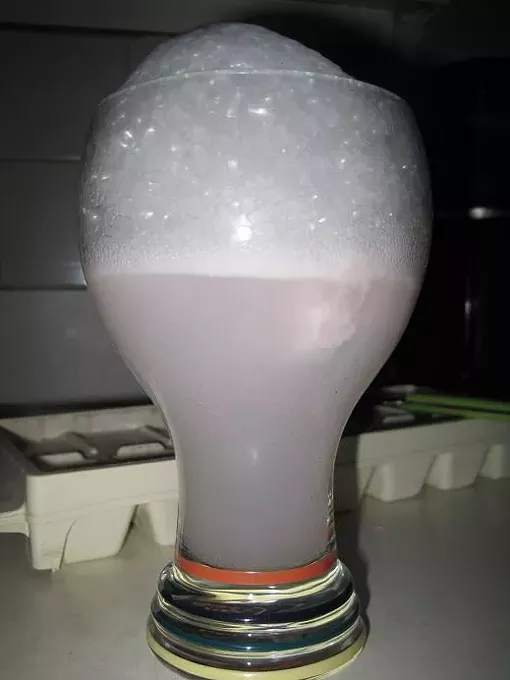 Perhaps Cranberry Sparkle is a take on the old soda-and-ice-cream party punch. We put a few of the cubes in a glass of 7-Up. It foamed like a soda float, which is festive, but the soda turned the color of dishwater, which reflects its flavor. Who wants walnuts in their ice cream and soda treat?
7-Up, we're never inviting you again. Unless you bring Seagram's. She's hot.
Robin Wheeler writes the blog Poppy Mom and is a regular contributor to Gut Check. After years of making and eating fancy food, Robin is sick of it all. She's returning to the basics: recipes that haven't surfaced in three decades. She reports on the results every Monday.