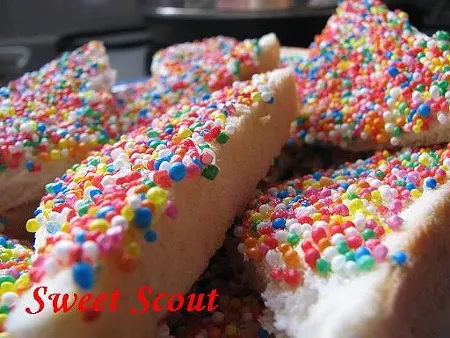 User "Jellyfish Juice," Wikimedia Commons
A special Wednesday edition of the Sweet Scout...
There are sweets that aren't so bad for you, like angel-food cake and fat-free frozen yogurt. There are sweets that are actually good for you, like fruits and moderate amounts of dark chocolate. And then there are the decadent, comforting, "I deserve a treat" sweets.
The latter category, my friends, is where any deep-fried dessert belongs. Oh, sure, there are the commonplace fried desserts, like doughnuts. But there are also the things that people probably shouldn't fry, but do: pies, ice cream, cookies, cheesecake, candy bars, muffins, watermelon...
Really, folks. I've seen the watermelon recipe. The idea scares even me.
Why all this attention to deep-fried things? BECAUSE THEY ARE AWESOME. Now, no one's saying you should spend all your time eating that which is deeply fried, but as my grandmother says, "You need some fat, or things will stick to your back." You don't want the specifics of how that saying came about (just...don't ask), but you can probably guess that this is her way of saying a little grease can be good for you.
I've spent a lot of time with fried desserts. Fried pies made me very happy when I was a kid, and dougnuts are some of my favorite things in the world. I started to wonder, though: What other fried sweets won't gross me out? That's when I remembered the deep-fried Twinkie.
I've only had this particular delicacy once, four years ago, and wasn't impressed. It was this crisp phallic-shaped blob on a stick. Not horrible, but not so amazing that I wanted one every month thereafter.
I decided to try again. I mean, not everyone makes everything the same way. So I headed to the
Red Lion
in Maplewood to give it another go. Know what else I found there? A deep-fried Reese's Peanut Butter Cup and a deep-fried Snickers. What more could a woman on a mission ask for?
What finally arrived at my table was shocking. Do you see those things? They almost look...civilized. Decent. Gourmet, even. Everything had a funnel cake-like batter on it, with a light dusting of powdered sugar, and was remarkably ungreasy.
The Twinkies (bottom of picture) were accompanied by a strawberry sauce that went along perfectly. It had a hint of sweetness, while the Twinkies themselves were also surprisingly light, despite the oil bath they'd just had. My peanut-butter cup (top, right) was outrageously rich. So much so that I could take only one bite before I was completely overwhelmed by the opulence and had to stop before a sugar coma kicked in.
Meanwhile...meanwhile the Snickers was lounging calmly on a bed of chocolate sauce, waiting. He knew what I needed. He knew he was perfect. You'd think that the more ingredients there are in the candy, the stranger the result would be. Not this time. Everything melded together into this wonderful fried bar of peanut-chocolate-caramel-nougatiness.
Again, fried things? Awesome.
Adrienne Jones is a writer, photographer and world-class eater who blogs at A Girl and Her Camera. She loves desserts and has been known to take to a frosting tub with little more than a spoon and a well-tuned sweet tooth. She reports on her latest favorite treat every other Friday.