Vineyards in Tuscany, Italy
Chianti is another wine making a comeback from a poor reputation. I find myself choosing it to accompany a vast array of Italian and Italian-American dishes, as it can be an excellent companion to food. There's just something about its bright fruit flavors and robust acidity that say "Italy" to me.
And Chianti is Italian. More specifically, it hails from the region known as Tuscany, the magical landscape that continues to enchant us despite the endless stream of enthusiastic prose and gorgeous pictures. Chianti's heartland lies conveniently between Siena and Florence, which has been a boon from a commercial perspective, but over the centuries Chianti's success has seen a legion of hangers-on try to trade on its name. The first attempt to control people passing wines from other regions off as Chianti dates from 1716, which gave the producers from only four villages the exclusive right to use the Chianti name.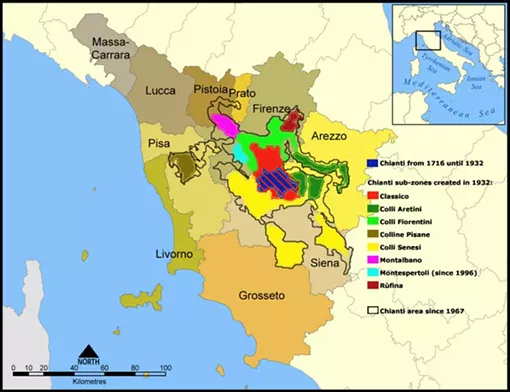 The various Chianti regions
Over the years, the officially recognized Chianti region has expanded greatly. Now, the epicenter of the traditional Chianti region is legally called Chianti Classico, a name you're likely to see on many wine labels (and a generous chuck of land itself at almost 100 square miles).
There are seven other subregions that can also appear on labels, though only one of these, Chianti Ruffino, is likely to be seen with any regularity thanks to the presence of the massive Antinori and Frescobaldi operations in that zone. This isn't to knock the other subregions at all -- they are just less common on our shelves at this point. Each subregion conveys its own somewhat distinctive take on Chianti, though I certainly find more similarities than differences among those I've been able to sample.
Historically, Chianti has been a wine made from a blend of grape varieties, with the indigenous sangiovese taking the starring role. Sangiovese is an interesting variety, one of many Italian grapes apparently unable to deliver the goods anywhere but its homeland. Quite a few producers have tried to grow sangiovese in California with such decidedly mixed results that many have given up. Sangiovese has no problem in Italy, though, where it is the most widely-planted grape variety in the country.
The "formula" for Chianti has seen quite an evolution over time, with the Italian wine law no stranger to amendment when presented with hard evidence of a need for change -- or sufficient political pressure. The most famous permutation of Chianti was the recipe created by Baron Ricasoli in the mid-1800s. This called for 70% sangiovese, 20% other local red varieties and 10% white grapes; a variant of this recipe was enacted into Italian wine law 100 years later, with the limit for inclusion of white grapes even higher than the Baron's version. As a result, many producers motivated by quantity over quality stretched their Chianti by including the maximum permissible amount of white grapes, invariably in the form of the almost neutral-tasting trebbiano, rather than the more characterful malvasia favored by the baron. As a result, oceans of weak, dilute, acidic Chianti descended on the world's markets.
Quality producers were left with a severely damaged label -- and a very tough sell. The reaction of some was to release new formulations that didn't comply with the Chianti regulations but were, the producers felt, the best wines they could produce. Under Italian wine law, these had to be labeled as Vino da Tavola, literally "Table Wine," which soon came to be known as "Super-Tuscans" due to the love they received from the critics and the markets.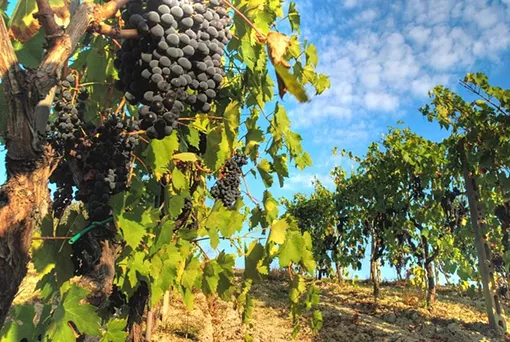 The success of the Super Tuscans caused the Chianti laws to be revised again, with the current formulation allowing the wine to be made from 75-100% sangiovese, up to 10% canaiolo (the traditional second-fiddle red grape) and up to 20% of other approved red varieties, the list of which includes cabernet sauvignon, merlot and syrah among the more traditional Tuscan options. Personally, I find the a touch of merlot isn't out of place in Chianti, with its rich, lush fruitiness providing cushion and curve to sangiovese's sometimes austere frame.
These recent changes make Chianti an exciting and vibrant wine region as producers look again at their sangiovese and their land to see what, if any, additional grapes work best to create the finest wine. I love sampling wines from various producers and subregions to see what they're up to, but I do play favorites, with probably half or more of my Chianti purchases coming from just two producers: Fattoria di Felsina and Isole e Olena, both of which can be found in the St. Louis market. The Chianti Classico bottlings from these folks are in the upper teens, while their higher end bottlings run in the mid-to-upper $30 range.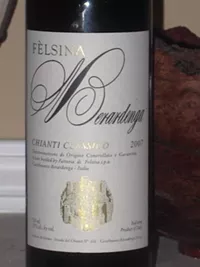 2007 Felsina Chianti Classico
($17,
33 Wine Shop & Tasting Bar
): Full, deep ruby. Rich, acidic sour cherries with an underlying note of fresh, high-quality leather (I know, I know...). Medium-full in the mouth, where the cherries continue to be the star of the show. This is relatively tightly wound at this stage in its development; it has the structure to age and improve for several years. Still plenty delicious now, but it's got more to give with time. The abundance of acidity means this would make this an excellent companion to your festive dinner later this week. This is 100% sangiovese from 50-plus-year-old vines.
Felsina also makes a beautiful Riserva and two terrific high-end Chianti called Rancia and Fontalloro, both of which are well worth the mild splurge. Isole e Olena's Chianti Classico and 100% sangiovese Cepparello are also favorites of mine.
Dave Nelson is the author of the blog Beer, Wine and Whisky. He writes about wine every Tuesday.