With the holidays officially upon us, Throwback will spend the next few weeks dragging out the party classics. Did you miss the days of bosses having secretary three-ways at office parties, or neighborhood shindigs where you spied Mom groping a Santa Claus who looked a lot like Wayne, the bachelor who lived up the street?
Time to bring those days back.
Oh, the swinging '70s. Even the fuddy-duddies at
Better Homes and Gardens
got some of the action with 1981's
Casual Entertaining Cookbook
.
Yes, I know that's two years past disco's partner-swapping prime, but housewives are always the last to catch the fads. But when they did, they rocked the suburbs. While looking at the photos of hip, swinging couples and potential three-way buddies mingling over quick and simple hors d'oeurves in this book, my husband noted that if you look closely, you'll notice that one of the serving dishes is filled with keys.
Not really, but I wouldn't have been surprised if he was right.
Many of the recipes have names that include the words "nuts," "balls" and "kebob." The Sweet-Sour Appetizer Kebobs has a triple whammy: kebobs, made with wieners and a recipe loaded with threes.
In a saucepan, combine cornstarch with
three
tablespoons each brown sugar, soy sauce and vinegar. Add pineapple juice drained from a can of pineapple chunks. Cook until the mixture's
as dark and swarthy as Janet Wood and as dense and bubbly as Crissy Snow
.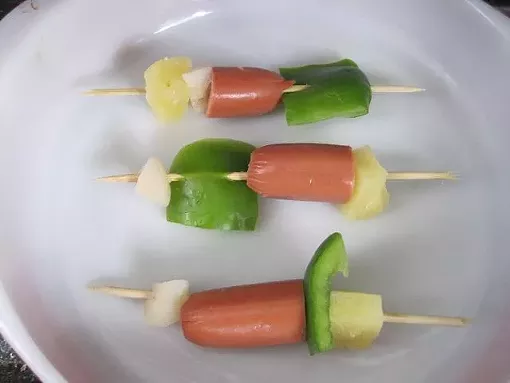 Meanwhile, skewer pineapple chunks, water chestnuts, green peppers and slices of wieners.
Jack Tripper was a chef, you know.
Place kebobs under the broilers, basting halfway through with the sauce. Kebobs are ready when the wiener chunks look like they have a glistening, blistered venereal disease.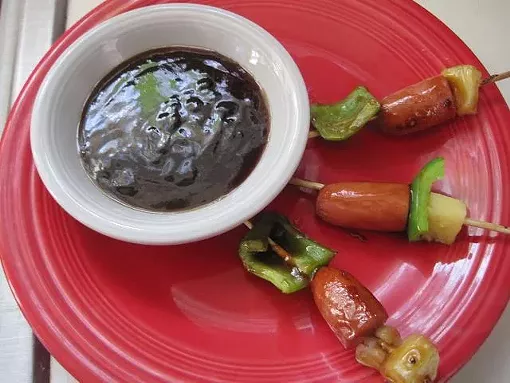 Serve with a bowl of the basting sauce for lubricating.
There's nothing hotter than a mom with feathered hair gnawing a wiener-loaded bamboo rod and dripping sticky sauce down the front of her Sears and Roebuck Halston knock-off.
So what if the kebob tastes like sodium-marinated ass? It's probably not the worst thing you're going to taste before the night's over. And I'm not talking about that gallon jug of Reuniti on Ice.
Robin Wheeler writes the blog Poppy Mom and is a regular contributor to Gut Check. After years of making and eating fancy food, Robin is sick of it all. She's returning to the basics: recipes that haven't surfaced in three decades. She reports on the results every Monday.