Fellow St. Louis metro-area residents, we've been blessed this year with not one, but
two
new restaurants where the food is secondary to the scantily clad waitresses who bring that food to your table: the
Tilted Kilt
in Arnold and the
Brick House Tavern + Tap
in Chesterfield.
Yes, that really is the entrance to the Tilted Kilt pictured above. Rest assured, the women who work there look somewhat more lifelike.
At any rate, rather than review these restaurants, I figured that, as we continue our Fight Club Sandwich series of smackdowns, we'd compare the two restaurants' "meat" -- if you know what I mean...
The Tilted Kilt's BBQ Bacon Cheeseburger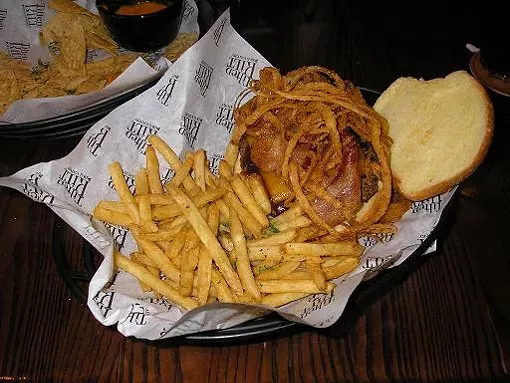 Oh, this is a fine piece of meat. Look at the curve of that one bare bun. And it comes already
dripping
wet thanks to the restaurant's Guinness barbecue sauce. All those thin strands of fried onion atop the burger are a bit much, though. I prefer a more trimmed appearance.
The Brick House Tavern + Tap's Barbecue Bacon Burger
Some men like their meat curvy. Others preferred a more elongated body. This is the burger for the latter group, long and thin and, like most supermodels, very saucy and a little greasy.
The winner?
Does it really matter? If you're the sort of person who frequents a place like the Tilted Kilt or the Brick House Tavern + Tap, whether or not the food is any good is beside the point. With that in mind, here is an opportunity for you to decide which place has the better meat, without having to leave the cushy confines of the Internet.
The Ladies of the Tilted Kilt
The Ladies of the Brick House Tavern + Tap
I report, you decide!