Anyone can buy ground beef and frozen French fries, but as I detailed in
yesterday's Chef Choice's profile
,
Chuck Friedhoff
of
Persimmon Woods Golf Club
wants to make these American classics transcend the manufactured version that's taken over in food service. It takes a lot of extra work to hand-grind burger meat, and there was much trial and error in finding a French-fry technique that pleased Friedhoff and his clientele, but it was worth it.
"Putting the extra work in is one thing, but putting the extra work in and having people appreciate it and realize you're doing something else is completely different and completely satisfying," says Friedhoff. "And it was an instant hit. Something I could change instantly and everyone was like, whoa, something's changed. What can I do to make the most impact, and be consistent on that impact?"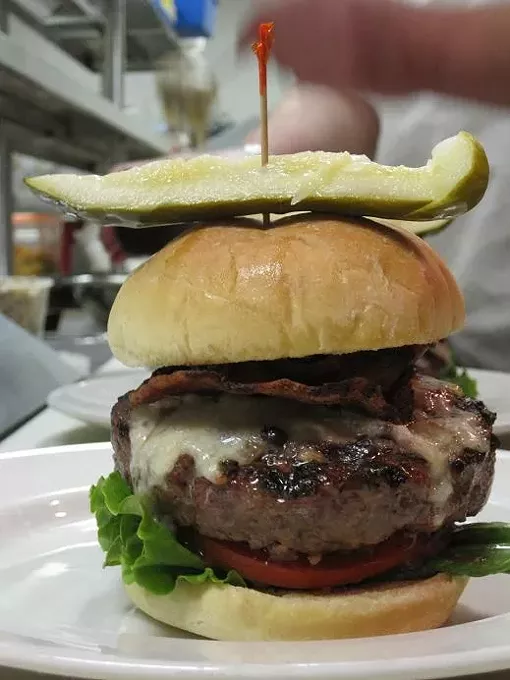 Bacon Cheddar Burgers

Serves 4
26 ounces lean beef (top round or short rib), marinated in your preferred steak marinade
6 ounces good-quality bacon or pancetta
Salt and pepper to taste
4 slices white cheddar cheese
4 brioche burger buns
Garnish: cooked pancetta, lettuce, tomatoes, pickles and steak butter

1. Trim beef of silver skin and most fat.
2. Cut beef into small pieces based on the size of your grinder.
3. Grind beef and bacon together twice. Make sure to keep raw meat below 40 degrees while grinding.
4. Portion meat into four eight-ounce patties. Season with salt and pepper. Grill, flipping halfway.
5. Build burgers to taste.
On the next page, recipes for French fries with vinegar salt and horseradish-mustard mayo...
French Fries with Vinegar Salt
Serves 4
6 Idaho russet potatoes, approximately 13 ounces each (large baking potatoes)

Brine:
3/4 cup salt
6 tbsp sugar
1 gallon water

1. Cut potatoes to 3/8 inch thickness. Rinse in cold water. Drain.
2. Combine brine ingredients in saucepan and bring to a boil. Cool completely until cold before adding potatoes.
3. Soak potatoes in brine for 1 hour.
4. Fry potatoes in deep fryer for 4 minutes at 375 degrees. Season with vinegar salt.
Vinegar Salt
1 cup Champagne vinegar
1 cup Kosher salt

Combine vinegar and salt in a shallow, oven-safe pan. Place in oven with a pilot light and let liquid evaporate overnight.
Horseradish Mustard Mayonnaise
Makes 1 cup
6 ounces mayonnaise
2 ounces Boar's Head Horseradish Mustard
1 tbsp Dijon

Combine all ingredients. Makes an excellent burger condiment or French fry dip.
Robin Wheeler writes the blog Poppy Mom and is a regular contributor to Gut Check, including the columns The Dive Bomber and Throwback of the House.