Robin Wheeler
Chuck Friedhoff, Director of Food and Beverage at Persimmon Woods Golf Club
"I never realized that hot dogs and golfers are such a big thing," says chef
Chuck Friedhoff
, Director of Food and Beverage at
Persimmon Woods Golf Club
. "I've been told it's because it's an easy thing to eat. It's somewhat clean. I said to myself early on that we should make bratwurst. We did that this summer, and it was a huge success. So we now have our house-made bratwurst. We grind our own sausage."
Since joining the staff of Persimmon Woods last May, Friedhoff has worked to change the nature of club cuisine as the nature of the clubs themselves continue to evolve.
A St. Louis native, Friedhoff gained a passion for fresh, local food while working as executive chef at a boarding school in Massachusetts. Farmers would knock on the back door to sell their goods to his kitchen, and he worked with work-study students to gather sap for their house-made maple syrup during spring break.
"That showed me where maple syrup came from, and it was very rewarding," Friedhoff says. "It's not just Mrs. Butterworth. It's forty gallons of sap to make one gallon of syrup. When school was back in session we had fresh maple syrup to offer on Sunday morning, and to have those same kids again, make them a pancake and give them maple syrup. Just knowing we were completing the cycle was really nice."
Upon returning to St. Louis, Friedhoff worked as executive chef at the Clayton location of J. Buck's until the economy soured last year. Less than a week after being laid off, he was at Persimmon Woods, determined to build consistency in a kitchen that had seen many chefs come and go.
In his short time at the club, he's aimed to take club classics and elevate them: hand-cutting chips and French fries instead of buying prepackaged and working as many locally-grown items into the menu as he can: "I'll go to Tower Grove on Saturdays and pick up stuff for specials. I'll come out and let people know what they're having and that it's local and I went to the market that morning to get it."
Robin Wheeler
Friedhoff grinds the meat for his bacon-cheddar burger.
"I'm committed to fresh, local," Friedhoff explains. "I guess part of that movement are people like myself who are personally committed to it but find themselves in a work environment that isn't so conforming or hasn't caught on to the movement. It's about getting people to trust you and saying, 'Hey, I understand you're used to paying eight dollars for a burger. But if I go out and source local -- for them to understand that that burger is going to be eleven dollars, but for them to trust me that I'm going to prepare that in a way that they'll feel like they're getting their money's worth."
Robin Wheeler
The bacon-cheddar burger, almost ready to go
For his bacon-cheddar burger and French fries with vinegar salt, Friedhoff hand-grinds beef with bacon mixed in and hand-cuts the fries before brining them. Topped with butter brimming with three kinds of onions, crispy pancetta and white cheddar, the burger's so tender it crumbles on impact, and the juice runs down both my arms to my elbows. Because he likes the flavor of fries with vinegar but hated the sogginess, he evaporates champagne vinegar into Kosher salt to sprinkle on the fries, creating an authentic salt-and-vinegar flavor. No, it's not an $8 burger and fries experience. It's far better -- and worth every penny.
Friedhoff's attitude toward non-club diners is just as unique as his hands-on cooking methods. He's helped create a program for non-club members to have access to the dining room with no initiation or monthly fees, just one application so that the staff will know and be able to welcome patrons who might never set foot on the golf course but want to try Friedhoff's rustic comfort food in a beautiful setting with a different feel from a restaurant.
Outside work, Friedhoff and his girlfriend,
Kimberly Henricks
, keep the local credo in their home cooking. They cook at home at least four nights a week. Currently they're making a lot of soups, sandwiches and
Rancho Gordo beans
.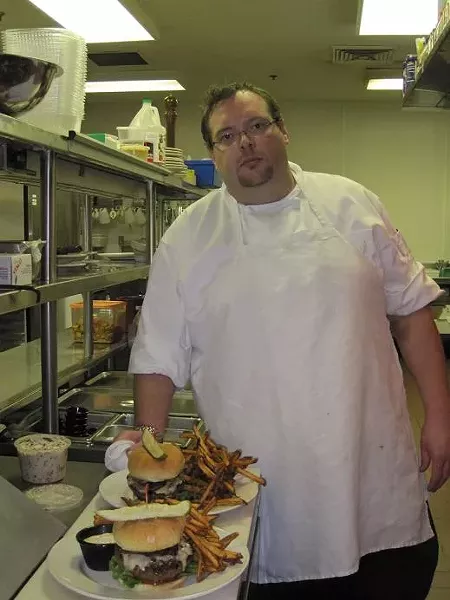 While their home-cooking comes from a desire to eat better and locally, it's deeply rooted in Friedhoff's love of the task: "I never thought that I was very food-driven, but when I think back on it, I was always in the kitchen. I was in Boy Scouts, and my parents always bring up that when they look at the old photo albums they can't find a photo of me, in Boy Scouts, where I'm not cooking. That hadn't clinked in the moment but when I think back on it, I was.
"That's what I was drawn to and I was raised with the philosophy of if you find something you love you'll never work a day in your life. That's stuck with me through my career and it's pushed me. Because it's not the easiest career. But if you can go to work and not feel like you're at work, it makes it all make sense and makes life worth living. Life's about being happy."
Coming tomorrow, the recipe for Chuck Friedhoff's bacon-cheddar burger and vinegar-salt fries. Robin Wheeler writes the blog Poppy Mom and is a regular contributor to Gut Check, including the columns The Dive Bomber and Throwback of the House.