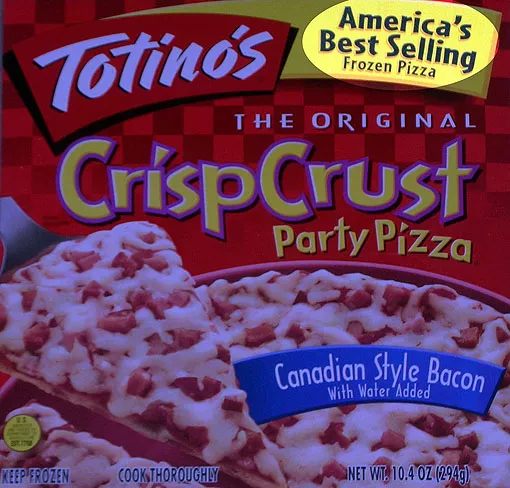 Totino's: Perfect for the One-Person Party You'll be Having.
Reportedly the best-selling "economy frozen pizza" in the U-S-of-A, Totino's pizzas take about two beers (in beer time) to cook and provide a boost of energy to prepare you for the rail gin-and-tonic you'll be ordering after you hit "Ignore" on your cell phone when you see an incoming call from a family member. G'head, have another square of Totino's. More notes: Must be cooked in a toaster oven, just like in a bar. Real ovens and pilot lights don't mix when family angst and cheap alcohol are involved.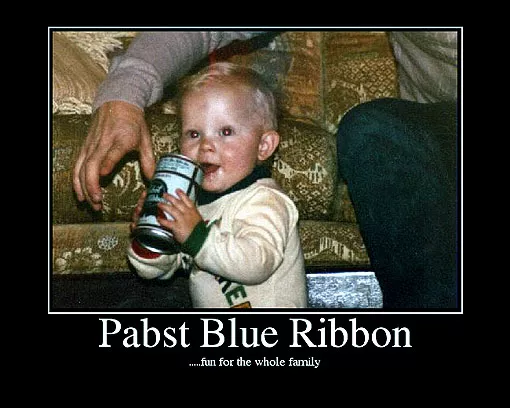 PBR Me, ASAP
It's got a rep as a beer for people who want to be
cool
by drinking
uncool
beer, thus making the beer
cool
, but PBR is, for the most part, a cheap, easy-drinking brew. Despite the hordes or rockabilly dudes and proletarian-for-a-day types who swill this stuff, it goes quite well with your...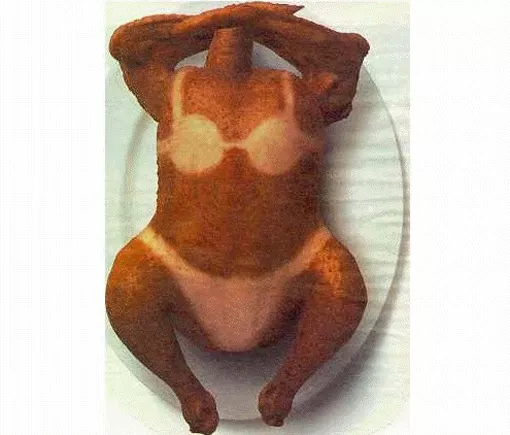 Bikini Butterball Turkey
!
Place a few hunks of this bird between two slices of untoasted white bread, add some mayo, and you have a recipe for the most Caucasian sandwich in history. It's the top-selling turkey brand in the USA and has been for more than 40 years. Just remember to call the
Turkey Talk-Line
if you have questions. (
How to make a perfectly trashy turkey like the one above
.) Also not to be ignored is the
Turkey Roll
: "A combination of all natural ground turkey and 32 percent less fat than regular ground beef."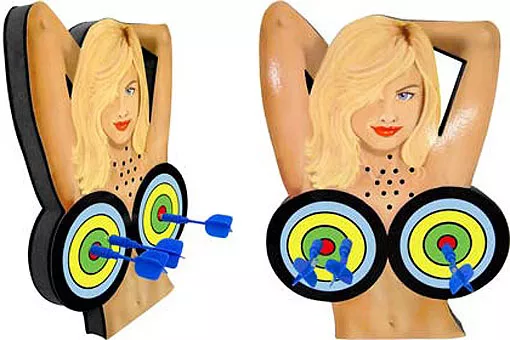 Sexy Darts
Like karaoke, a good game of darts is a nice way to get up and move around between drinking and eating in a place where everybody knows your name. If they're
sexy
darts, complete with speaker holes around a blonde's sternum, you might be playing a one-of-a-kind machine, a full multimedia experience. If you're
a woman playing sexy darts and you find yourself in Alton, Illinois
, be careful about what is asked of you next.
Wonderbread (Untoasted)
The key here is to leave the preservative-laden Wonderbread untoasted, so it retains the characteristic gumminess, getting stuck on the roof of your mouth. Luckily, you're in a dive bar so the antidote is all around you. If you're recreating the dive bar Thanksgiving experience in the comfort of your own home, make sure to splash (just a splash) a little Budweiser inside the sandwich bag for authenticity.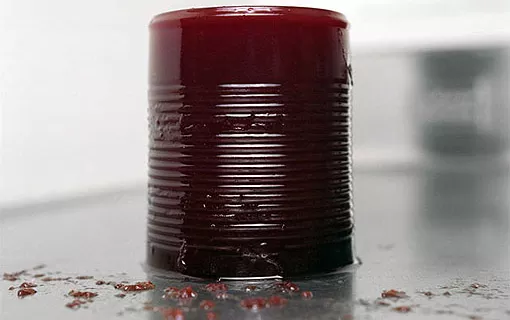 Canned Cranberry Sauce
The canned cranberry sauce acts as a time-measuring device. No one actually eats it, but the more it leans, the longer you've been in said bar. Watch it carefully. Or eat the entire glob on a dare. Up to you. Either way, this is essential to your perfect dive bar Thanksgiving for that reason. It's also the set-up for a variety of jokes and light-hearted comparisons to people in the room. On a related note, the canned cranberry sauce glob can serve a similar function at the more family-oriented Thanksgiving feasts.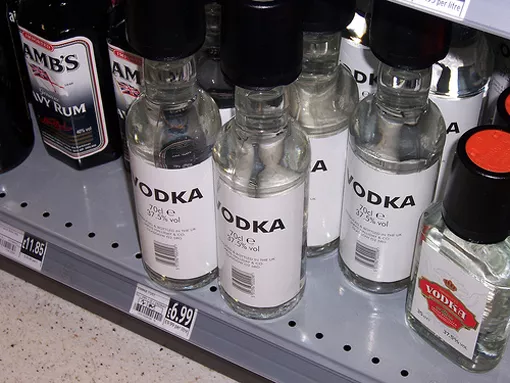 Store-brand Vodka
Combine this libation with a scoop of cranberry sauce (above) and you have an outstanding Jell-O-like shot that will have you announcing to everyone that "It's healthy!" Must be a store-brand vodka. Your local dive bar is sure to have a rail option available.
Canned Whip Cream
Useful in all manner of deserts, as well as sketchy activity you wouldn't dare get away with while at your Grandmother's, these go well with the cranberry sauce (above) and are an essential ingredient for a
great blow job shot
, which also -- probably -- wouldn't go over to well with the in-laws.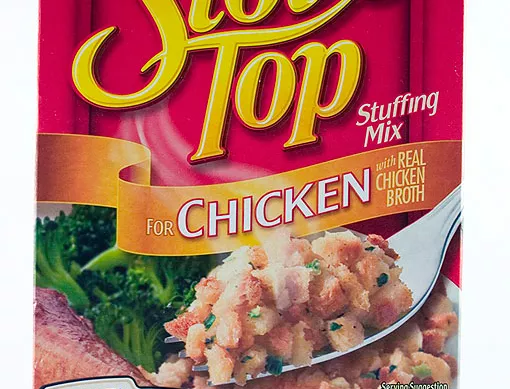 Instant Stuffing
This stuff (ha!) should really be at the top of the list because it's quick, salty and soaks up beer like no other. It's like the Thanksgiving version of pretzels. Just an absolute winner on your Thanksgiving. Whether you're spending it in the neon-drenched, windowless confines of a corner bar or shopping for your Thanksgiving meal around 8 p.m. on Thanksgiving night, instant stuffing is a must.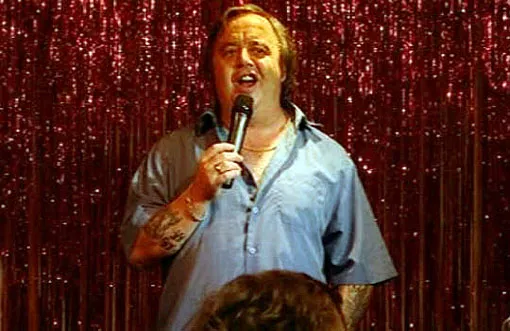 Karaoke
After you've been eating and sipping beer for an hour or two, stretch your legs and your lungs with some Thanksgiving tunes. Or just sing AC/DC's
"Thunderstruck."
Or perhaps a
Creed song
. While
this chap astutely observes
it's almost impossible to definitively say which are the most popular karaoke songs, you should definitely avoid anything too slow. Christmas-y songs are a safe bet.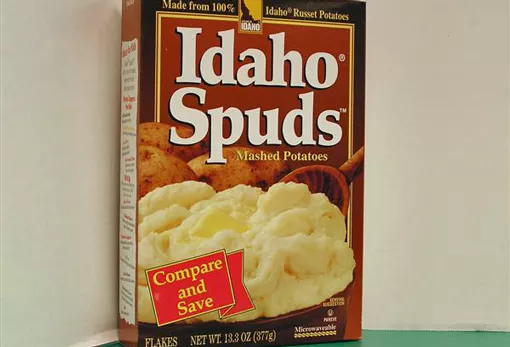 Instant Mashed Potatoes
They're quick, make you comfortable and don't take too much effort. Yes, we're still talking about the potatoes here, not any companion you take home from said dive bar. Prepare to do battle -- armed with just a
spork
at a felt-topped card table -- with this dense, steaming pile of goodness.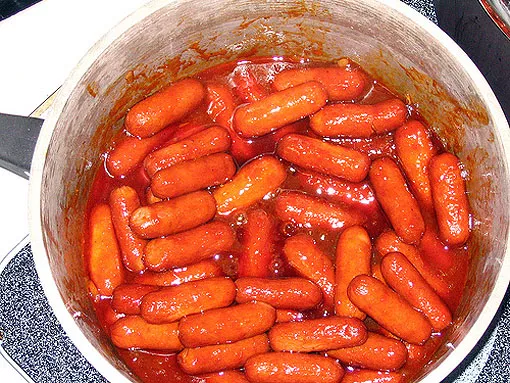 Little Smokies
These are so good -- why do we only eat them on holidays? Some people have the unfortunate lifestyle of never having tried one. There are
several ways to cook them
. Essentially they're just hot dogs, made miniature. Like other items on our list, they're wholly pedestrian, déclassé and delicious. And it's a sure bet you'll find them simmering in a crock pot on card tables in each and every dive bar in America on Thanksgiving. And they'll be the first thing to be 86'ed, sold out, all gone, eaten first.
Nacho Cheese
This improves almost everything offered in a dive bar. Truthfully, it should be added to more Thanksgiving Day spreads. Who cares about tradition when there's
nacho cheese
to be added to
candied yams
? (Which, by the way, are not included in this list for reasons that should be clear upon the reading of the word "candied.")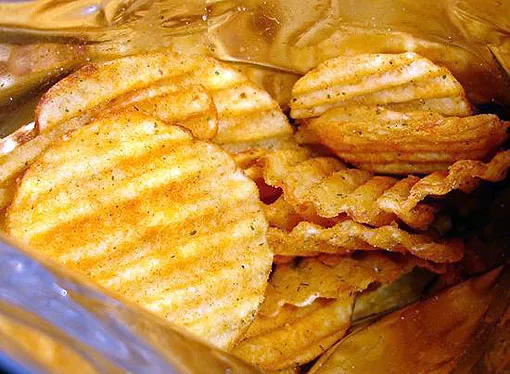 Generic Chips: the Topping for all Foods!
Caserole? Check. Turkey sandwich? Check. Atop a heap of stuffing? Check. As "bread" for your Little Smokies? Check. Yes, potato chips. Traditionally these are a generic brand similar to Ruffles. The other 364 days a year they're a common sight at dive bars, but on Thanksgiving Day, with the TV invariably showing a Detroit Lions game, chips take on a more important role: the sorbet to cleanse your pallet between helpings of Butterball and Little Smokies. Chips go with everything, not to mention a cold beer.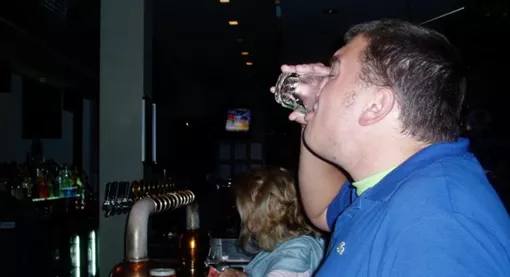 This is how to take a shot like a pro, head home and sleep it off. You've got shopping to do tomorrow.
The Bar Mat Shot
The bar mat (also known as a
New Jersey Turnpike shot
) is a dimpled rubber mat that catches any errant spillage from well drinks, beers or shots as a bartender prepares them. By the end of a shift, this reservoir of booze holds a garden variety of alcohol spilled throughout the day, and is a fine way to end your Thanksgiving Day at the dive bar. To have a Bar Mat Shot, simply ask your bartender to wring out any bar rags she has lying around and funnel all the booze spilled onto the bar mat into a glass for you. Then, down the hatch!
Happy Thanksgiving!