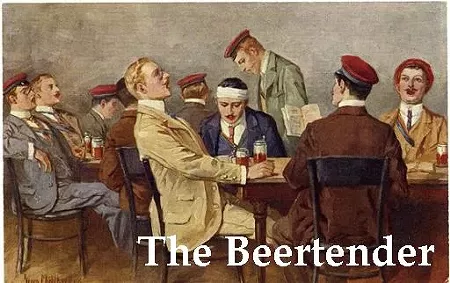 'Tis the season for
the obligatory "What wine should you bring to Thanksgiving?" article
. Can we talk about this for a minute? As always, drink what you like, but Thanksgiving means tons of food that are heavy on the carbs -- and you want to pair it with wine? A drink that's 12-14% alcohol by volume on top of a dish specifically named stuffing is what sends you to bed early, not the tryptophan.
(By the way, you know that's a myth, right? There's more tryptophan in eggs, spinach and cheese than in turkey. So when the conversation lags and Cousin Larry tries to show off the new word he learned, shut him down quick with an inquiry into post-quiche naps.)
Think about choosing some lower-alcohol offerings to feast with, thus ensuring you'll have room for a few more at the bar after Grandma's been driven home.
OK, seriously, no dis to wine. It's a classic. It's expected. But along with that nice bottle of riesling, consider picking up a very reasonably priced bottle of some of the world's best beer.
Pairing any drink with the food at your typical American harvest celebration can be tricky due to the array of flavors you encounter. But beer is capable of such complexity that it most certainly belongs on the table next to the Glenlivet and Beaujolais Nouveau. A crisp Czech pilsner or sour Berliner Weisse can easily accompany dry sparkling wine as an aperitif. Turkey and stuffing is absolutely transformed by a spicy saison or juicy IPA.
Drink pinot noir? Try a dubbel or other Belgian dark strong ale in its place and enjoy teasing out a similar-yet-different assortment of dark fruits and spices. And for dessert, pick your poison: fruit beers, chocolate beers, pumpkin beers, coffee beers. Just make sure that the beer is sweeter than the dessert or the beer's sweetness will get obliterated by the food's.
Along with food pairings, you'll want to keep in mind the company. Bring something that's interesting -- and, let's be honest, "fancy-lookin'" -- enough to get the family inquiring, but also something that they can relate to in some way.
User "Riflemann," Wikimedia Commons
Impress your Thanksgiving guests by bringing Chimay and other top-notch brews.
They've all heard of Blue Moon Belgian white ale, so present the host with a bottle of
Ommegang Witte
and tell them about the other great American past time in Cooperstown, New York. Give a bottle of
Chimay Grande Reserve
to the aunt who brought pinot noir. Offer a sip of
Schlafly Reserve Imperial Stout
to the whiskey drinker or a quaff of
Goose Island's Sofie
to the Chard-toting in-law.
As for Uncle Busch 30-pack? Well, just let him be. He's creepy anyway. As for relatives that don't imbibe, there's always the amazing
Osterweis ginger beer
that Fitz's makes for Schlafly, or
Clausthaler Amber
, a surprisingly tasty German NA lager.
Finally, here's a few more easily-located selections you really cannot go wrong with in this setting. Have fun!
Ommegang Hennepin
: Saisons are fantastic food beers. Complex, spicy, orangey perfection.
Lindemann's Peche
: Sweetened peach lambic is great gateway beer.
Mattingly Pooka Pumpkin Ale
: Stop by
Mattingly Brewing Company
and grab a growler of the freshest beer in town.
North Coast Brother Thelonious
: West Coast dubbel. Dark fruits, cloves, good nightcap.
Matt Thenhaus is a Saint Louis bartender who believes there is a time and place for every beer. He blogs about beer every Wednesday.