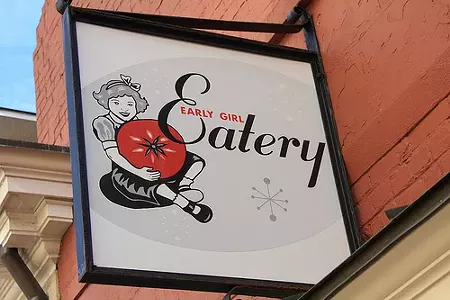 My husband and I were in desperate need of a road trip. Didn't care much where or why, we just wanted to hit the open road and get out of St Louis for a while. We ended up heading toward Charlotte, North Carolina, to see friends who'd moved out there. Along the way, we planned on taking my food adventures to the South, hoping to sample some casual fare.
For several reasons, mostly time and unplanned detours, we ended up eating at only two places worth mentioning. The first was in Asheville, North Carolina, a town in which I could easily see myself living.
Despite its relatively small population -- around 70,000 in town, 400,000 in the surrounding areas -- Asheville is packed with interesting shops and restaurants -- and it's surrounded by the Blue Ridge Mountains. Not only is it beautiful, but it's weird and quirky as hell, meaning I loved it.
We at a late breakfast at the
Early Girl Eatery
, hidden on a pedestrian-only road in downtown. Early Girl prides itself on its commitment to local producers and serves up southern fare cooked from scratch. On a late Saturday morning, the sunny restaurant was bustling with people starting their weekend with a hearty breakfast. Chris had biscuits and gravy with outstanding fresh-squeezed juice; I had the quiche of the day (bacon, green onions and cheddar). We both enjoyed the meal: simple comfort food properly prepared with high-quality ingredients.
We also stopped and bought a jar of the same berry jam used in the restaurant. The guy who makes it does so from fruit he grows on his property. This seemed pretty typical for Asheville: We found people hawking their wares, edible or otherwise, in several locations around town on Saturday. As we explored downtown, I saw several restaurants with intriguing menus, many with a locavore slant. People here take their food damn seriously, and I wished I had more time to sample the plethora of places we saw.
I vowed we'd return.
Because of a lengthy detour, we decided to go through Atlanta to return to St Louis. Don't ask me how, but it took about the same amount of time as our trip to Charlotte. This was a last-minute decision, so I thought I'd look up Atlanta's
Flip Burger Boutique
to see how far out of our way we'd have to go to eat there. Turns out, not far -- less than a mile off the interstate.
Flip is the latest project from
Top Chef: Chicago
contestant Richard Blais. It's a funky, modern burger joint, and it must be doing OK, because another location is about to open, and it was packed on Sunday night. The décor was modern, the lights dim, the music Arcade Fire. Chris wasn't very hungry, so we split a Caesar salad, the Butcher's Cut burger with fries and a Nutella and burnt marshmallow milkshake.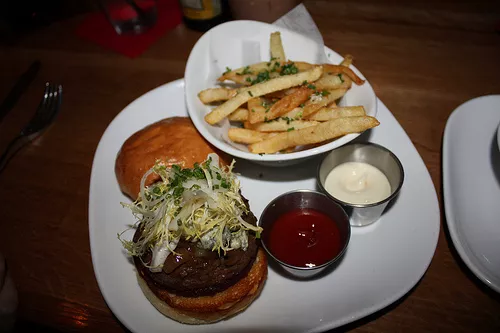 The burger was very good. Flip grinds its meat in-house, using the recommended combination of short ribs, hangar steak and brisket. The blend was juicy and incredibly flavorful, and mine was cooked properly medium, as requested. However, I would have enjoyed a better sear. It came with blue cheese, caramelized onions and red-wine jam. The blue cheese was overwhelming; the burger was much more balanced when we removed most of it. The red-wine jam was fantastic -- I hope to recreate it at home -- cutting through the fattiness of the burger nicely. The fries were crispy, if slightly underseasoned, but still tasty with the house-made smoked mayo.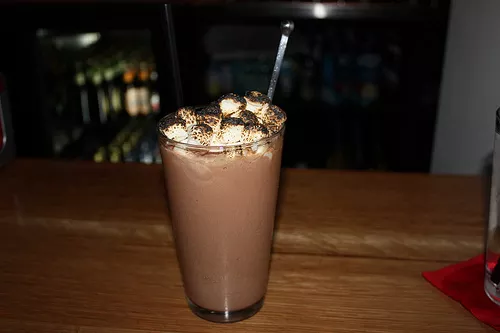 The shake was awesome. Flip has several interesting shakes (including a foie gras shake I gladly passed on), but burnt marshmallow called to me. This was undoubtedly the most high-tech milkshake I've ever consumed: It was made at the end of the bar with liquid nitrogen, then the giant pile of marshmallows atop was charred with a blowtorch. Imagine the best chocolate milkshake you've ever had, studded with bits of toasted marshmallow, and topped with an island of barely-charred marshmallows, and you'll get the general idea.
I'm almost ashamed that I didn't have more to report back from the South. However, we enjoyed our trip so much, we decided we're definitely returning in the summer to sample more of the region's culinary offerings.
Kelli Best-Oliver is on a quest to become a full-fledged foodie. She chronicles her adventures every Tuesday. She writes about any damn thing she pleases at South City Confidential.