User "Jellyfish Juice," Wikimedia Commons
I never got the cupcake thing. When I was a kid and there was a birthday party at school or a holiday celebration in the classroom, someone's mom always brought cupcakes. I ate them, because, you know,
cake
. But I never understood why cupcakes were preferable over actual cake. Is it just because you don't have to cut and serve them? Is it because they're small, and therefore automatically deemed cute by some people?
We never made cupcakes at home. It was always a layer cake or sheet cake or even bunt cake. I think maybe there were two things behind this. One, if you want cake and frosting, then you must want a lot of it, right? Why unwrap six cupcakes when you can have one decently sized piece of cake? Plus, that piece of cake is easier to put ice cream on, which was a favorite thing to do in our house.
Two, my mom hates to cook and bake. Always has. She's good at it but despises the effort. I can see where she might have thought that lining twelve cupcake tins with paper, pouring batter evenly into all of them and then having a dozen things to frost and arrange on a plate was a bit too much work. Especially considering the frequency with which we consumed brand new cakes.
Yeesh.
I'm just now getting on the cupcake bandwagon. But are gourmet cupcakes any better than the grocery store-baked kind I've avoided for most of my life? I picked up samples from two local bakeries and one grocery store to see what the deal was.
Let's start with the one on the left in the photo below. It was yellow cake with a chocolate buttercream frosting. The cake tasted a bit like a thicker angel-food cake -- a type of cake I don't like unless it's attached to a Twinkie.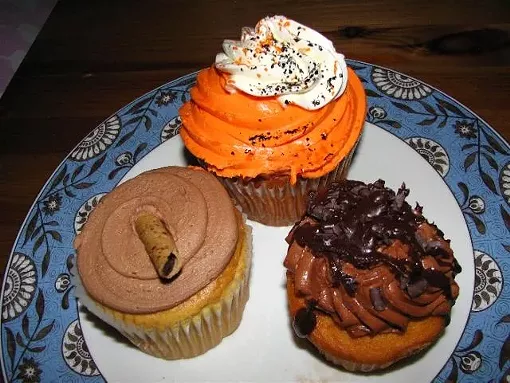 I was hoping the frosting would really do it for me, but it didn't taste chocolatey so much as like almond-flavored coffee. The frosting was thick, but not very sweet. Not being super-sugary isn't a bad thing, but I think added sweetness would have made up for the lack of chocolate flavor. The combination wasn't nearly as satisfying as I'd hoped.
The cupcake with the giant orange and white puff balls of frosting was next. It was the largest of the three and the one with the best cake. This yellow cake was nicely moist but still held together well, had a good browning on the outside and the perfect vanilla flavor. There was also a filling in this one. An awesome idea that didn't pan out, since it was filled with the frosting.
Am I wrong in thinking that the frosting should be the best part of the cake, cup- or otherwise? It's great if the cake and frosting are equals, but at the very least that frosting needs to knock my hat off. This was billed as vanilla buttercream but didn't taste much like vanilla at all. Add to that the whipped cream-like texture -- I know some folks dig it, but I need my frosting substantial -- and the sweet stuff again left me hanging.
Last but not least is the one baked in a local grocery store. It was the smallest but the all-around best of the three. Surprise! The thing that sold this is what I'd been looking for all night: frosting that made me coo with pleasure. Two thick, rich chocolate frostings with the addition of chocolate shavings was exactly what I needed. The combo was sweet but not overly so and made up for the so-so cake. When this frosting found itself mingling with the cake from the previous offering, I was in cupcake heaven.
So, what did I learn? There's nothing wrong with a cupcake, mainly if you're interested in trying a few different flavors at once. Also? You don't need to spend six bucks to get a good one. And that's a good lesson to learn.
Adrienne Jones is a writer, photographer and world-class eater who blogs at A Girl and Her Camera. She loves desserts and has been known to take to a frosting tub with little more than a spoon and a well-tuned sweet tooth. She will report on her latest favorite treat every other Friday.