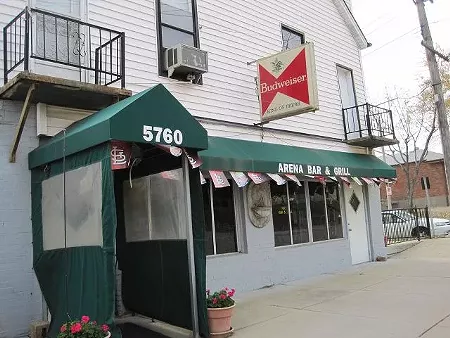 Can a bar be a dive if it has flowers planted in front and offers issues of local foodie magazines? Can a dive bomber be a dive bomber if she goes to a bar and drinks nothing but iced tea?
Yes, if I'm having lunch at
Arena Bar and Grill
. This tavern on the bottom level of a rambling old house on the edge of Dogtown epitomizes the all-American neighborhood bar, with friendly bartenders, regulars and a little corner in the back with a sign that reads, "The Little Kitchen That Could".
It's nice enough that my first reaction wasn't, "I need a beer to make this palatable."
I ordered an Italian beef sandwich with pepper jack instead of Provel, a side of fries and an iced tea, since this is the first bar I've visited where the iced tea didn't look like sewer water. I might have done a smidge of day drinking had I looked at the selection of cheap bottled beers before ordering my tea -- a fine spread of the best American cheapies beyond InBev. I'll always get excited about having Stag at lunch, but not this time.
Although Arena's tiny with lots of alcohol, I questioned its dive status. That is, until I saw someone pour
Inglenook chardonnay
into a Styrofoam cup. The cup didn't leave the building. Anywhere wine is being consumed from Styrofoam is the right place for me.
My lunch was more Philly cheesesteak than Italian beef, covered in lightly sautéed green peppers and onions. Still, quite tasty, especially when I removed the bun, dumped the beef, cheese and veggies on the thin, crispy fries and drenched the whole thing in au jus. Would a beer have made it better? Absolutely.
It probably would have been even better if I'd turned my attention away from my phone while I was eating. I was there during the supposed hostage situation in Jefferson City Since bar talk centered on the mini-series
Band of Brothers
and Britney Spears' lip-synching controversy, I tried to find news updates on my own while eating.
"Quit texting!" yelled the bartender. "Your food's gonna get cold!"
Having been admonished, I knew I was in the right place after all.
Robin Wheeler writes the blog Poppy Mom and is a regular contributor to Gut Check. She also has a strange attraction to drinking establishments with jars of pickled -- or possibly fossilized -- eggs. She reports on these dives every Thursday.