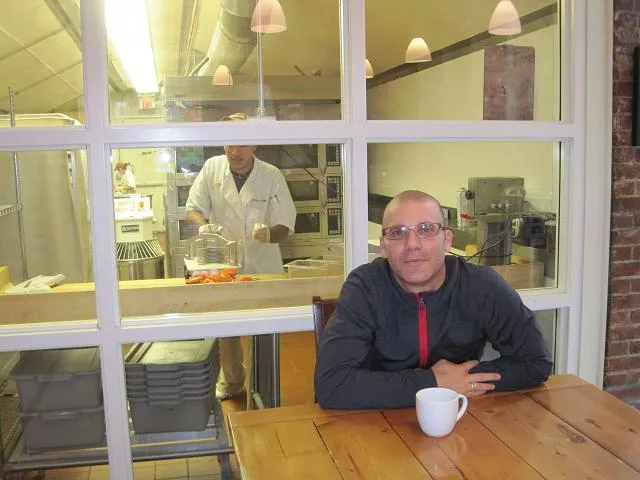 Robin Wheeler
Josh Allen, founder of Companion
It doesn't take much to change the face of baking in a city. For
Companion
founder
Josh Allen
, it started with a few watts. "I have a fond memory of stealing my sister's Easy-Bake oven, so I was pretty good at baking brownies by the heat of a light bulb."
Growing up surrounded by his family's food distribution business, Allen Foods (now a part of U.S. Foodservice), he knew he'd be in the food business as an adult. He also knew he didn't want to wear a tie. After attending Stanford University, he cooked three meals a day for a family living in the largest estate on Lake Tahoe. From there, he started baking at Whole Foods in Palo Alto, where he was approached by the owner of
Oakville Grocery
. After Allen spent months designing a bakery and distribution system for the company's then-expanding chain of stores, the owner decided baking wasn't feasible.
Allen returned to St. Louis with the knowledge he gained from Oakville Grocery, leased a tiny bit of space in an Allen Foods building in South City and started baking. He knocked on restaurant doors, seeking customers. He had six restaurant wholesale clients when he started, thanks to the skills he'd learned while going on distribution runs with his dad as a child.
His timing couldn't have been better.
St. Louis Bread Company
was shifting its focus from wholesale to retail, and the economy was right for starting a small business. Companion was born the same year as
Kaldi's Coffee
and three years after
Schlafly
opened the
Tap Room
.
"I think there was probably something appealing about this 24-year-old, really tired, flour-dusted kid walking in the back door and saying, 'Here's what I've got,' that made people interested. Or they'd say, 'No, but can you make this?'"
The spirit of collaboration still drives Companion. With
the CollaBREADtive program
, some of St. Louis' best chefs turn Companion's short-term seasonal breads into unique dishes that transcend the bread-in-a-wicker-basket restaurant tradition. But it's not just the big-name tastemakers who inspire Allen. "I'm a huge believer in that if you listen hard enough, customers will tell you how to be successful."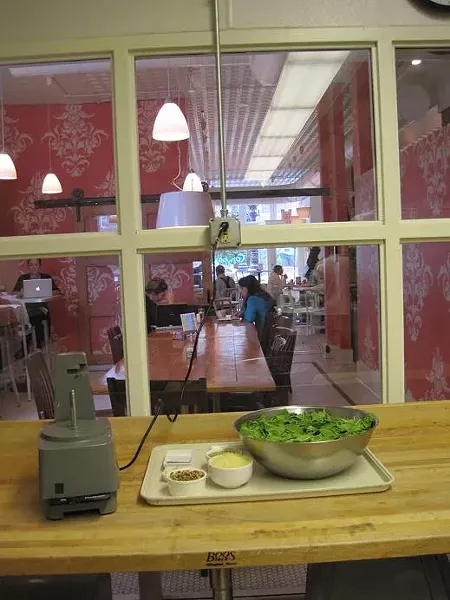 Robin Wheeler
A view from the kitchen into one of Companion's cafés
In the sixteen years since Allen started baking locally, Companion has become synonymous with artisan bread in St. Louis. Two years after opening his bakery,
Dierbergs
and
Schnucks
started selling Companion. In 2001, Allen opened the first of three cafés.
"St. Louis is always receptive to someone who leaves town, learns something, then brings that talent, skill or craft back. I think we've been blessed with the response we got," says Allen. These days, that response includes selling bread to institutions, such as Barnes-Jewish Hospital, that are trying to incorporate local, micro-produced foods into their services.
Such growth means Allen doesn't spend as much time in the professional kitchen as he'd like. "I miss it, but, knock on wood, I'm one of those people that has enjoyed running a business and helping people develop into bakers as much as I enjoyed doing it myself."
While he's still intimately involved in developing new breads, he does most of his cooking at home for his wife and four children, where he makes many antipasti-style dips and spreads like spinach-walnut pesto. Minus the sweetness of Genovese basil, the spicy bite of spinach and the warm richness of walnuts turns the sauce into an autumn treat best spread on toasted bread.
Being business-minded and domestic doesn't mean Allen's settling into a comfortable spot. He'd love to intern with Bryan Carr of
Pomme
or Gerard Craft of
Niche
now, at age 40, just to experience the rush, as opposed to the laid-back nature of baking. "The intensity of the industry is so appealing to me and so fascinating. And just the reactions you get from customers."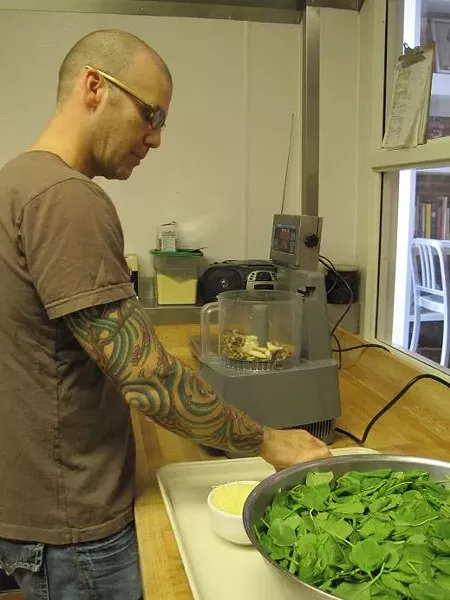 Robin Wheeler
Josh Allen prepares his spinach-walnut pesto.
In the meantime, Allen continues to share his knowledge and skills with new bakers through classes at Kitchen Conservatory. "I'm amazed at the increased knowledge of home bakers. Folks are really interested in the subtleties of fermentation. It's not, 'I don't know what I'm doing. What's flour?' I mean, these folks have done some baking at home. They're really interested in pushing the envelope."
The education continues with Allen's kids, who often get to sample foods around town and beyond. Recently, Allen and his twelve-year-old daughter vacationed in San Francisco, visiting little restaurants and documenting the experience through a video blog.
The kids spend time in the business as well. "They've all worked here and have their little chefs coats. They understand the value of work that it takes. They all wish that I could be around more but at the same time they appreciate that we're doing something that makes a difference for people. I'm very proud of having a company that's been well-received that my kids can feel that same pride when their friends or friends' parents talk about Companion."
Coming tomorrow, the recipe for Josh Allen's spinach-walnut pesto crostini.Robin Wheeler writes the blog Poppy Mom and is a regular contributor to Gut Check, including the columns The Dive Bomber and Throwback of the House.