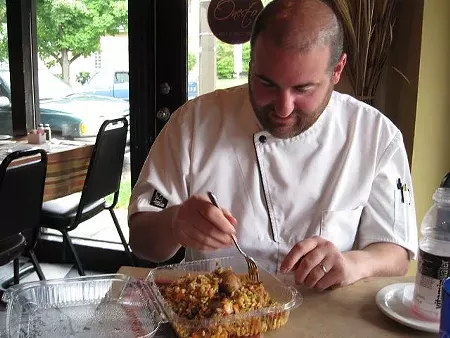 Robin Wheeler
Onesto owner and chef Vito Racanelli
Slow Food St. Louis
and Welcome Books have joined together with
Onesto Pizza and Trattoria
(
5401 Finkman Street
;
website
) to host "A Slow Taste of Tuscany," a dinner to celebrate the new book
Slow: Life in a Tuscan Town
by Douglas Gayeton. The book, which includes introductions from Slow Food founder Carlo Petrini and noted American chef and Slow Food proponent Alice Waters, celebrates the everyday foodways of Italy's Tuscany region.
On Wednesday, Novermber 18, Onesto owner and chef Vito Racanelli will prepare a five-course Tuscan-themed meal. The prix-fixe meal costs $40 by itself, $55 with wine pairings or $83 with wine pairings and a signed copy of
Slow: Life in a Tuscan Town
.
For more on Racanelli, including his interest in local food, read
Robin Wheeler's Chef's Choice profile
. After the jump, the menu for the "Slow Taste of Tuscany" dinner.
Appetizer
Marinated sweet shrimp over celery hearts dipped in extra virgin olive oil
First
Wide noodles tossed with wild boar sausage
Middle Course
Hunter's eggs: Egg poached with tomato and truffle
Main Course
Veal braised with porcini, red wine and stewed tomatoes
Dessert
Coffee on a fork